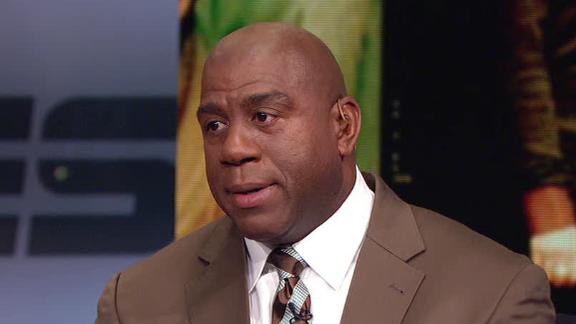 Updated Feb 20

Share Tweet

Final: Lakers 113-99: A tough night for the Celtics, who just couldn't get defensive stops as the Lakers played like a motivated team after the death of owner Jerry Buss. Dwight Howard led Los Angeles with 24 points and 12...

Source:

boston.com

Welcome to Staples Center for Celtics-Lakers

Updated Feb 20

Share Tweet

By Gary Washburn, Globe Staff LOS ANGELES -- It's going to be an emotional night here at Staples Center, which will give late Lakers owner Jerry Buss a fitting tribute prior to the matchup with the Celtics. As for Boston,...

Source:

boston.com

Updated Feb 20

Share Tweet

When the Los Angeles Lakers take the court on Wednesday night to play their longtime rivals, the Boston Celtics, in their first game after the death of Dr. Jerry Buss, they'll do so wearing special jersey patches honoring the late legendary owner. The t…

Source:

yahoo.com

Sources: Rondo available but trade unlikely

Updated Feb 20

Share Tweet

Boston Celtics guard Rajon Rondo, who had season-ending knee surgery a week ago, is available for a trade by Thursday's deadline, league sources tell ESPN's Chris Broussard.

Updated Feb 20

Share Tweet

Danilo Gallinari and Ty Lawson each scored 26 points to help the Denver Nuggets snap a three-game losing streak by beating the Boston Celtics 97-90 Tuesday night.

PTI Big Finish February 20th

Feb 20

PTI runs down Wednesday's top stories.

Celtics Trade Rumors

Feb 20

Chris Broussard, Tim Legler and Tom Penn discuss the latest trade talk involving the Boston Celtics.

Josh Smith Drawing Interest

Feb 20

Chris Broussard discusses which teams are interested in trading for Hawks SF Josh Smith and Tim Legler discusses which team is the best fit for Smith.

Lakers Honor Jerry Buss Before Taking Down Celtics

Feb 20

Highlight Of The Night: Steve Nash passes Magic Johnson for fourth all-time in assists as Lakers run all over Celtics for the 113-99 win.