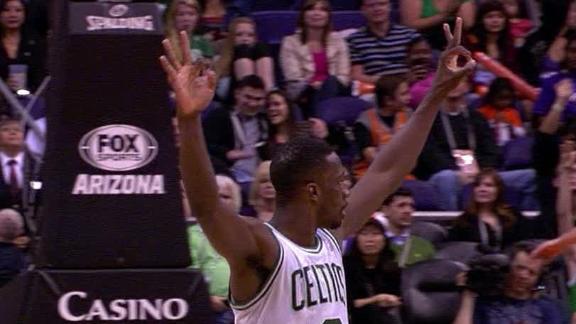 Updated Feb 22
Share
Tweet
Jeff Green scored 31 points in his first start of the season, and the short-handed Boston Celtics routed the Phoenix Suns 113-88 on Friday night.
Sources:
ESPN.com
boston.com
Welcome to US Airways Center for Suns-Celtics

Updated Feb 22

Share Tweet

By Gary Washburn, Globe Staff PHOENIX -- The Celtics will be shorthanded again tonight, as Doc Rivers decided to rest Kevin Garnett, without much resistance, after he looked tired Wednesday against the Los Angeles Lakers. That means Garnett will get...

Source:

boston.com

Crawford: Being a Celtic carries a lot of weight

Updated Feb 22

Share Tweet

Jordan Crawford is not short on confidence, and nerves are rarely an issue for him on the basketball court. But the 24-year-old guard admitted he got a monster case of the butterflies when he learned he had been traded to the Boston Celtics on Thursday.

Source:

ESPN.com

Updated Feb 22

Share Tweet

By Baxter Holmes, Globe Staff PHOENIX -- Newly acquired guard Jordan Crawford will make his debut with the Boston Celtics here Friday night against the Phoenix Suns. Crawford will wear No. 27. "Just to come in, be myself, compete and...

Source:

boston.com

Deals That Didn't Go Down

Feb 22

Marc Stein on what almost happened on deadline day.

Green Leads Celtics Past Suns, 113-88

Feb 22

Celtics stop two-game skid with win over Suns.