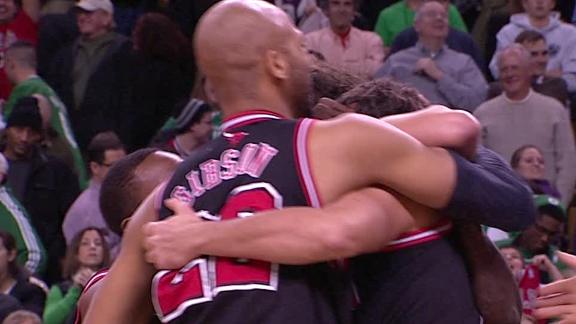 Updated Jan 18
Share
Tweet
Marco Belinelli made a game-winning jumper with 3.1 seconds left, Jimmy Butler scored six points in overtime and the Chicago Bulls extended their Friday night road show by beating the Boston Celtics 100-99.
Updated Jan 18

Share Tweet

Boston Celtics guard Avery Bradley will sit out Friday's visit from the Chicago Bulls due to a rib injury suffered in Wednesday's loss to the New Orleans Hornets.

Source:

ESPN.com

The Celtics' All-Stars plan on neither broing down nor throwing down during All-Star Weekend

Updated Jan 18

Share Tweet

As Eric Freeman related Thursday night, the starting fives for the Eastern and Western Conference teams in next month's 2013 NBA All-Star Game have been announced, and basketball fans around the world decided that they wanted to see a starting Eastern b…

Source:

yahoo.com

Updated Jan 18

Share Tweet

Chicago Bulls forward Luol Deng is a game-time decision for Friday's game against the Boston Celtics because of a right hamstring injury.

Source:

ESPN.com

Celtics Admit They Are Monitoring Greg Oden

Updated Jan 18

Share Tweet

No one, perhaps not even Greg Oden, is sure what the big man will have left in the tank once he's healthy enough to play in the NBA again. We have questions marks on his foot speed, his love of the game, and oh yeah, all that other off-court stuff, too.

Source:

dimemag.com

Belinelli, Bulls Sink Celtics In OT

Jan 18

Marco Belinelli's off-balance jumper in OT lifts Bulls past Celtics and to their third straight win.

Good Teammate, Bad Opponent

Jan 18

Michael Wilbon and Bill Simmons draft their good teammate, bad opponent teams.

Where Have All The Gunners Gone?

Jan 18

David Thorpe explains why so few NBA players have had huge scoring averages in recent years.