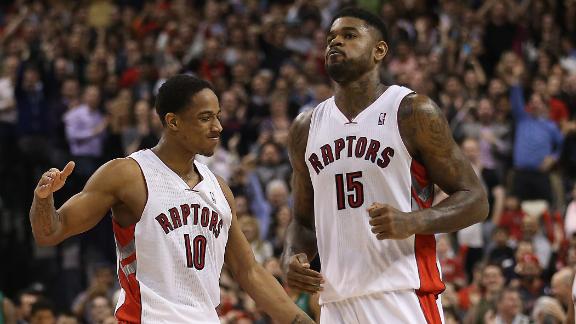 ESPN.com
Updated Mar 28, 2014
Amir Johnson scored the winning basket with 7 seconds left, and the Toronto Raptors clinched their first playoff berth in six seasons by beating the Boston Celtics 105-103 on Friday night.
Share
Tweet
Raptors Clinch Playoff Berth

Mar 28

The Raptors held off the Celtics behind 30 points from DeMar DeRozan and clinched a playoff berth for the first time since 2008.
Sports Columnists
Dwyane Wade of Miami Heat ruled out, adds hamstring to ailments

Mar 28

Dwyane Wade missed his 20th game of the season for the Miami Heat Friday night against the Detroit Pistons, this one due to a tight left hamstring that he suffered late in the game Wednesday at Indiana.

LeBron James envious of Miguel Cabrera, rues NBA's salary cap

Mar 28

LeBron James was both amazed and a little jealous when he heard Detroit Tigers star Miguel Cabrera signed a contract Friday that guarantees him $292 million over the next 10 years.