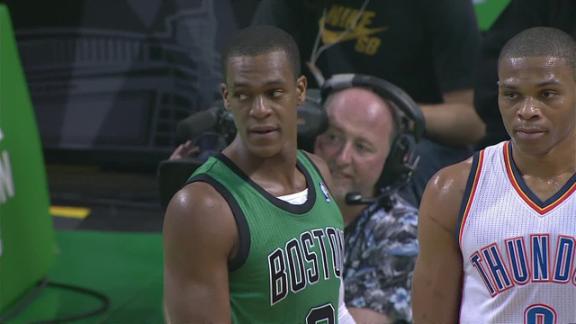 deadspin.com

Nov 23, 2012

A group of Kenyan schoolchildren had already recreated Boston's misery, but they make up for it with this one, from Game 5 of the 1987 NBA Eastern Conference finals. Except for Bill Walton's dopey high-five, it's all here-Isiah Thomas's pass, Larry Bird

Share Tweet

yahoo.com

Nov 23, 2012

The last image we had of Michael Finley as an NBA pro came during the 2009-10 season, when Finley could barely get off the bench for the Boston Celtics on their drive to the Finals, following a disastrous half-season spent with the San Antonio Spurs. Th…

Share Tweet

Celtics Too Much For Thunder

Nov 23

Rajon Rondo records 10-plus assists for the 36th straight game as Celtics top Thunder, 108-100.

More Intriguing Matchup Of Point Guards

Nov 23

Stephen A. Smith discusses which matchup is better between Russell Westbrook-Rajon Rondo and Chris Paul-Deron Williams.