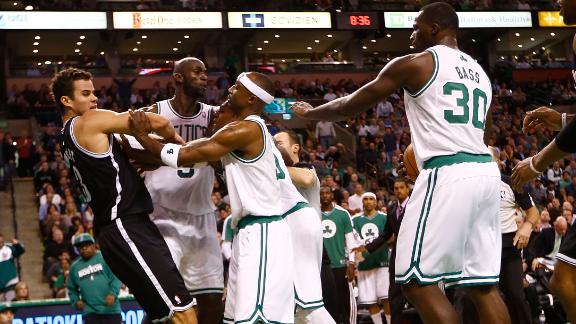 nba.com
ESPN.com
dimemag.com
Updated Nov 29, 2012
Boston Celtics point guard Rajon Rondo was suspended for the third time this calendar year on Thursday when the NBA told him to sit out two games without pay for starting a skirmish that sent players sprawling into the courtside seats.
Share
Tweet
deadspin.com yahoo.com

Nov 29, 2012

Paul Pierce is looking old these days. On Sunday, Jameer Nelson victimized him with a nasty crossover, leaving Pierce flat on his back. Last night, Pierce ended up looking helpless and silly yet again after being brought to his hands and knees by a Joe …

Share Tweet

Nets, Celtics Get Into A Brawl In Boston; James Harden Has An Awful Reunion In OKC

dimemag.com

Nov 29, 2012

With so much softness leaking into the modern game, we're always anxious to annoint the next great rivalry. Where is the next Bulls-Knicks going to come from? Or the next Sacramento-Los Angeles? Everyone loves when players get a little nasty, and last n

Share Tweet

Rajon Rondo Addresses Role In Fight

Nov 29

Rajon Rondo talks about his role in the Celtics-Nets fight.

Rondo Suspended Two Games

Nov 29

Stephen A. Smith shares his thoughts on Rajon Rondo's two-game suspension for his part in an on-court altercation with Kris Humphries.