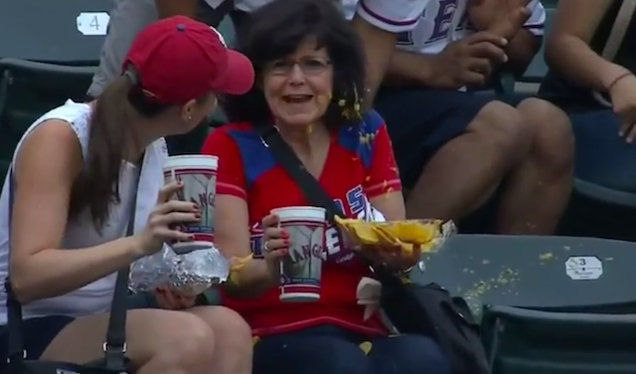 Prince Fielder Foul Ball Leaves Woman Covered In Nacho Cheese
deadspin.com
Updated 54 minutes ago
This happened during yesterday's game between the Red Sox and Rangers, and it is further proof that hot dogs should always be the food of choice at baseball games.Read more...
Share
Tweet
yahoo.com MLB.com nytimes.com

9 hours ago

Take a look around the league with Big League Stew's daily wrap up. We'll hit on all of the biggest moments from the day that you may have missed, while providing highlights, photos and interesting stats. The Boston Red Sox may have found an answer to t…

Share Tweet

Red Sox hoping Papi can regroup with some rest

MLB.com

16 hours ago

David Ortiz wasn't in the Red Sox's lineup Thursday against the Rangers, and it might be more than a one-day rest. Manager John Farrell said he spoke with Ortiz after Wednesday's game and decided it was best to give Ortiz the chance to step back and rec…

Share Tweet

Red Sox Broadcast Airs Video Of Metrodome Implosion That Never Happened

deadspin.com

22 hours ago

Yesterday's NESN broadcast of the Red Sox-Twins game featured a mid-game interlude of the announcers discussing their memories of the dear, departed Hubert H. Humphrey Metrodome. It also featured video of the Metrodome being imploded—something that neve…

Share Tweet

Red Sox drop David Ortiz down to No. 5 in the lineup

ESPN.com

May 26 (3 days ago)

Red Sox drop David Ortiz down to No. 5 in the lineup

Share Tweet

yahoo.com

May 26 (3 days ago)

With two pitchers suspended for using foreign substances on the mound in the last few days, there's been a conversation around baseball about the very existence of the rules outlawing grip-enhancing substances. Count Boston Red Sox manager John Farrell …

Share Tweet

Another Batter Catches Ball After HBP, Throws It Back To Pitcher

deadspin.com

May 26 (3 days ago)

Just days after we watched Arizona State's Johnny Sewald catch his own hit by pitch , it happened again last night as Norfolk Tides outfielder Dariel Álvarez snagged Manny Delcarmen's errant pitch and returned it back to the former Red Sox hurler himsel…

Share Tweet

nytimes.com MLB.com

May 25 (4 days ago)

Ricky Nolasco struck out five in 7 2-3 innings and Trevor Plouffe hit a three-run homer to lead the surging Minnesota Twins to a 7-2 victory over the Boston Red Sox on Monday.

Share Tweet

MLB.com

May 25 (4 days ago)

Shortly after arriving at the Coliseum for the first time since being traded to the Red Sox last summer, former A's slugger Yoenis Cespedes darted for manager Bob Melvin's office.

Share Tweet

nytimes.com MLB.com

May 24 (5 days ago)

Mike Napoli hit his fourth homer of the series and drove in four runs, Wade Miley allowed one run in eight innings and the Boston Red Sox beat the Los Angeles Angels 6-1 on Sunday.

Share Tweet

Victorino exits game due to calf tightness

MLB.com

May 23 (6 days ago)

The struggling Red Sox offense was expecting to rely on Shane Victorino as its No. 2 hitter against the Angels on Saturday, but the oft-injured outfielder had to be removed from the game after tweaking his left calf during the third inning.

Share Tweet

Red Sox hit reset button with Rusney Castillo, but Angels bowl them over

Share Tweet

nytimes.com MLB.com

May 22 (7 days ago)

Chris Iannetta and Erick Aybar homered in the Angels' nine-run fifth inning, and Albert Pujols also hit a home run on Friday night to lead Los Angeles to a 12-5 victory over the Boston Red Sox.

Share Tweet

Hanley exits game due to left hand soreness

MLB.com

May 22 (7 days ago)

Red Sox left fielder Hanley Ramirez exited Friday's game against the Angels in the top of the sixth inning with left hand soreness.

Share Tweet

MLB.com

May 22 (7 days ago)

The original plan was for Red Sox third baseman Pablo Sandoval to be back in the lineup on Friday night, three days after he got hit on the left knee by a pitch. However, Sandoval was too sore and remained out of action for the opener of a three-game se…

Share Tweet

MLB.com nytimes.com

May 22

Wandy Rodriguez kept the Red Sox in their offensive funk while leading the Rangers to an 3-1 victory in the rubber match of a three-game series.

Share Tweet

Klein Wins 1st Major League Start, Rangers Top Red Sox 2-1

nytimes.com

May 20

Phil Klein allowed one run in his first major league start, Robinson Chirinos hit a solo homer and the Texas Rangers beat the Boston Red Sox 2-1 on Wednesday night.

Share Tweet

MLB.com

May 20

As expected, third baseman Pablo Sandoval was absent from the Red Sox's starting lineup Wednesday with a bone bruise after getting drilled on his left knee during Tuesday's 4-3 win over the Rangers.

Share Tweet

nytimes.com

May 20

When the Yankees signed Ellsbury to a seven-year, $153 million contract before last season, they also took on his history of being injured.

Share Tweet

Mets Fall To Red Sox

Mar 16

Matt Harvey allowed three hits over four scoreless innings for his second strong start following elbow surgery, but the Mets lost to the Red Sox 4-3.

A-Rod Homers

Mar 11

Alex Rodriguez hit a home run in the Yankees' 10-6 loss to the Red Sox.

Leaving San Francisco Was Easy Call For Sandoval

Mar 9

ESPN SweetSpot blogger David Schoenfield discusses Pablo Sandoval's comments about feeling disrespected by the Giants.

Pedroia, Schilling Clear The Air

Feb 25

Dustin Pedroia and Curt Schilling look back on the time they spent together with the Red Sox.