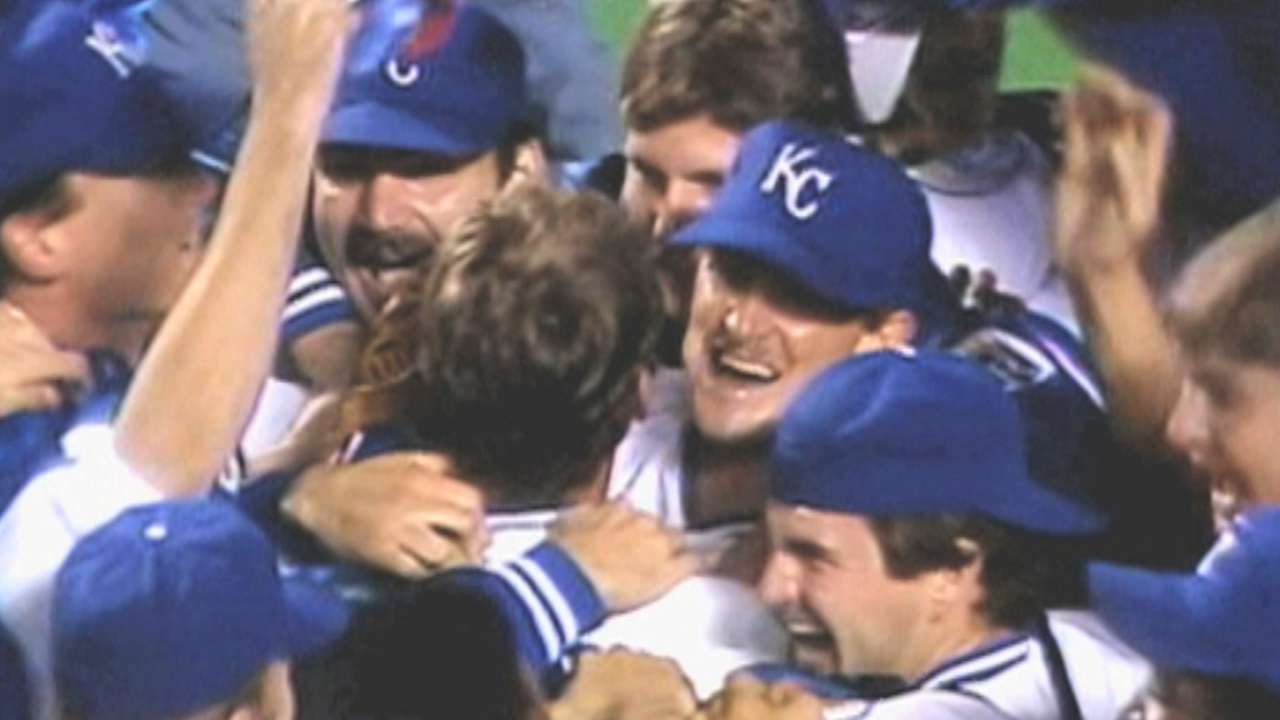 Q&A: Saberhagen on early career, '85 World Series
MLB.com
Updated Oct 22 (yesterday)
Bret Saberhagen enjoyed a career in which he was a three-time All-Star and two-time winner of the American League Cy Young Award. He pitched in the postseason with the Royals (1984, '85), Rockies ('95) and Red Sox ('98, '99). He is the subject of this w…
Share
Tweet
yahoo.com

Oct 18 (5 days ago)

(Yahoo Sports) Sorry, Boston Red Sox, your World Series trophy is in another castle, one that's furnished with David Ortiz's retirement gifts. The 2016 Red Sox put together the perfect regular season. The club not only managed to go from worst-to-first,…

Share Tweet

yahoo.com

Oct 17 (6 days ago)

Some of sports' greatest postseason moments have involved gutty performances by athletes playing through injury. Everyone remembers Michael Jordan's "Flu Game," and Curt Schilling's bloody sock start stands out as a key moment during the Boston Red Sox'…

Share Tweet

Mike Hazen's departure could have widespread fallout for Red Sox

Share Tweet

Pedroia undergoes successful knee surgery

MLB.com

Oct 13

Red Sox second baseman Dustin Pedroia underwent successful arthroscopic surgery on his left knee, the team announced Thursday morning.

Share Tweet

You can't blame Boston Red Sox fans who are still traumatized by the team's American League Division Series loss to the Cleveland Indians. This wasn't just a normal postseason loss, it was the last time David Ortiz would suit up for the organization. Or…

Share Tweet

MLB.com

Oct 12

With the odds stacked against them, the Indians surprised the baseball world with a sweep of the Red Sox in the American League Division Series. The next challenge comes in the form of a Blue Jays team that features an aggressive offense and a strong pi…

Share Tweet

Moncada benefits from first big league stint

MLB.com

Oct 11

While the numbers may not show it, the Red Sox believe No. 1 prospect Yoan Moncada's time with the club during the final month of the regular season was beneficial for the 21-year-old.

Share Tweet

David Price: 'I want to make Red Sox fans love me'

ESPN.com

Oct 11

David Price: 'I want to make Red Sox fans love me'

Share Tweet

Dombrowski: Farrell Will Be Back as Red Sox Manager in 2017

nytimes.com

Oct 11

Dave Dombrowski was on his way to a news conference to discuss the end of the Boston Red Sox season when he passed manager John Farrell, who had just finished meeting the media.

Share Tweet

yahoo.com

Oct 11

The Cleveland Indians swept the Boston Red Sox on Monday night, winning the ALDS and advancing to play the Toronto Blue Jays in the ALCS. Pedro Martinez, who is part of TBS's pre and post-game broadcast crew, wanted to celebrate Cleveland's victory on t…

Share Tweet

Mets Fall To Red Sox

Mar 16

Matt Harvey allowed three hits over four scoreless innings for his second strong start following elbow surgery, but the Mets lost to the Red Sox 4-3.

A-Rod Homers

Mar 11

Alex Rodriguez hit a home run in the Yankees' 10-6 loss to the Red Sox.

Leaving San Francisco Was Easy Call For Sandoval

Mar 9

ESPN SweetSpot blogger David Schoenfield discusses Pablo Sandoval's comments about feeling disrespected by the Giants.

Pedroia, Schilling Clear The Air

Feb 25

Dustin Pedroia and Curt Schilling look back on the time they spent together with the Red Sox.