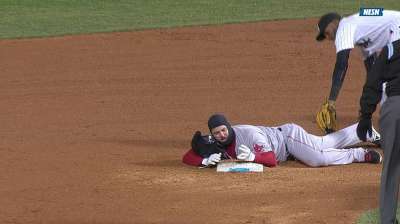 Red Sox to observe Marathon tragedy anniversary

MLB.com

8 hours ago

Prior to Sunday's game vs. the Orioles, the Red Sox will commemorate the one-year anniversary of last year's Boston Marathon tragedy.

Upvote Share Tweet

Minor league teams will play a game in police and firefighter uniforms

yahoo.com

9 hours ago

These days, Minor League Baseball teams come up with all sorts of interesting pop culture-inspired theme jerseys to wear — there's "Star Wars" and "Ghostbusters" and "Teenage Mutant Ninja Turtles" this year alone. The Lehig…

Upvote Share Tweet

Despite taking loss, Garcia savors pitching experience

MLB.com

20 hours ago

Leury Garcia, a utility infielder, came out to start the 14th inning of the Red Sox's 6-4 victory at U.S. Cellular Field. He took the loss by allowing a two-run double to Jackie Bradley Jr. and his career ERA is now 18.00, but it's an experience he'll n…

Upvote Share Tweet

The Grand Slam: Infielder Leury García takes loss as Red Sox prevail in 14 innings

yahoo.com

21 hours ago

Our first position player pitching alert of the season came to us during the Boston Red Sox 6-4, 14-inning victory over the Chicago White Sox at a chilly U.S. Cellular Field on Wednesday night. White Sox manager Robin Ventura called upon infielder Leury…

Upvote Share Tweet

ESPN.com nytimes.com MLB.com CNNSI.com yahoo.com

21 hours ago

Jackie Bradley Jr. hit a two-run double off Chicago infielder Leury Garcia in the top of the 14th inning and the Boston Red Sox outlasted the White Sox 6-4 in a game that lasted 5 hours and 17 minutes Wednesday night.

Upvote Share Tweet

Farrell fined for criticizing replay system

ESPN.com

Apr 16 (yesterday)

Boston Red Sox manager John Farrell said before Wednesday's game that he was fined in excess of $1,000 by the commissioner's office for his comments critical of MLB's replay system. A major league source said the amount was $2,500.

Upvote Share Tweet

Red Sox second baseman Dustin Pedroia said Tuesday he was given a cortisone shot to stem the inflammation in his left wrist, in an area close to where he tore the ulnar collateral ligament in his left thumb a year ago.

Upvote Share Tweet

Drunk Red Sox Fan Heckles Yankee Fans, Speaks In Tongues

deadspin.com

Apr 15 (2 days ago)

This very confused young man, who seems to think that Dez Bryant has something to do with the Boston Red Sox and that people can actually understand the words that are coming out of his mouth, was spotted at Sunday's game between the Red Sox and Yankees…

Upvote Share Tweet

Tony La Russa told ESPN.com on Monday that while he understands manager John Farrell's frustration over two key replay calls that went against the Boston Red Sox this weekend, it's "premature" to question the integrity of baseball's new replay system.

Upvote Share Tweet

Francisco Cervelli's career with the Yankees has taken another unfortunate twist. The catcher sustained a Grade 2 strain of his right hamstring during New York's 3-2 victory over the Red Sox on Sunday and is headed to the 15-day disabled list.

Upvote Share Tweet

Is MLB Replay Just Making Things More Complicated?

deadspin.com

Apr 14 (3 days ago)

"It's extremely difficult to have any faith in the process that's being used," Red Sox manager John Farrell said of MLB's new replay review procedure, which went against Boston on consecutive days. "On the heels of yesterday, it's hard to…

Upvote Share Tweet

nydailynews.com nytimes.com

Apr 14 (4 days ago)

By the fifth inning the question wasn't so much whether the Yankees would make it three out of four against the Red Sox as what Joe Girardi would do if another infielder went down. Anyone know if Masahiro Tanaka ever played any third base in Japan?

Upvote Share Tweet

State Of The Nation: Struggling With Injuries

Apr 17

Gordon Edes looks at the Red Sox's issues with injuries, Jon Lester's contract situation and the four-game set this weekend against Baltimore.

Red Sox Win In Extra Innings

Apr 16

Jackie Bradley Jr.'s double in the 14th inning helped lift the Red Sox past the White Sox 6-4.

SweetSpot TV: Red Sox Stars Avoid DL

Apr 15

Eric Karabell and David Schoenfield discuss Dustin Pedroia and Koji Uehara avoiding the disabled list.

White Sox Walk Off On Red Sox

Apr 15

Xander Bogaerts' throwing error led to Alexei Ramirez scoring the game-winning run as the White Sox defeated the Red Sox 2-1.