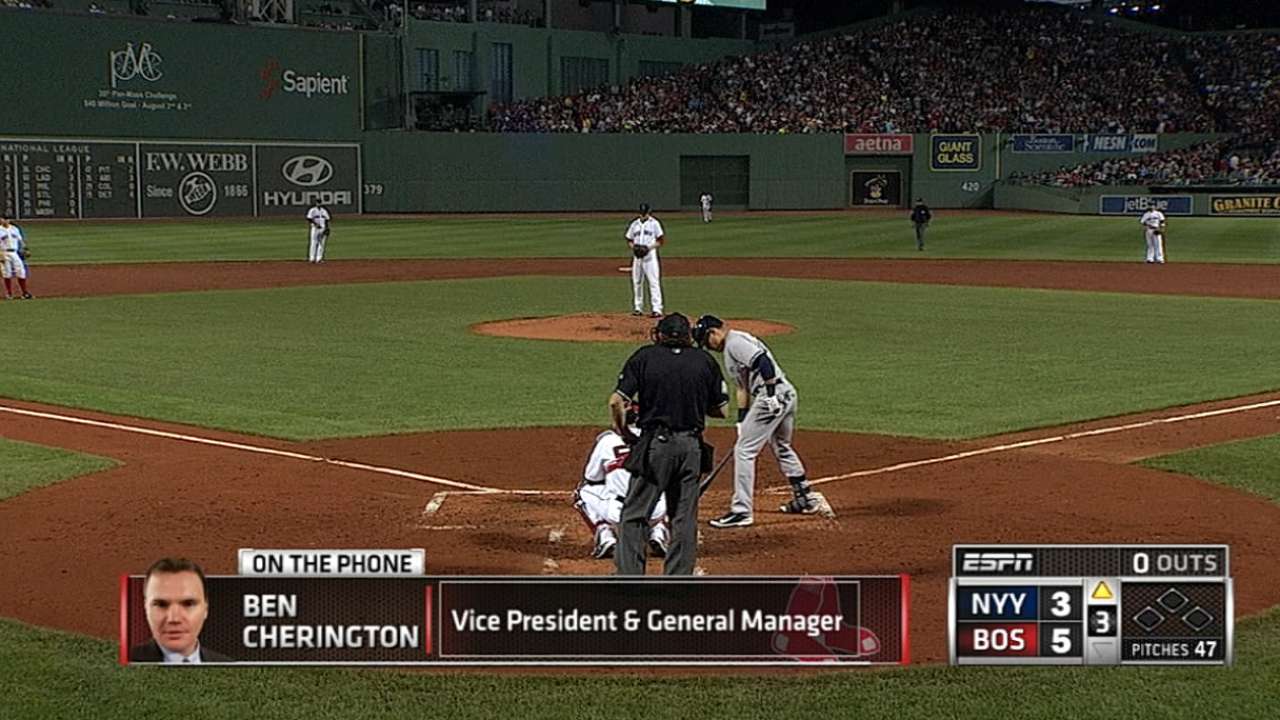 Cherington hopes to meet with Lester
MLB.com
Updated 4 hours ago
Starting on Tuesday, the Red Sox can start negotiating with free agents on other teams. And that could include a pitcher the Red Sox are extremely familiar with in lefty Jon Lester, the man they traded to the Oakland Athletics for Yoenis Cespedes back i…
Upvote
Share
Tweet
Castillo may not play winter ball because of thumb injury

MLB.com

4 hours ago

Red Sox outfielder Rusney Castillo's plan of getting a number of at-bats during the offseason has been derailed by a right thumb contusion he sustained while playing in the Arizona Fall League.

Upvote Share Tweet

The luster wore off Boston Red Sox closer Koji Uehara a bit in 2014, but the team still likes Uehara enough to extend him for two more seasons. The team announced Thursday a new two-year contract for Uehara, who will bypass free agency and make $18M ove…

Upvote Share Tweet

ESPN.com

8 hours ago

Former Boston Red Sox infielder Kevin Youkilis is retiring, his agent says.

Upvote Share Tweet

MLB.com

Oct 29 (yesterday)

Jake Peavy didn't help his cause with a rough Game 6 performance on Tuesday, but he could still join an exclusive club by winning a World Series in consecutive seasons with two teams following his championship with the Red Sox in 2013.

Upvote Share Tweet

Roc Nation ties have Red Sox looking to deal Yoenis Cespedes

nydailynews.com

Oct 26 (5 days ago)

Yoenis Cespedes' decision to switch agents to Roc Nation is said to increase the likelihood the Red Sox will trade the Cuban slugger this winter while they can still get something substantial in return for him with his free agency pending after next sea…

Upvote Share Tweet

By hiring Chili Davis, the Red Sox feel they've found a hitting coach with the type of enthusiasm and technique that players will feed off. "It goes back to the person Chili is," manager John Farrell said.

Upvote Share Tweet

David Ortiz surprises military personnel with World Series tickets

yahoo.com

Oct 21

Boston Red Sox star David Ortiz has been a postseason hero several times over during his potentially Hall of Fame worthy career. This year, though, with his Boston Red Sox long eliminated from the October scene, he's changing his role up in order to hel…

Upvote Share Tweet

Oldest former Red Sox player Lucier, 96, dies

ESPN.com

Oct 20

Lou Lucier, who was the oldest surviving former Boston Red Sox player, has died at the age of 96.

Upvote Share Tweet

The Boston Red Sox are on the verge of a deal with Chili Davis to be their hitting coach, sources told ESPN's Buster Olney.

Upvote Share Tweet

Schilling's bloody sock the bridge to history

MLB.com

Oct 19

Before the Red Sox could complete their baseball miracle in the 2004 ALCS, a bit of a medical science miracle was needed.

Upvote Share Tweet

MLB.com

Oct 15

By narrowly losing three straight tense contests in the American League Championship Series to the Royals, the Orioles will try to make history and join the 2004 Red Sox as the only other baseball team to come back from a 3-0 deficit in a postseason ser…

Upvote Share Tweet

ESPN.com

Oct 14

Mike Napoli of the Boston Red Sox said he will undergo a facial-reconstruction operation in hopes of resolving his sleep apnea.

Upvote Share Tweet

Rangers continue skipper interviews with Banister and McEwing

MLB.com

Oct 8

The Rangers continued their interviews with managerial candidates by meeting with Pirates bench coach Jeff Banister and White Sox third base coach Joe McEwing on Wednesday. The Rangers have already interviewed pitching coach Mike Maddux, Triple-A manage…

Upvote Share Tweet

Red Sox ponder Craig's future in Boston

MLB.com

Oct 8

As the Red Sox plot their course for what figures to be a highly eventful winter of retooling, one big question they will have to ask themselves is this: What kind of season will Allen Craig have in 2015?

Upvote Share Tweet

yahoo.com

Oct 7

ST. LOUIS — There was nothing Kolten Wong could do to atone for getting picked off first base to end Game 4 of the 2013 World Series. He didn't get on the field again, and the St. Louis Cardinals lost in six games to the Boston Red Sox. That doesn't mea…

Upvote Share Tweet

MLB.com

Oct 3

Tim Bogar is one of six candidates who will interview for the Rangers managerial opening beginning early next week. The other five candidates are from outside the organization: Pirates bench coach Jeff Banister, Red Sox bench coach Torey Lovullo, White …

Upvote Share Tweet

deadspin.com MLB.com ESPN.com

Oct 3

If you have, could you email us a description of his kitchen? We're at . Thanks.Read more...

Upvote Share Tweet

Chart: Which MLB Fans Suck At Supporting Winning Teams?

deadspin.com

Sep 30

This graph, from Harley Ellenberger, charts MLB home attendance and winning percentage throughout the season. As expected, the Red Sox, Cubs, and Yankees had solid attendance despite missing the playoffs, and no one went to see the Astros or Rays. But w…

Upvote Share Tweet

yahoo.com

Sep 30

KANSAS CITY, Mo. — Having to face left-hander Jon Lester in a postseason game is a task no opponent should relish. Lester's reputation in the playoffs is second to few, and his 2.11 ERA in 76 2/3 career innings for the Boston Red Sox backs it up. And ye…

Upvote Share Tweet

Youkilis To Retire From Baseball

Oct 30

ESPN senior baseball writer Jerry Crasnick discusses Kevin Youkilis retiring from baseball.

30 For 30: Four Days In October

Oct 16

30 For 30: Four Days In October

Moment In Time

Oct 10

Torii Hunter, Prince Fielder and David Ross look back on David Ortiz's grand slam in Game 2 of last year's ALCS.

Cold Hard Facts

Oct 9

David Ross previews the ALCS between the Orioles and Royals.