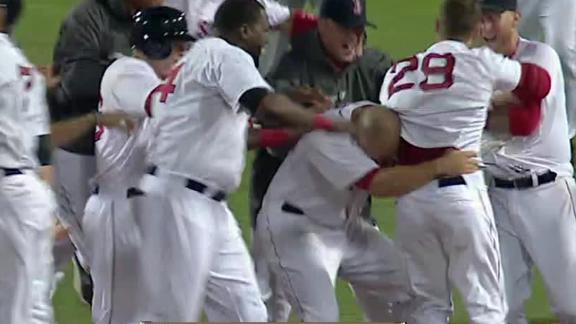 Updated Aug 1
Share
Tweet
Daniel Nava's long single to center field capped a six-run rally in the bottom of the ninth inning as the Boston Red Sox came back to beat the Mariners 8-7 on Thursday night and sweep Seattle in the three-game series.
Buchholz bristles about 'weak' talk, eyes return

Updated Aug 1

Share Tweet

Sidelined since early June by a strained bursa sac in his right shoulder, Red Sox starter Clay Buchholz said Thursday that he doesn't want anyone to think he's soft.

Updated Aug 1

Share Tweet

The thirst for wanting to pitch in a pennant race when an entire city is depending on you is just one of the reasons Jake Peavy was so excited that the Red Sox were the team that acquired him in a trade with the White Sox late Tuesday night.

Left fielder Jonny Gomes pulls off unassisted double play for Red Sox

Updated Aug 1

Share Tweet

Wednesday night was a wild and crazy night at Fenway Park in Boston. Not only did the hometown Red Sox move back into first place in the American League East with a 5-4, 15 inning victory over the Seattle Mariners, which alone drove the city into a fren…

Source:

yahoo.com

Updated Aug 1

Share Tweet

Stephen Drew played the role of early-morning walk-off hero on Thursday at Fenway Park, belting a bases-loaded RBI single down the line in right with two outs in the bottom of the 15th inning, capping a 5-4 win over the Mariners. The victory, coupled wi…

Source:

MLB.com

Red Sox Walk Off With Win

Aug 1

The Red Sox scored six runs in the bottom of the ninth to complete the comeback against the Mariners 8-7.

State Of The Nation: Pitching Power

Aug 1

Gordon Edes takes a look at the Jake Peavy trade and the importance of starting pitching depth.

The GM's Office: Sox On Top

Aug 1

Jim Bowden likes the trades the Red Sox and GM Ben Cherington made by the deadline.