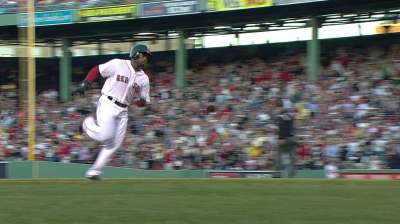 Bradley promoted to provide outfield depth
Updated Jul 9
Share
Tweet
With injuries piling up in the outfield, the Red Sox have called for reinforcements. Jackie Bradley Jr., the team's No. 2 prospect according to MLB.com, was recalled to play center field while Jacoby Ellsbury recovers from a left wrist injury, joining t…
Source:
MLB.com
Updated Jul 9

Share Tweet

Felix Hernandez held the Red Sox to two runs and six hits over seven innings and Raul Ibanez hit his 22nd home run in leading the Seattle Mariners to an 11-4 victory over Boston on Monday night.

Source:

ESPN.com
Buster Blog: Garza's Trade Market

Jul 9

Cubs pitcher Matt Garza has said a contract extension with the team is a possibility, but Buster Olney blogs that there is no chance Garza will sign a long-term deal with the Cubs.

The GM's Office: ChiSox On The Move?

Jul 9

Jim Bowden takes a look at several players on the White Sox that could be traded before the deadline.

Red Sox Homer Past M's

Jul 9

The Red Sox hit five home runs in their 11-8 win over the Mariners.