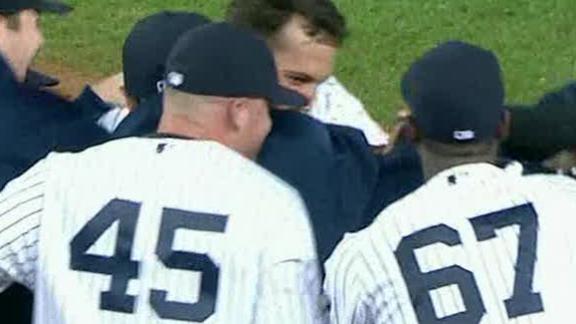 Updated Oct 2, 2012
Share
Tweet
Raul Ibanez tied it with a pinch-hit homer in the ninth inning, then had an RBI single in the 12th, helping the Yankees remain a game up on Baltimore in the AL East with one game to go by beating the Boston Red Sox 4-3 on Tuesday night.
Source:
ESPN.com
Dice-K's last hurrah set for Wednesday in Bronx

Updated Oct 2, 2012

Share Tweet

Daisuke Matsuzaka's tenure with the Red Sox started with so much fanfare. It will end quietly, as the righty will pitch the final game of the season Wednesday against the Yankees.

Updated Oct 2, 2012

Share Tweet

With the American League Central title locked up, all eyes now center on Tigers third baseman Miguel Cabrera and whether the slugger can become the first Triple Crown winner since Carl Yastrzemski did it with the Red Sox in 1967.

Yanks will use everyday lineup in Wednesday's finale

Updated Oct 2, 2012

Share Tweet

Manager Joe Girardi is avoiding thinking ahead to a multitude of playoff scenarios, but should the Yankees clinch the American League East title Tuesday against the Red Sox, he still plans to field his everyday lineup in Wednesday's regular-season final…

Updated Oct 2, 2012

Share Tweet

Boston Red Sox second baseman Dustin Pedroia was in the lineup Tuesday against the New York Yankees despite a broken finger on his left hand that the team thought would sideline him for the final two games of the season.

Source:

ESPN.com

A Red Sox Fan Pulled A Jeffrey Maier And Gave The Yankees A Home Run

Updated Oct 2, 2012

Share Tweet

We thought last week's minor kerfluffle, on Bobby Valentine's game of employment chicken, would be the last Red Sox update we'd have to do this season. No sense piling on. But the Red Sox can't seem to stop doing terrible things.

Source:

deadspin.com

State of the Race: Yankees Have an Edge as Season Winds Down

Updated Oct 2, 2012

Share Tweet

A Yankees victory Tuesday night, coupled with another Orioles loss, would finally end a tense division race in the American League East.

Source:

nytimes.com

Updated Oct 2, 2012

Share Tweet

As it turned out, Sunday's show of grit in Toronto probably won the AL East for the Yankees. All they needed to do was get back home clinging to a piece of first place, and the pitiful Red Sox would give them a free ride to the finish line.

Sources:

nydailynews.com yahoo.com

Yankees Win, Maintain One Game Lead In AL East

Oct 2

Yankees top Red Sox in 12 innings.