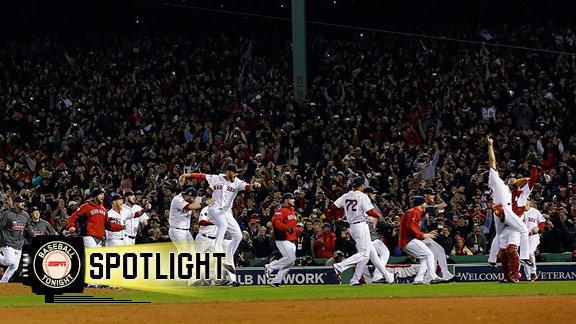 MLB.com
ESPN.com
yahoo.com
nydailynews.com
CNNSI.com
Updated Oct 31, 2013
Today, in virtually every Major League front office, they're asking themselves the same essential question: What can be learned from the Boston Red Sox winning the 2013 World Series?
Share
Tweet
NEW YORK (AP) The World Series television rating on Fox was up 17 percent over last year but was the lowest for a matchup that went at least six games.

Share Tweet

Sloppy, Swearing Red Sox Bros Give Fantastic Interviews On Local News

These Red Sox bros on Barstool are the best, because they're everything you think they'll be. When it comes to describing the feeling of winning a World Series, the first kid just knows it can't be captured in words. He would know, experiencing this tea…

Share Tweet

yahoo.com deadspin.com

Oct 31, 2013

After the Boston Red Sox won the World Series Wednesday night, where did Ryan Dempster celebrate?Why at Fenway Park, of course … on the field … throwing batting practice … at 3 in the morning.That's him on the mound there, throwing to actor Mike O'Malle…

Share Tweet

Here's Your Champagne-Soaked Gallery Of Red Sox Celebration Pictures

I would lament the wasting of absurd amounts of all kinds of alcohol to the air, ground, and clothes of those in attendance, but holy shit, this looks like so much fun.Read more...

Share Tweet

Last night, for the first time in 95 years, the Boston Red Sox won the World Series at home in Fenway Park. Fuck the city of Boston, in general.Read more...

Share Tweet

Your browser does not support iframes. After leading the Boston Red Sox to their eighth championship Wednesday night, slugger David Ortiz stands with Babe Ruth, Lou Gehrig, Barry Bonds and Reggie Jackson among the greatest offensive performers in World …

Share Tweet

Red Sox Nation celebrates a World Series title for a city that remains Boston Strong

nydailynews.com

Oct 31, 2013

There was a police presence again on Boylston St., near where the finish line of the Boston Marathon always is and was last April. This was around one-thirty in the morning, flashing blue-and-white police lights and cops everywhere you looked, some of t…

Share Tweet

deadspin.com yahoo.com MLB.com

Oct 31, 2013

If there's one thing about this World Series to be thankful for, it's the the fact that Red Sox closer Koji Uehara and his son Kaz have been thrown into the national spotlight.Read more...

Share Tweet

Boston Fails To Celebrate Like It's Been There Before

It's probably too late now, but since the Red Sox have won three championships over the past 10 seasons, perhaps this advice will come in handy again in the near future: On the night of a possible World Series clincher, don't park anywhere near Fenway.R…

Share Tweet

Boston party: Fans flood streets to celebrate

ESPN.com

Oct 31, 2013

Jubilant Red Sox fans took to the streets around Fenway Park to cheer their team's World Series victory, the first time Boston has won baseball's Fall Classic at home in 95 years.

Share Tweet

With the 2013 World Series title now theirs, the Boston Red Sox must turn their attention to key free agents-to-be like Jacoby Ellsbury, Stephen Drew and Mike Napoli.

Share Tweet

In John Farrell's estimation, John Lackey is the poster child for this year's team. Everything went wrong for Lackey in 2011. Surgery robbed him of his entire 2012 season. Around him, the Red Sox spiraled out of control, falling from perennial contentio…

Share Tweet

Red Sox fans exhale as turnaround completed

Wrapped around the outfield, from the front row to the back, fans were on their feet at Fenway Park from the national anthem to the final out almost 3 1/2 hours later, as the Red Sox celebrated a 6-1 win in Game 6 of the World Series against the Cardina…

Share Tweet

The World Series trophy back in his team's possession, Red Sox owner John Henry savored this one, because he knew everything that went into it.

Share Tweet

Cardinals poised to contend again in 2014

The St. Louis Cardinals lost the 2013 World Series to the Boston Red Sox, four games to two, but expect to see them contending for a title again in 2014.

Share Tweet

If this is the end of Jacoby Ellsbury's career with the Red Sox, it will have basically finished the way it began. In a dog pile. The 2007 World Series winner and pending free agent was back on top after a 2-for-4, two-run performance in Boston's Series…

Share Tweet

The ugly truth is that this was a somewhat ugly World Series showing for the National League champs, though it is a credit to their character that even at their ugliest, the Cardinals still took the Red Sox to a Game 6.

Share Tweet

Cardinals of regular season fail to show up to World Series with Red Sox

nydailynews.com

Oct 31, 2013

There are those who would suggest the mechanical problems that kept the Cardinals' plane grounded in St. Louis and delayed their arrival in Boston for almost eight hours Tuesday mirrored the fact that the real Redbirds the ones that led the National Lea…

Share Tweet

Fenway Park hadn't seen a World Series celebration for the home team since 1918. The Red Sox won it on the road in 2004 and '07, accepting the Commissioner's Trophy in front of subdued and disappointed opposing fans. This year, the Red Sox celebrated wi…

Share Tweet

Boston's improbable run culminates in championship

A season that began with the Red Sox widely picked to finish last in the American League East ended with a 6-1 victory in the World Series-clinching Game 6 at Fenway Park.

Share Tweet

Selig revels in dramatic conclusion to season

Commissioner Bud Selig presented the World Series trophy to the Red Sox. Then he presented the Most Valuable Player Award to David Ortiz. And then, as Selig walked across the Fenway Park grass, his joy reflected that of the sellout crowd that was celebr…

Share Tweet

Series title helps city of Boston continue to heal

There are no perfect endings after life and limb are lost, but this was the best thing this great American city could hope for Wednesday night. The Red Sox won the 109th World Series, beating the Cardinals in six games, and took the next step in a heali…

Share Tweet

Red Sox manager John Farrell addresses the media after Game 6 of the World Series.

Share Tweet

Sports Columnists

No new deals for Gordon Hayward of Utah Jazz or Eric Bledsoe of Phoenix Su…

Oct 31

Utah Jazz swingman Gordon Hayward and Phoenix Suns guard Eric Bledsoe did not get new deals before Thursday's 11:59 p.m. ET deadline and will become restricted free agents in July.

Biggest NFL games of Week 9 -- John Clayton's First and 10

Oct 31

John Clayton's First and 10: WRs are dropping like flies around the NFL. Plus, the AFC West's dominance and the mediocre Cowboys.