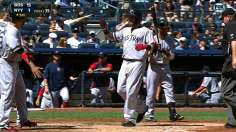 After early outburst, Sox fend off Yanks' rally
MLB.com
Updated Sep 7, 2013
The bashing Boston Red Sox needed just about all of their hitting heroics to survive a Saturday slugfest at Yankee Stadium. Though the Yankees mounted a late surge, the Sox held on for a 13-9 victory that put them in position to go for a four-game sweep…
Upvote
Share
Tweet
These Yankees are one giant illusion

nydailynews.com

Sep 7, 2013

They have somehow given New York a baseball season with meaningful games in September, the Yankees have, but it is an illusionary one and, judging by all those empty seats at Yankee Stadium against the Red Sox, their fans seem to agree.

Upvote Share Tweet

Derek Jeter underwent a CT scan on his surgically repaired left ankle Saturday after feeling discomfort there during Saturday's 13-9 loss to the Red Sox.

Upvote Share Tweet

Mike Napoli hit two home runs, Jonny Gomes and prized rookie Xander Bogaerts also connected, and the Boston Red Sox kept up their dizzying scoring spree at Yankee Stadium, bashing New York 13-9 Saturday for their fifth straight win.

Upvote Share Tweet

Bradley resurfaces in Bronx, starts in center

Jackie Bradley Jr. resurfaced in the Red Sox's clubhouse on Saturday morning and was immediately inserted into the starting lineup to help fill the void for the injured Jacoby Ellsbury.

Upvote Share Tweet

Uehara's 'perfect' feat team record

How rare is it that Red Sox closer Koji Uehara has retired 27 consecutive batters dating back to Aug. 17?

Upvote Share Tweet

NEW YORK (AP) -- Boston Red Sox center fielder Jacoby Ellsbury is now wearing a protective boot on his injured right foot, and there is no timetable for his return to the lineup.

Upvote Share Tweet

Entrusted with five-run lead, bullpen implodes

Mike Napoli hit a game-tying grand slam off Boone Logan and Shane Victorino connected for a go-ahead, two-run shot off Preston Claiborne, highlighting a nine-run barrage against New York relievers as the Red Sox rallied for a 12-8 victory over the Yanke…

Upvote Share Tweet

Red Sox Power Past Yankees

Sep 7

The Red Sox hit four home runs, including the first of Xander Bogaerts' career, to beat the Yankees for the third straight day.