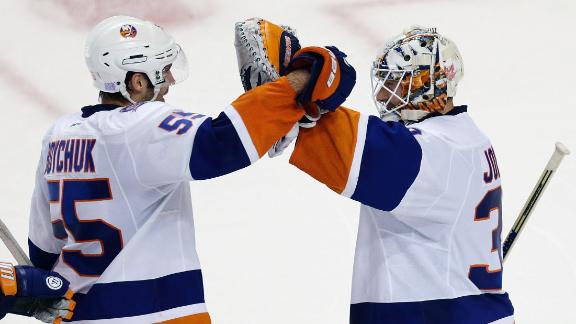 ESPN.com
yahoo.com
thehockeynews.com
Updated 4 hours ago
Bruins captain Zdeno Chara suffered ligament damage to his knee and is expected to miss four to six weeks, a source confirmed to ESPNBoston.com.
Upvote
Share
Tweet
By hiring Chili Davis, the Red Sox feel they've found a hitting coach with the type of enthusiasm and technique that players will feed off. "It goes back to the person Chili is," manager John Farrell said.

Upvote Share Tweet

NHL.com

6 hours ago

BOSTON - Former Bruins backup Chad Johnson stopped 30 shots, and Kyle Okposo scored the go-ahead goal in the second period to help the New York Islanders snap a two-game losing streak with a 3-2 victory over the Boston Bruins on Thursday night. ...

Upvote Share Tweet

boston.com ESPN.com

10 hours ago

Between moving from one state to another, and turning in one playbook and picking up another, it can be a stressful few days for a player who gets traded midseason. The Patriots' newly acquired linebacker Akeem Ayers is trying to keep his head above wat…

Upvote Share Tweet

yahoo.com

11 hours ago

For a family of four, the price of attending an NHL game rose by 4.7 percent from last season, according to the latest Team Marketing Report analysis of the League. TMR released its new Fan Cost Index for 2014-15 on Thursday, and found that a theoretica…

Upvote Share Tweet

ESPN.com

11 hours ago

FLORHAM PARK, N.J. -- Antonio Allen has played safety, cornerback and nickel this season as the New York Jets try to account for a dwindling number of defensive backs, and he has done so with a mixed amount of success. Last week against the Patriots, Al…

Upvote Share Tweet

patriotsgab.com

11 hours ago

Tom Brady was throwing on the run last Thursday, and was pretty good.(Photo By: Keith Nordstrom) Patriots QB Tom Brady admits he's not the best runner, but he's working on it. Against the Jets, Brady rolled out to the left and threw on the run and it wa…

Upvote Share Tweet

ESPN.com

12 hours ago

FOXBOROUGH, Mass. -- In the Patriots' narrow 27-25 victory over the Jets, the defense was gashed for 218 yards on the ground by Chris Ivory and Chris Johnson. The task doesn't get any easier this week against one of the best running backs in the league:…

Upvote Share Tweet

boston.com

12 hours ago

The Patriots reportedly signed Alan Branch to a contract, but the team has not yet confirmed the signing.

Upvote Share Tweet

boston.com ESPN.com

14 hours ago

Celtics assistant coach Walter McCarty faced a larceny by check charge Thursday morning in Framingham District Court.

Upvote Share Tweet

yahoo.com

16 hours ago

Last season, Garth Snow got aggressive for the New York Islanders, and it was a mistake. Acquiring Thomas Vanek was a redundant move. It was clearly a rental, as everyone and their mom knew he was going to Minnesota, or at the very least not staying on …

Upvote Share Tweet

Rumor Roundup: Sabres' Chris Stewart drawing major interest

thehockeynews.com

18 hours ago

Buffalo Sabres right wing Chris Stewart frequently popped up in the rumor mill this week as a possible trade candidate. Stewart, who turns 27 on October 30, is earning $4.2 million this season (with a cap hit of $4.15 million) and becomes eligible for u…

Upvote Share Tweet

profootballtalk.com patriotsgab.com

20 hours ago

In New England, the best way to get a day off is to show up late. But it's still not regarded as a good thing when Patriots coach Bill Belichick sends a player home for being tardy. After that happened on Tuesday to cornerback Darrelle Revis, Revis was …

Upvote Share Tweet

profootballtalk.com

21 hours ago

The Bills know they need to keep QB Kyle Orton on his feet more. Ever since their QB controversy, the Dolphins have liked what they've seen from Ryan Tannehill. Patriots QB Tom Brady is trying to be more mobile (whatever). The Jets are still alarming po…

Upvote Share Tweet

Bears Vs Patriots: 3 Players To Watch

patriotsgab.com

Oct 23 (yesterday)

Bear season has begun! Bear season is officially 4 days away from opening up and the Patriots are ready to take aim at home. The Bears are coming off a bad loss to the Miami Dolphins in Chicago and the Pats are coming off a nice break after beating the …

Upvote Share Tweet

The Patriots favored over the incoming Bear invasion

patriotsgab.com

Oct 23 (yesterday)

The Patriots are a 6 point favorite over the visiting Bears this weekend. Here's the full odds for week 8! Monday Night Football Odds

Upvote Share Tweet

Islanders Win In Boychuk's Return To Boston

Oct 23

In his first game back in Boston since being traded, Johnny Boychuk and the Islanders beat the Bruins 3-2.

Inside Edge: Bears-Patriots

Oct 23

ESPN NFL Insider Mike Sando delivers stats to help you make a pick for Chicago at New England.

Reiss' P.A.T: Powerful QBs Ahead

Oct 22

ESPN Patriots reporter Mike Reiss previews Sunday's matchup against the Chicago Bears, discusses Darrelle Revis' performance with New England, and sits down with wide receiver Brandon LaFell.

Weighing Hypothetical Tom Brady Deal

Oct 22

Mark Schlereth breaks down the hypothetical trade deadline deal, in which the New England Patriots would trade QB Tom Brady for Texans WR Andre Johnson and Houston's 2015 first-round draft pick.