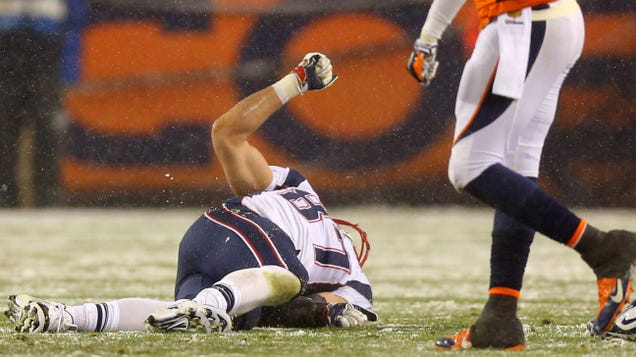 profootballtalk.com
deadspin.com
Updated 9 hours ago
The early word was that Patriots tight end Rob Gronkowski avoided a serious injury when he hurt his knee in Denver on Sunday night and further tests have done nothing to change that outlook. PFT has learned, via a league source, that the Patriots star s…
Share
Tweet
Yankees' Chris Young Reportedly Joining Red Sox

nytimes.com

4 hours ago

Once the Yankees acquired Aaron Hicks, it became clear that as long as they had four outfielders, Young was headed elsewhere, no matter how effusively Brian Cashman praised him.

Share Tweet

patriotsgab.com yahoo.com profootballtalk.com

4 hours ago

The Patriots released Chris Harper, the Patriots announced today. Harper muffed a fourth quarter punt last night that lead to a Denver touchdown to cut into the lead, 21-14. Harper only played five snaps last night.

Share Tweet

patriotsgab.com

4 hours ago

Bill Belichick(Aaron M. Sprecher via AP) Patriots coach Bill Belichick was in a better mood today when he spoke to the media via phone conference, the normal on a Monday following a game. The first time this season it was held after a loss. He talked a …

Share Tweet

patriotsgab.com profootballtalk.com

4 hours ago

Tom Brady talks to WEEI guys after a "tough loss."(Photo By: Keith Nordstrom) Tom Brady joined the guys on WEEI today following the team's loss to the Broncos. Brady spoke on the Dennis & Callahan show to talk about the loss, the refs, and injuries.…

Share Tweet

nytimes.com yahoo.com

7 hours ago

New England Patriots quarterback Tom Brady can be hell on opposing teams when he feels he has something to prove, so his team's upcoming opponents have been duly warned.

Share Tweet

profootballtalk.com patriotsgab.com

8 hours ago

Tight end Rob Gronkowski's knee injury commanded the lion's share of the attention coming out of Sunday night's Patriots loss, but he wasn't the only key member of the team to leave the contest with an injury. Linebacker Dont'a Hightower also departed e…

Share Tweet

Report: Gronk suffers bruised knee

patriotsgab.com

9 hours ago

Gronk scored a touchdown last night and avoided a serious knee injury.(Photo by: Keith Nordstrom) Tight End Rob Gronkowski suffered a knee injury late last night during the Broncos game and was carted off the field, a scary sight for the Patriots, but g…

Share Tweet

Monday Morning Doughnuts

patriotsgab.com

9 hours ago

Brandon Bolden played his heart out last night.(Photo by: AP Photo/Joe Mahoney) Doughnuts are delicious and everybody, well almost everybody, loves them and I'm sure these Patriots players love them too! This list goes to the players or group that playe…

Share Tweet

profootballtalk.com

9 hours ago

After Sunday night's unlikely win over the previously 10-0 Patriots, Broncos coach Gary Kubiak didn't say that Peyton Manning will return to the lineup only when he's "100 percent," or words to that effect. Kubiak probably didn't need to. According to E…

Share Tweet

Monday Morning Humble Pie

Tom Brady was not happy with the refs last night.((AP Photo/Jack Dempsey) Monday Morning Humble Pie time after a 30-24 loss last night for the Patriots to the Denver Broncos. Here we go, here are the players or positions that need improvement after last…

Share Tweet

Check out the Patriots Photos from their first loss

Scott Chandler after his touchdown catch.(Photo By: Keith Nordstrom) Tom Brady drops back for a pass Sunday Night.(Photo By: AP Photo/Joe Mahoney) Stephen Gostkowski clutch in the snow.(Photo By: AP Photo/Joe Mahoney) Rob Gronkowski (87) is carted off t…

Share Tweet

Tom Brady was pressured at the perfect time for Denver.(AP Photo/Joe Mahoney) I promise I'm not being bitter, but maybe a little bit of a homer when I say the refs had a hand in the loss last night, but it is true. The Patriots were without Edelman, Ame…

Share Tweet

Source: Red Sox to sign outfielder Young

MLB.com

12 hours ago

The Red Sox have reached an agreement with free agent Chris Young, a veteran outfielder who can mash left-handed pitching, a source told MLB.com on Monday. The club has not confirmed that a deal is in place.

Share Tweet

yahoo.com

13 hours ago

New York Rangers forward Derek Stepan will miss the next 4-6 weeks with broken ribs. The Rangers announced the news Monday on their Twitter feed. Stepan was hurt on a hit by Matt Beleskey in the Bruins' Friday 4-3 win over New York. A video of the hit i…

Share Tweet

NHL.com

13 hours ago

NEW YORK -- New York Rangers center Derek Stepan will be out of the lineup for four to six weeks because of two broken ribs, coach Alain Vigneault said Monday. Stepan was injured on a hit from Boston Bruins forward Matt Beleskey during the Ran...

Share Tweet

yahoo.com

14 hours ago

Carey Price of the Montreal Canadiens will miss a minimum of six weeks with a knee injury, the team announced on Monday. The NHL's Winter Classic is scheduled for January 1, 2016, between the Canadiens and the Boston Bruins. Look, we're no math majors, …

Share Tweet

yahoo.com

14 hours ago

Jamie Collins might be the New England Patriots' best defender, but he has missed the past four games with what has been deemed an "illness." Quite the mysterious illness. The Patriots have been mum on it, providing few tangible details for th…

Share Tweet

yahoo.com

16 hours ago

It's an NFL truism that Tom Brady could turn anybody, even you and your pals, into a Super Bowl-contending receiving corps. But what about a former touch football star with a bad back? On Twitter, historian Michael Beschloss shared the following 1961 le…

Share Tweet

profootballtalk.com

16 hours ago

The Bills' decision not to send a lot of pressure on defense didn't work out for them. Dolphins coach Dan Campbell said the team's offense is "anemic right now." Said Patriots CB Logan Ryan, "We know our offense is always going to give us a chance. We k…

Share Tweet

ESPN.com

16 hours ago

Brady takes OT loss hard, says he's 'pissed off'

Share Tweet

Injuries continue to mount for Patriots

Nov 30

The Monday Night Countdown crew talks about how the Patriots continue to adapt despite losing key players on both sides of the ball.

How should the Patriots handle Gronk's injury?

Nov 30

The NFL Live crew debates how the Patriots should handle Gronk moving forward with the overwhelming theme being to rest him for the playoffs.

Gronk week-to-week with bruised knee

Nov 30

ESPN's Adam Schefter reacts to the report that Patriots TE Rob Gronkowski's MRI results show he suffered a bruised knee but no tears, and that his condition is considered week-to-week.

Patriots players are interchangeable parts

Nov 30

Le Batard and Stugotz talk about how the Patriots are able to overcome injuries because their players are mostly interchangeable.