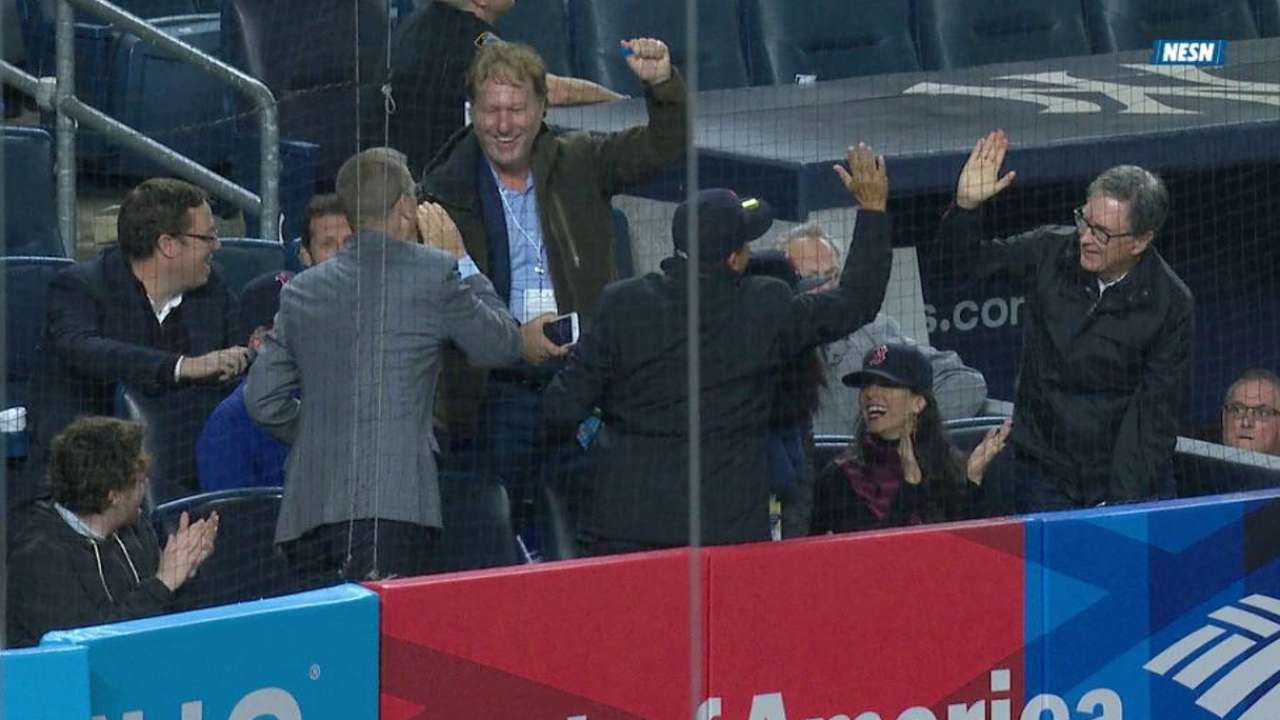 ESPN.com
MLB.com
nytimes.com
yahoo.com
Updated 5 hours ago
Orioles win biggest game of year and help Red Sox clinch AL East
Share
Tweet
profootballtalk.com

1 hour ago

The Bills are totally fine with not seeing Tom Brady this week. The Dolphins have ruled out four starters for tonight's game. Wait, wasn't this the four-game stretch in which the Patriots were being punished? Jets coach Todd Bowles isn't concerned about…

Share Tweet

nytimes.com

3 hours ago

Epstein helped the Boston Red Sox end an 86-year World Series title drought. Expectations are high he can duplicate the feat with the playoff-bound Chicago Cubs.

Share Tweet

MLB.com nytimes.com

7 hours ago

Mark Teixeira was the one mobbed by his teammates at home plate, hitting a walk-off grand slam off Joe Kelly in the bottom of the ninth inning to lift the Yankees to a 5-3 victory, but the Red Sox still clinched the American League East title on Wednesd…

Share Tweet

MLB.com

10 hours ago

Freddie Freeman extended his hitting streak to an MLB-best 30 games this season with a single up the middle off of Phillies reliever Phil Klein in the bottom of the sixth inning. Boston Red Sox outfielder Jackie Bradley Jr., had previously had a 29-game…

Share Tweet

yahoo.com

11 hours ago

Retiring Boston Red Sox star David Ortiz is not only among baseball's most recognizable players, he's one of the most recognizable superstar athletes in the world. Between his infectious personality, bright smile and remarkable talents, Ortiz has always…

Share Tweet

Pomeranz to test sore arm on Thursday

MLB.com

13 hours ago

The Red Sox will get a better read on Drew Pomeranz's availability for the rest of the season when he throws a bullpen session prior to Thursday's game at Yankee Stadium.

Share Tweet

deadspin.com yahoo.com

13 hours ago

Who will quarterback the Patriots this weekend? Jacoby Brissett? Jimmy Garappolo? Julian Edelman? Everyone involved in this weekend's Patriots-Bills game is interested in finding out, nobody more so than Bills coach Rex Ryan. So he performed some extrem…

Share Tweet

dimemag.com

17 hours ago

Getty Image The Boston Celtics are going to have one of the scrappiest teams in the NBA this season. They finished the 2015-16 with 48 wins and the fourth most efficient defense in the NBA, but they lacked a guy outside Isaiah Thomas who could create sh…

Share Tweet

Belichick unfazed by Rex Ryan's antics

profootballtalk.com

17 hours ago

It's Belichick week for Bills coach Rex Ryan. The occasion, which comes while Tom Brady remains suspended, was marked by Ryan trying (key word: "trying") to impersonate Belichick. Ryan also pretended to be a reporter (Walt Patulski of the Buffalo News) …

Share Tweet

profootballtalk.com

19 hours ago

Starting quarterbacks playing on Sunday usually speak to the media on Wednesday, although that setup requires teams to have a starting quarterback in place on Wednesday. The Patriots don't, which led to word on Wednesday morning that neither Jacoby Bris…

Share Tweet

Gronk: You have to take it slow with hamstring injuries

profootballtalk.com

19 hours ago

Patriots tight end Rob Gronkowski has been severely limited by a hamstring injury this season, with no catches through three games. So when will we see the old Gronk back? He says he's getting better, but he's also being smart about it, as a hamstring i…

Share Tweet

Spygate, Favre are two of Mangini's Jets regrets

profootballtalk.com

22 hours ago

Ten years ago, Eric Mangini arrived in New York as coach of the Jets and spiced up the rivalry between his new employer and his former one, the Patriots. The rivalry reached new heights in Mangini's second season on the job, when Week One of the 2007 se…

Share Tweet

Ryan Allen boots way to AFC special teams player of the week

profootballtalk.com

22 hours ago

During the Patriots' 27-0 win at home against the Texans last Thursday night, the Texans didn't make it across midfield until the third quarter was almost up. The Patriots defense deserves a lot of credit for that, but their effort got a big boost from …

Share Tweet

LeGarette Blount has allowed the Patriots to get away with any old QB

profootballtalk.com

Sep 28 (yesterday)

The Patriots coaching staff, particularly Bill Belichick, has gotten plenty of credit for getting the team through three quarters of Tom Brady's suspension without a loss. But they wouldn't have been able to do it without LeGarrette Blount. The veteran …

Share Tweet

nytimes.com

Sep 28 (yesterday)

A look at what's happening all around the majors today:

Share Tweet

yahoo.com

Sep 28 (yesterday)

There aren't many things in life a man plans more meticulously than proposing marriage. It's a moment you definitely don't want to fumble. Which is why everyone watching Tuesday night's New York Yankees game against the Boston Red Sox had to feel for 29…

Share Tweet

Bob Ryan: Brady suspension 'a complete joke'

Jul 31

Bob Ryan is astounded the NFL has upheld Tom Brady's four-game suspension for his role in Deflategate.

Who is better at news conferences than Belichick?

Jul 30

Take a look at some of Patriots coach Bill Belichick's best news conference moments through the years.

Just how important is Brady's suspension?

Jul 29

NFL Insider Mike Sando illustrates why Tom Brady's suspension was the most important development of the offseason.

Bennett has classic response to Pats QB chemistry question

Jul 29

Martellus Bennett is asked about the challenge of developing chemistry with both Tom Brady and Jimmy Garoppolo, to which Bennett responds by saying, "I've dated two girls at the same time before."