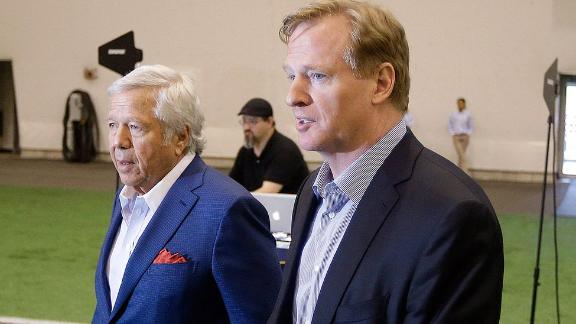 ESPN.com
profootballtalk.com
nytimes.com
Updated 29 minutes ago
Robert Kraft isn't about to start a war of words with Richard Sherman, who said Sunday that the Patriots wouldn't be disciplined by the NFL for underinflated footballs because of Kraft's close relationship with Roger Goodell.
Upvote
Share
Tweet
yahoo.com profootballtalk.com ESPN.com boston.com

1 hour ago

Yes, we just used "cute" and "Bill Belichick" in the same headline. We're not lying, either. The famously grumpy New England Patriots coach interrupted his grimaces and grunts during Tuesday's Super Bowl Media Day to smile and answer…

Upvote Share Tweet

One-Seventh Of Bill Belichick's Soul Likely Hidden In Monkey Puppet

deadspin.com

2 hours ago

During his Media Day session, Bill Belichick received a question that was actually valuable from Patriots linebacker Jerod Mayo's daughter. She asked him what his favorite stuffed animal was, and Belichick hit her with this:Read more...

Upvote Share Tweet

ESPN.com

2 hours ago

The Super Bowl point spread is holding steady at New England minus-1, even as money continues to pile up on the Patriots in Las Vegas.

Upvote Share Tweet

patriotsgab.com deadspin.com

3 hours ago

Patriots corner Brandon Browner use to be a part of the Legion of Boom, but now he's a part of another great backfield with Darrelle Revis and Devin McCourty. Browner said he will tell his teammates to break Sherman and Thomas during the game on Sunday.…

Upvote Share Tweet

Analysis: A Peek Inside the Patriots' (Trick) Playbook

nytimes.com

4 hours ago

The Patriots used the element of surprise and exploited rules about eligible and ineligible receivers to fool the Ravens' and Colts' defenses in these N.F.L. playoffs.

Upvote Share Tweet

Louis CK on Patriots: 'Sometimes you do stuff that's not fair so you can win'

yahoo.com

5 hours ago

Louis CK is one of the most brilliant minds of our time, and when he turns his attention to the New England Patriots, you can be sure he'll hit you with white-hot truth. "They want to win real bad," CK said on David Letterman's show, speaking …

Upvote Share Tweet

profootballtalk.com

5 hours ago

Patriots coach Bill Belichick says his defense hasn't faced a challenge quite like Seahawks running back Marshawn Lynch before. Although Belichick is refusing to answer questions this week about Deflategate, he gave lengthy answers to reporters' questio…

Upvote Share Tweet

deadspin.com profootballtalk.com

6 hours ago

The Patriots' first night in Arizona was not a restful one; after getting in and doing their press conferences (including a particularly impassioned one from Bob Kraft ), the team turned in—only to be woken up by a blaring fire alarm at around 1:30 loca…

Upvote Share Tweet

Ex-Jet Johnny Mitchell (remember him?) lobs a softball to Bill Belichick

ESPN.com

6 hours ago

You never know what might happen at a Super Bowl media event. On Monday night, a former New York Jets player-turned-media member -- Johnny Mitchell -- practically genuflected before New England Patriots coach Bill Belichick at a news conference in Chand…

Upvote Share Tweet

Can a bag of footballs be deflated in 90 seconds?

As the #DeflateGate controversy continues to overtake Super Bowl XLIX, the first tangible evidence other than footballs being underinflated (which the NFL has acknowledged) emerged Monday, when Jay Glazer of FOX Sports reported that a Patriots employee …

Upvote Share Tweet

Kam Chancellor on Gronkowski: Just play big-on-big

Last week, Seahawks cornerback Jeremy Lane dismissed Patriots tight end Rob Gronkowski as just an "OK" player, but it doesn't seem to be the prevailing opinion on the team. Questions about facing Gronkowski were waiting for the Seahawks in Arizona on Mo…

Upvote Share Tweet

It feels like Bill Belichick has been coaching the Patriots forever, but he hasn't. There was a coach of the Patriots before Belichick was hired in 2000, and that coach was Pete Carroll. Carroll, who is preparing to coach the Seahawks against the Patrio…

Upvote Share Tweet

profootballtalk.com

8 hours ago

Kevin Williams waited 11 years to try free agency. Turns out, he's pretty good at it. The veteran defensive tackle's two choices last offseason were the Seahawks and Patriots, the teams that happen to be meeting for the Super Bowl. "Guess I couldn't hav…

Upvote Share Tweet

profootballtalk.com CNNSI.com

8 hours ago

Patriots coach Bill Belichick was probably hoping he buried #DeflateGate with Saturday's Mona Lisa Vito press conference. And upon arriving in Arizona last night, he gave a hint of what he's going to be saying a lot today. Via Phil Perry of CSNNE.com, B…

Upvote Share Tweet

profootballtalk.com

8 hours ago

A look at Bills DE Jerry Hughes as he approaches free agency. How can the Dolphins create cap space for the offseason? The Patriots believe they can run the ball on the Seahawks. Seahawks coach Pete Carroll called trading Percy Harvin to the Jets a "dif…

Upvote Share Tweet

Seahawks, Patriots both saw seasons turn after losses to Chiefs

profootballtalk.com

9 hours ago

The Kansas City Chiefs didn't make the playoffs this season, but they had a major impact on the playoffs. Last week, Patriots coach Bill Belichick said that he felt his team's play in the second half of a 41-14 loss to the Chiefs in Week Four was a turn…

Upvote Share Tweet

The Super Bowl Mailbag

CNNSI.com

15 hours ago

PHOENIX — I keep thinking: Write about the game, write about the game. Then Bob Kraft stepped to the podium Monday evening. The Patriots owner challenged the NFL—he was speaking to the assembled Super Bowl media, but really he was speaking to Park Avenu…

Upvote Share Tweet

Bed check: Wrapping up Patriots Day 1

ESPN.com

16 hours ago

PHOENIX -- Wrapping up some of the key storylines around the New England Patriots from their first day at Super Bowl XLIX: Robert Kraft's public defense. Can't recall a Super Bowl where the owner took the mic first. That was the story of the day, with B…

Upvote Share Tweet

nytimes.com

16 hours ago

Former Major League Baseball All Star pitcher Bill Monbouquette has died of leukemia at the age of 78, the Boston Red Sox said on their website.

Upvote Share Tweet

Kraft: 'Pats Have Done Nothing Inappropriate'

Jan 26

ESPN Patriots reporter Mike Reiss breaks down team owner Robert Kraft's comments about "Deflategate."

Power Of The Pick-Six

Jan 26

Jim Basquil is joined by ESPN Seahawks reporter Terry Blount and Patriots reporter Mike Reiss to talk about how a pick-six could be the play that decides the Super Bowl.

Patriots: Four Facts Heading Into Super Bowl Sunday

Jan 26

ESPN Patriots reporter Mike Reiss discusses fours facts for the Patriots heading into their Super Bowl matchup against the Seahawks.

Seahawks Against Top Tight Ends

Jan 26

ESPN Seahawks reporter Terry Blount discusses the upcoming matchup between Seattle's defense and Patriots TE Rob Gronkowski.