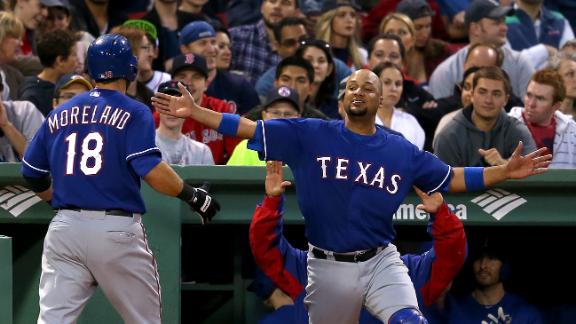 MLB.com nytimes.com

4 hours ago

Wandy Rodriguez kept the Red Sox in their offensive funk while leading the Rangers to an 3-1 victory in the rubber match of a three-game series.

Share Tweet

Sandoval likely to return for series vs. Angels

MLB.com

8 hours ago

Shane Victorino was a scratch Thursday due to general soreness centralized to the left calf, but the good news for the Red Sox is that third baseman Pablo Sandoval, who was belted on the left knee by a pitch Tuesday, should return to the lineup for the …

Share Tweet

profootballtalk.com

11 hours ago

Former Patriots tight end Aaron Hernandez returned to court on Thursday, for the first time since he was convicted last month for killing Odin Lloyd in June 2013. And when Hernandez returned to court, his collection of tattoos that previously crept belo…

Share Tweet

Celtics owner takes over Boston's 2024 Olympic bid

nba.com

12 hours ago

The group leading the bid to bring the 2024 Olympics to Boston is shaking up its management.

Share Tweet

ESPN.com

13 hours ago

New England Patriots rank 156th in ESPN salary survey

Share Tweet

profootballtalk.com

15 hours ago

Patriots owner Robert Kraft says that in refusing to fight the league's punishment for Deflategate, he wasn't just doing what was best for the NFL. He was also doing what's best for his own team. Responding to criticism from some in New England that Kra…

Share Tweet

thehockeynews.com

16 hours ago

There has been much speculation about the status of Bruins coach Claude Julien's position with the team and new Boston GM Don Sweeney did little to put those questions to rest during his introductory press conference Wednesday. Sweeney, who was named th…

Share Tweet

Darrelle Revis: Don't Give Tom Brady Special Treatment

deadspin.com

18 hours ago

Darrelle Revis is back with the Jets after a successful year in New England, but his season as Tom Brady's teammate hasn't disposed him toward sympathy for the Patriots or their quarterback.Read more...

Share Tweet

yahoo.com

19 hours ago

Roger Goodell didn't answer many questions directly on Wednesday, but in a roundabout way he answered a big one from deflate-gate. Why wouldn't Tom Brady give up his text messages and emails in Ted Wells' investigation? If you scoffed at the answer that…

Share Tweet

profootballtalk.com

22 hours ago

The Bills could have a rookie starter up front. Dolphins RB Lamar Miller could be set for a breakout year. The Patriots are hoping for more pass-rush this season. The Jets have another missing DE, but no one knows why. Ravens rookie WR Breshad Perriman …

Share Tweet

profootballtalk.com

23 hours ago

Former Patriots cornerback Darrelle Revis doesn't necessarily have much sympathy for his old team's penalties, or Tom Brady's four-game suspension. At the same time, his respect for his former quarterback is clear. In an interview with Manish Mehta of t…

Share Tweet

Clayton's Quiz: Best QB to run two-point conversions?

May 21

Clayton's Quiz provides a weekly challenge to your NFL knowledge. Which quarterback may grow in value because of the new push for two-point conversions? Is it Russell Wilson, Colin Kaepernick, Tom Brady, or Cam Newton?

Fewer extra points and more value for older kickers?

May 21

John Clayton analyzes the potential for fewer extra points and how the older kickers may adapt to the new conversion rules better.

Revis latest to speak out against Patriots

May 21

Dan Graziano reacts to former Patriot Darrelle Revis' comments that New England has had a history of breaking the rules.

Goodell reacts to Patriots dropping appeal

May 20

ESPN Patriots reporter Mike Reiss discusses NFL commissioner Roger Goodell's Deflategate-related comments from the league's spring meetings in San Francisco.