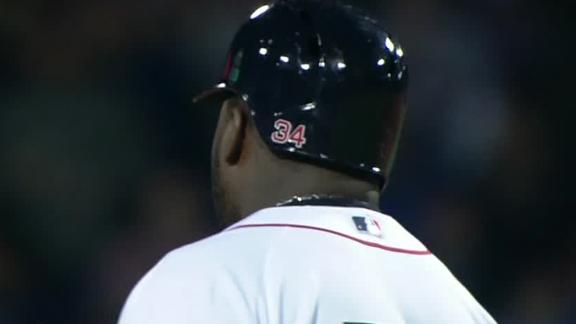 David Ortiz had two hits and three RBIs to extend his torrid start after a long layoff, and Felix Doubront overcame a wild first inning to pitch into the seventh as the Boston Red Sox beat the struggling Houston Astros 8-4 on Saturday night.
Share
Tweet
boston.com ESPN.com CNNSI.com yahoo.com deadspin.com profootballtalk.com

Apr 27, 2013

Running back and speedster Jeff Demps told the Patriots earlier this offseason that he wanted to focus on track now and return to football in the fall, which didn't sit well with team brass. Running back LeGarrette Blount saw his carries decline with th

Share Tweet

Taking a snapshot at where the depth chart stands after the draft, with a few superlatives thrown in.

Share Tweet

Patriots coach Bill Belichick reflected on the NFL draft. Here are his comments in full.

Share Tweet

CNNSI.com

Apr 27, 2013

By trusting the unpredictability of a small, backup point guard, the Bulls beat the Nets in a 142-134 thriller to find themselves within one game of advancing, says Ian Thomsen.

Share Tweet

nba.com boston.com yahoo.com CNNSI.com nydailynews.com

Apr 27, 2013

Hanging on a wall of the Celtics' practice facility, opposite the faded banners that hung in the old Boston Garden a half-century ago, is a spotless one.

Share Tweet

New Patriots linebacker Steve Beauharnais, who was drafted No. 235 overall in the seventh round fo the NFL draft, spoke to the media via conference call Saturday.

Share Tweet

New York Knicks guard J.R. Smith has been suspended for Game 4 of the Knicks-Boston Celtics playoff series for throwing an elbow that struck the chin of Boston's Jason Terry in Game 3, the NBA announced on Saturday night.

Share Tweet

patriotsgab.com boston.com

Apr 27, 2013

Patriots drafted TCU WR Josh Boyce with the fifth pick of the 4th rd (The 102nd pick). Boyce ran the 40-yard dash in 4.38 seconds at the NFL combine in February on a broken toe. He has high football intelligence, and on learning New England's offensive

Share Tweet

ESPN.com

Apr 27, 2013

The AFC East was full of surprises, twists and turns during the 2013 NFL draft. The first round had three trades involving division teams, and half of the AFC East drafted potential franchise quarterbacks amid controversy. For the second year in a row, …

Share Tweet

profootballtalk.com

Apr 27, 2013

Tom Brady, the 199th overall pick in the 2000 NFL draft, has been known to think about the six quarterbacks selected ahead of him that year as a form of motivation. Matt Barkley, the 98th overall pick in this year's NFL draft, says he's going to have

Share Tweet

Bucs get William Gholston for Aqib Talib

profootballtalk.com

Apr 27, 2013

The Tampa Bay Buccaneers have traded Aqib Talib for William Gholston. The Talib trade happened last year, but today they spent the fourth-round pick they got from the Patriots on Gholston, a defensive end from Michigan State who has good size (6-foot-7,…

Share Tweet

profootballtalk.com boston.com patriotsgab.com

Apr 27, 2013

Wide receiver was the Patriots' biggest need heading into the draft. So it's no surprise that the Patriots have spent a second-round pick and a fourth-round pick on a wide receiver. At pick No. 59 New England selected Marshall's Aaron Dobson (pictur

Share Tweet

Why you should be excited about Aaron Dobson, the Rutgers support group, and a cover linebacker as suspected.

Share Tweet

NFL honors Joe Andruzzi for Marathon role

Former Patriots guard Joe Andruzzi, who carried an injured woman to safety after the Boston Marathon explosions, was honored by the NFL during the draft in New York on Thursday.

Share Tweet

The Patriots selected for the first time in the 2013 NFL Draft on Friday night. New England had four picks total in rounds two (Nos. 52 and 59) and three (Nos. 83 and 91) after trading away its first round pick to the Minnesota Vikings.

Share Tweet

patriotsgab.com boston.com

Apr 27, 2013

Patriots draft pick LB Jamie Collins Highlight video

Share Tweet

dimemag.com

Apr 27, 2013

Sometimes in the NBA Playoffs, two squads will matchup and eventually it'll become so obvious who the better team is that even the players just have to give in. The Knicks and Celtics have reached that point, and they got there in the early moments of t

Share Tweet

New Patriots cornerback Logan Ryan, who was selected No. 83 overall in the third round of the NFL draft, spoke to reporters via conference call. Here are his comments in full.

Share Tweet

ESPN.com

Apr 27, 2013

David Ross cleared the Green Monster twice with solo home runs and Ryan Dempster struck out a career-high 10 for the Boston Red Sox in a 7-3 win over the Houston Astros on Friday night.

Share Tweet

Bill Belichick evaluates New England Patriots' draft

Apr 27

New England Patriots coach Bill Belichick talks to NFL Network's Mike Mayock about trading the 29th overall pick to the Minnesota Vikings, and the team's selections in the 2013 NFL Draft.

End Of An Era For Celtics?

Apr 27

Jackie MacMullan discusses the possibility that the window of opportunity is closing for the Celtics.

Ortiz, Red Sox Double Up Astros

Apr 27

David Ortiz drives in three runs in the Red Sox's 8-4 win over the Astros.

Mike Reiss: Receiver Redo: The Story Of Patriots Draft

Apr 27

ESPNBoston.com's Mike Reiss summarizes the Patriots draft haul, which included two receivers.

Sports Columnists

Don Banks: Barkley pick proof that Kelly's no one-trick pony; more Snaps

Apr 27

NEW YORK -- Musings, observations and the occasional insight as the eventful final day of the NFL Draft at Radio City Music Hall finally brought a flurry of quarterback news...

2013 NFL draft -- Draft's winners, losers

Apr 27

The San Diego Chargers are the big winners of the 2013 draft, writes John Clayton.