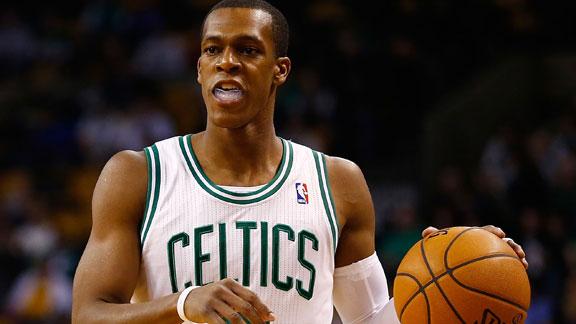 ESPN.com
Updated Dec 5, 2012
Kevin Garnett scored 18 points, grabbed 10 rebounds and remained unbeaten against his former team as the Boston Celtics beat the Minnesota Timberwolves 104-94 on Wednesday night in Rajon Rondo's return from a two-game suspension.
Share
Tweet
yahoo.com

Dec 5, 2012

When the 1-2 Denver Broncos beat the Oakland Raiders, 37-6, on September 30, it was the first time all season that Peyton Manning and the Denver offense really got into sync. Since then, Manning's team lost a game to the New England Patriots, and respon…

Share Tweet

Red Sox meet with Hamilton, plan to keep Ellsbury

MLB.com

Dec 5, 2012

MLB.com confirmed that general manager Ben Cherington and manager John Farrell did meet with Josh Hamilton in person at some point during the Meetings. In other news, Cherington disputed the notion that he's motivated to trade Jacoby Ellsbury.

Share Tweet

Counsell: Not 'right time' to leave Milwaukee

MLB.com

Dec 5, 2012

Brewers special assistant Craig Counsell cited family considerations for last week's decision to withdraw his name from consideration for the hitting coach position in Boston. The Red Sox subsequently hired Greg Colbrunn.

Share Tweet

ESPN.com profootballtalk.com

Dec 5, 2012

Few players have dominated the NFL defensively this season like Houston Texans defensive end J.J. Watt. He has come into his own in his second season and has 15.5 sacks. The Patriots are doing everything they can to not let Watt dominate Monday's huge A…

Share Tweet

Brady Quinn's NFL career has been largely disappointing, but under unimaginably difficult circumstances on Sunday, he played what may have been his best game. After completing 19 of 23 passes for 201 yards, with two touchdowns and no interceptions, and

Share Tweet

ESPN.com

Dec 5, 2012

Two of the NFL's top teams will meet at Gillette Stadium when the New England Patriots host the Houston Texans on "Monday Night Football." This game has huge playoff implications for both teams. The Texans (11-1) and Patriots (9-3) currently hold th

Share Tweet

Patriots provide inspiration to another Boston team

Football teams trying to replicate the Patriots system by hiring coaches or executives away from New England have not found much success over the years. Bill O'Brien had a promising first year at Penn State, but Charlie Weis, Romeo Crennel, Scott Pioli,

Share Tweet

CNNSI.com

Dec 5, 2012

While other QBs are stealing headlines, there's some guy in New England putting up MVP numbers. No, Tom Brady's mastery isn't new, but his 2012 run is still stunning, says Kerry Byrne.

Share Tweet

Wednesday morning one-liners

An article on the Bills' website says DE Mario Williams "has become a near-dominant force on the defensive line since he had his surgical procedure on his left wrist." The Dolphins' problem is pretty simple: The offense doesn't score enough poin

Share Tweet

Rob Gronkowski & StephenGostkowski are guest starring on Friday's episode of the Nickelodeon show "NFL RUSH ZONE: SEASON OF

patriotsgab.com

Dec 5, 2012

New England Patriots popular tight end Rob Gronkowski and kicker Stephen Gostkowski will be guest starring on Friday's episode of Nickeloden's show NFL Rush Zone: Season of the Guardians. It will air on Nicktoons at 9 P.M. ET. and on Saturday on NFL N

Share Tweet

Celtics Win In Rondo's Return

Dec 5

Rajon Rondo drops a double-double in return to Celtics.

Red Sox Latest News

Dec 5

Gordon Edes and Joe McDonald take a look at the Red Sox offseason.

Reiss' P.A.T.

Dec 5

In this week's edition of P.A.T., Mike Reiss looks ahead to the Patriots' Week 14 matchup against the Texans.

New England Patriots TE Aaron Hernandez: 'I'm feeling better every week'

Dec 5

New England Patriots TE Aaron Hernandez stops by "Around the League" to discuss the upcoming matchup with the Houston Texans, his new role with TE Rob Gronkowski injured and his ability to come back from injury.