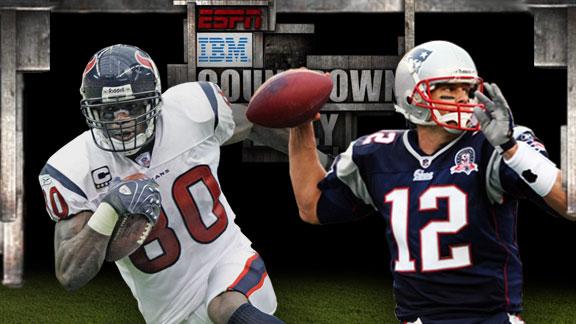 patriotsgab.com
ESPN.com
Updated Dec 6, 2012
QB Tom Brady Beating the Houston Texans is hard enough, and even harder when you are missing offensive weapons. The Patriots will be short handed going into this matchup vs the Texans. WR Edelman broke his foot, and is done for the season, but the bigge…
Upvote
Share
Tweet
Patriots using racquetball paddles to prepare themselves for the J.J. Watt Swat

yahoo.com

Dec 6, 2012

It's common practice for quarterback coaches to use brooms in practice to simulate defensive pressure for their quarterbacks on non-contact days, but as the New England Patriots prepare for their "Monday Night Football" tussle with the Houston…

Upvote Share Tweet

Key matchup: Aqib Talib vs. Andre Johnson

ESPN.com

Dec 6, 2012

There are plenty of great matchups to watch when the Houston Texans (11-1) travel to play the New England Patriots (9-3) on "Monday Night Football." But one to really keep an eye on will be the battle between newly acquired Patriots cornerback…

Upvote Share Tweet

NASHVILLE, Tenn. (AP) -- Reliever Koji Uehara has reached an agreement with the Boston Red Sox, pending a physical.

Upvote Share Tweet

patriotsgab.com

Dec 6, 2012

QB Brady Quinn First off here at Patriot's Gab we want to congratulate the Chiefs on a well deserve win. Brady Quinn in a span of 30 seconds gives a very important, and powerful message following the Chiefs victory Sunday.

Upvote Share Tweet

CNNSI.com

Dec 6, 2012

NASHVILLE, Tenn. (AP) -- The Houston Astros took hard-throwing reliever Josh Fields from the Boston system Thursday with the overall first pick in the draft of players left off 40-man rosters.

Upvote Share Tweet

ESPN.com

Dec 6, 2012

Remember when there was intense debate in the AFC East blog about which quarterback was better: Chad Henne or Mark Sanchez? Miami Dolphins and New York Jets fans couldn't get enough of these young gunslingers. They were expected to develop and eventuall…

Upvote Share Tweet

Boston acquires Kaminska to complete Stewart trade

The Red Sox acquired right-hander Kyle Kaminska on Thursday to complete the Nov. 28 trade that sent Zach Stewart to the Pirates.

Upvote Share Tweet

profootballtalk.com

Dec 6, 2012

For years, basketball coaches have prepared their teams for shot-blockers by giving practice players tennis rackets. The Patriots are only facing J.J. Watt and the Texans this week, not Dikembe Mutombo, so they're using racquetball racquets. "I know c

Upvote Share Tweet

The Yankees have offered Kevin Youkilis a one-year, $12 million contract, hoping that the former Red Sox star will help fill their void at third base.

Upvote Share Tweet

Twins select right-hander Pressly in Rule 5 Draft

The Twins selected right-hander Ryan Pressly from the Red Sox organization in the Rule 5 Draft at the Winter Meetings on Thursday.

Upvote Share Tweet

nytimes.com

Dec 6, 2012

Some Jets fans may not agree with the decision to start Mark Sanchez, but the feeling is more supportive among Patriots fans.

Upvote Share Tweet

Weighing the Gravity of the So-Called Playoff Preview

grantland.com

Dec 6, 2012

Monday night's Patriots-Texans game is exciting for a number of reasons. You can spin it as a possible matchup between the league's best offense and i...

Upvote Share Tweet

grantland.com

Dec 6, 2012

A grab bag of smaller deals and rumors, while waiting for updates on the four-team trade of death ... The Red Sox are rumored to be interested in...

Upvote Share Tweet

NFL32OT Monday Night Football Preview

Dec 6

The NFL32 crew discuss the Monday Night matchup between the Texans and the Patriots.

How Are The Patriots Preparing For The Texans?

Dec 6

NFL Live looks at the Patriots are preparing for the Texans.

Countdown Daily Prediction: Texans-Patriots

Dec 6

The NFL Live crew makes their picks for Houston at New England

Texans and Patriots preparing for shootout

Dec 6

Houston Chronicle reporter John McClain joins "Around the League" to discuss the big Monday night matchup between the Houston Texans and New England Patriots and what could be a shootout in Massachusetts.

Sports Columnists

NBA -- What scouts are saying

Dec 6

Marc Stein checks in with advance scouts to get their takes on the most pressing NBA topics.