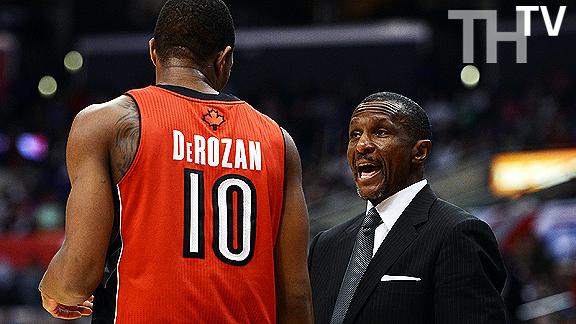 Updated Feb 6
Share
Tweet
Kevin Garnett scored a season-high 27 points with 10 rebounds, Paul Pierce had 12 points and 11 rebounds, and the Boston Celtics won their fifth straight game by beating the Toronto Raptors 99-95 on Wednesday night.
Source:
ESPN.com
Updated Feb 6

Share Tweet

Final: Celtics 99-95 The Celtics outscore the Raptors 30-16 in the fourth quarter, hit 9 of 11 free throws and commit only two turnovers to win their fifth straight game without Rajon Rondo. Kevin Garnett scored 11 of his season-high...

Sources:

boston.com grantland.com

Updated Feb 6

Share Tweet

Center Andrea Bargnani was set to come off the bench for the Toronto Raptors for Wednesday's game against Boston, ending a 26-game injury absence.

Source:

nba.com

Updated Feb 6

Share Tweet

By Baxter Holmes Globe Staff Lakers forward Pau Gasol will not play against the Celtics Thursday at TD Garden after an MRI Wednesday revealed that he has a partially torn plantar fascia in his right foot. Gasol is out...

Updated Feb 6

Share Tweet

The most odd thing about the picture featuring Heisman winner QB of Texas A&M, Johnny Manziel and New England Patriots, record breaking, tight end, Rob Gronkowski, is neither of them were drinking or shirtless in the picture. Manziel is becoming notorio

Sources:

patriotsgab.com deadspin.com

For Patriots offseason, Vollmer should come first

Updated Feb 6

Share Tweet

The Patriots have 18 free agents and five draft picks, making this offseason an opportunity to either reshape the underbelly of the team's roster or provide some continuity with the players in place.

Updated Feb 6

Share Tweet

After he was voted down again the Hall of Fame candidacy of former Bills WR Andre Reed remains a hot topic in Buffalo. The Dolphins took a big step toward getting their new stadium. Although they fell short of the Super Bowl, the Patriots may have been …

Source:

profootballtalk.com

Why the Patriots actually improved in 2012

Updated Feb 6

Share Tweet

At first glance, it appears the Patriots took a step back from 2011. They watched Super Bowl XLVII instead of playing in it. They went 12-4 instead of 13-3. But looking at the 2012 season in its totality, the conclusion here is that, indeed, New England…

Top Five Moments of the Patriots 2012 season: Number 4. Rob Ninkovich strip-sack of Mark Sanchez

Updated Feb 6

Share Tweet

The first meeting of the 2012 season between the Jets and Patriots was one for the ages. It was a classic game between the two hated rivals, that came down to very end. The very sweet, sweet end. The Patriots blew a ten point lead in the 4th, but kicked…

Source:

patriotsgab.com

Garnett Leads Celtics To Win Over Raptors

Feb 6

Kevin Garnett goes for 27 as Celtics hold off Raptors.

Raptors Changing Identity

Feb 6

Raptors head coach Dwane Casey on how the acquisition of Rudy Gay changes the dynamics and identity of the Toronto Raptors.

Rapid Fire With J.A. Adande

Feb 6

The ESPN analyst sounds off on the Lakers' future, LeBron James' salary and Joakim Noah's cashmere.

Time To Break Up the Celtics?

Feb 6

It can be tough to know when your championship window is closing. Henry Abbott explains.

Sports Columnists

Mike Krzyzewski still being courted by Team USA basketball, according to s…

Feb 6

Team USA basketball still is holding out hope that Mike Krzyzewski will remain the team's coach, according to sources.