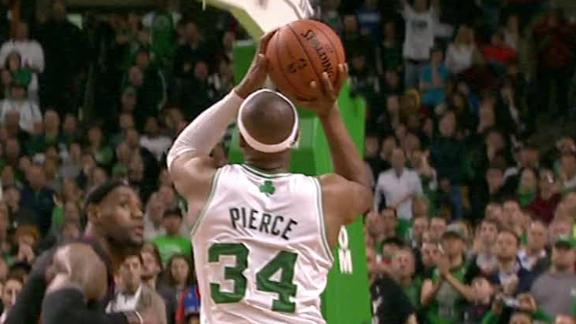 ESPN.com
boston.com
Updated Feb 7, 2013
Boston Celtics president of basketball operations Danny Ainge said Thursday that despite rumors to the contrary, he doesn't expect to trade Kevin Garnett and Paul Pierce.
Share
Tweet
ESPN.com boston.com dimemag.com

Feb 7, 2013

Paul Pierce scored 24 points and led a third-quarter surge as the Boston Celtics routed the Lakers 116-95 on Thursday night in Dwight Howard's return for Los Angeles.

Share Tweet

yahoo.com

Feb 7, 2013

Over the next few weeks, "Shutdown Corner" will pay homage to "Office Space" (TPS reports) as we take a quick look back at each team's 2012 season and a look at what lies ahead for the 2013 offseason. We wrap up the AFC East with the…

Share Tweet

MLB.com deadspin.com ESPN.com

Feb 7, 2013

An MLB spokesman said Thursday that the league was already aware and had concluded an investigation of Curt Schilling's claim that he was offered performance enhancing drugs while with Red Sox in 2008.

Share Tweet

PFT on NBC Sports Network: Jerod Mayo, AFC East offseason preview

We're easing into the offseason this week on Pro Football Talk on NBC Sports Network and Patriots linebacker Jerod Mayo will help us with that process on Thursday. Mayo will talk to Erik Kuselias about the state of the Patriots after their loss to the R

Share Tweet

Rob Gronkowski, Porn Star?

deadspin.com

Feb 7, 2013

The Summer of Gronk, Part II, might be less than three weeks old, but it's already so far along that Gronkshaming has become a thing. So where can it go from here? Why not porn! A porn company has offered Gronk $3.75 million-the equivalent of his 2014 s

Share Tweet

yahoo.com

Feb 7, 2013

While the NFL has plenty of quarterbacks indelibly associated with a single city - Brady, Brees, Ryan, Rodgers, the lil' Manning - receivers tend to be a more wandering lot. And in all sports, the flow of players and money runs away from small-market

Share Tweet

Q&A: Celtics chat with Gary Dzen

boston.com

Feb 7, 2013

Boston.com Celtics writer Gary Dzen takes your questions on Celtics-Lakers, the NBA trade deadline, Rajon Rondo, and more Thursday at 1 p.m.

Share Tweet

With renewed energy, Sox look to reverse course

MLB.com

Feb 7, 2013

Typically when the Red Sox head to Spring Training, they set out to prove that they are worthy of the hype. But something has changed this year. There really is no hype.

Share Tweet

deadspin.com

Feb 7, 2013

How does a quarterback, helpless on the sidelines, deal with being on the brink of their first Super Bowl win? Tom Brady turned away, unable to watch. Eli Manning was giddy, probably planning to ride the Teacups over and over again. Joe Flacco? He was p…

Share Tweet

Belichick and Kobe are pals, because of course they are

On the surface, there seems to be little in common between Patriots coach Bill Belichick and NBA star Kobe Bryant. But Bryant said he had a deep respect for the Patriots coach, after a brief meeting during a low point in his career. Bryant told ESPN NBA…

Share Tweet

The Bills are looking more than just QB Ryan Nassib, as new coach Doug Marrone surveys the college landscape. Former Dolphins S Donald Bessilieu was arrested for marijuana possession while trying to pick up a prostitute. Patriots coach Bill Belichick is…

Share Tweet

ESPN.com boston.com

Feb 7, 2013

Buffalo Bills Brad Smith is trying his hand at something new this offseason. Ryan Nassib is just one of several quarterbacks the Bills are looking at as the draft draws closer. Miami Dolphins Watching fellow 2012 draft picks Andrew Luck, Robert Griffin …

Share Tweet

Garnett Reaches 25,000 Points In Celtics' Win

Feb 7

Celtics win sixth straight.

Ainge: Celtics 'Likely' Won't Make Changes

Feb 7

Kurt Rambis breaks down Danny Ainge's comments that he doesn't expect the Celtics to trade Kevin Garnett or Paul Pierce.

Rapid Fire with Dwane Casey

Feb 7

Raptors head coach Dwane Casey on who will win the NBA title, who the league's best point guard is, and whether the Celtics and Lakers can contend with their current rosters.

Best Rivalry In Sports?

Feb 7

"SportsCenter" debates the best rivalry in sports.