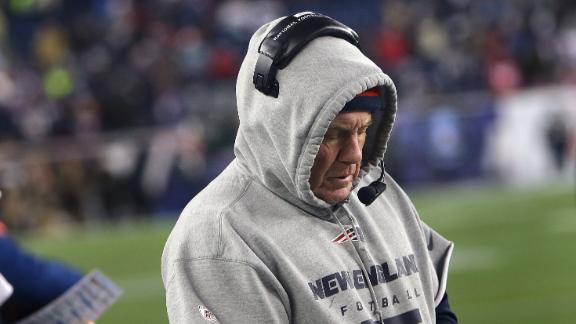 Updated Jan 20
Share
Tweet
FOXBOROUGH, Mass. -- There were so much media surrounding Wes Welker's locker Sunday night that the diminutive, 5-foot-9 receiver had to raise his voice to clear a pathway. "Can I get to my locker, please?" Welker said tersely. "Thank you…
Hidden In Plain Sight

Updated Jan 20

Share Tweet

Did we see the Ravens coming? After their 28-13 win over the Pats, maybe we should've, says Don Banks, who adds Baltimore fits the recent profile of Super Bowl winners to a tee.

Source:

CNNSI.com

Updated Jan 20

Share Tweet

FOXBORO, Mass. -- Like the Giants last year, and the Packers the year before, we didn't really see these Baltimore Ravens coming, did we? But maybe we should have. After all, Super Bowl teams of late aren't always the beauty pageant winners, primping an…

Source:

CNNSI.com

Updated Jan 20

Share Tweet

Joe Flacco, quarterback, Baltimore Ravens: After a relatively quiet first half, Flacco stepped up in the final 30 minutes, completing 15-of-24 pass attempts for 159 yards and three touchdowns as the Ravens scored 21 straight points to defeat the New Eng…

Updated Jan 20

Share Tweet

Ravens linebacker Terrell Suggs doesn't like the Patriots.  And now that he's on his way to the first Super Bowl of his career after beating them in the AFC title game, Suggs has teed off on his team's long-time nemesis. "Tell them to have fun at

Updated Jan 20

Share Tweet

Tom Brady probably should have known it wasn't his day when he tried to run upfield against the Ravens and got tackled by an official. In the first play after the two-minute warning of the first half in the AFC championship game, the Patriots' quarterba…

Pistons blow big lead, but hold off Celtics

Updated Jan 20

Share Tweet

Rookie Andre Drummond had 16 points and seven rebounds, and the Detroit Pistons returned from Europe with a 103-88 victory over the Boston Celtics on Sunday night.

Updated Jan 20

Share Tweet

Following his team's loss at home to the Baltimore Ravens in the AFC Championship, Bill Belichick declined an on-field post-game interview with CBS's Steve Tasker. It was a childish move, but not necessarily a surprising one. On the the CBS post-game sh…

Sources:

deadspin.com profootballtalk.com

Ravens top Pats, set all-Harbaugh Super Bowl

Updated Jan 20

Share Tweet

Joe Flacco outdueled Tom Brady, throwing three touchdown passes in the second half and leading the Baltimore Ravens to their first Super Bowl in 12 years with a 28-13 victory over the New England Patriots on Sunday for the AFC championship.

Updated Jan 20

Share Tweet

Call them AFC champions. Joe Flacco engineered three second-half touchdown drives as the Ravens rallied to topple the Patriots 28-13 to earn a berth in Super Bowl XLVII.

Updated Jan 20

Share Tweet

New England Patriots quarterback Tom Brady must have been upset when he was stopped by umpire Chad Brown near the end of the first half of the AFC Championship game against the Baltimore Ravens. That happened with 1:52 left in the first half, and when y…

Updated Jan 20

Share Tweet

Bill Belichick is usually one of the NFL's more aggressive coaches when it comes to going for it on fourth down. But not today in the AFC Championship Game. Belichick has already punted three times while in Ravens territory, and the last of those punts

NFL playoffs -- Baltimore Ravens' momentum evokes recent Super Bowl champions

Updated Jan 20

Share Tweet

Baltimore Ravens silence doubters by crushing New England Patriots in AFC Championship Game.

Brady botches the clock, but Patriots take a lead into halftime

Updated Jan 20

Share Tweet

Even a quarterback as experienced in the postseason as Tom Brady sometimes makes clock-management mistakes at big moments. Just before halftime in New England, Brady botched his clock management, running for a short gain, going down inbounds with 20 sec…

Updated Jan 20

Share Tweet

New England Patriots cornerback Aqib Talib left in the first quarter of Sunday's AFC Championship Game against the Baltimore Ravens with a thigh injury. The team announced his return as questionable.

Sources:

ESPN.com profootballtalk.com

Baltimore's Ray Rice scores a touchdown, celebrates, and is amused by flexing Pats fan

Updated Jan 20

Share Tweet

Ray Rice helped the Baltimore Ravens take a 7-3 lead over the New England Patriots during the AFC Championship on Sunday night by running in a two-yard touchdown in the second quarter. Afterwards, Rice did his customary flexing touchdown celebration. Fo…

Updated Jan 20

Share Tweet

It may get lost in the shuffle a bit if the Baltimore Ravens lose the AFC title game to the New England Patriots and Ray Lewis officially retires as well, but we may have just seen the final game for the greatest tight end in NFL history. When the Atlan…

Baltimore's Ray Lewis got really emotional during the AFC championship's national anthem

Updated Jan 20

Share Tweet

During the national anthem before the Baltimore Ravens and New England Patriots faced off in the AFC championship, Baltimore's Ray Lewis got very, very emotional. Dancing back and forth while making this face kind of emotional. Perhaps he realizes that,…

This Jim Harbaugh Freakout Is Priceless: Your NFL Conference Championships GIFs Roundup

Updated Jan 20

Share Tweet

We're going to be putting our GIFs from the respective Conference Championship games right here. So if you're looking for Julio Jones's touchdown scoring and/or security guard eliminating prowess, here's your spot. We'll update with Patriots-Ravens as s…

Source:

deadspin.com

Updated Jan 20

Share Tweet

Eventually, quarterbacks coach David Lee will work for the Patriots.  He has to. For now, he's embarking on his third tour with an AFC East team.  According to Chris Mortensen of ESPN, Lee has become the quarterbacks coach of the Jets. Lee spent 2012

Updated Jan 20

Share Tweet

The Baltimore Ravens and New England Patriots have released their inactive lists for Sunday night's AFC Championship Game and, as expected, there are no surprises. The Ravens listed linebacker Dannell Ellerbe (ankle/back), fullback Vonta Leach (knee/ank…

Patriots-Ravens will apparently be quite windy, judging by goal posts bending in the gusts

Updated Jan 20

Share Tweet

Wind will be a factor in New England today, especially judging from the goal posts on the nearby practice fields that look like they're going to topple over. The Patriots tweeted out a picture that it said was the goal posts on the practice fields, whic…

Updated Jan 20

Share Tweet

Brandon Lloyd of the New England Patriots had the most yards of any receiver against the San Francisco 49ers this season with 190. At this rate, Julio Jones of the Atlanta Falcons will have that mark busted wide open by the end of the half. Jones gained…

Updated Jan 20

Share Tweet

Baltimore Ravens star Ray Lewis intends to retire at the end of his season. Some New England Patriots fans are so positive that his retirement is coming on Sunday that they've put up a billboard counting down to his retirement party. This billboard was …

Updated Jan 20

Share Tweet

Join our ESPN.com NFL experts for the AFC Championship Game between the Baltimore Ravens and the New England Patriots. Contribute your thoughts and questions beginning at 6:30 p.m. ET. See you there. Countdown Live: Ravens-Patriots

Updated Jan 20

Share Tweet

WR Brad Smith is excited about the new arrivals on the Bills coaching staff. Dolphins WR Brian Hartline had a memorable season. The Patriots promoted DT Marcus Forston from the practice squad. Those who have worked with new Jets G.M. John Idzik are conf…

Updated Jan 20

Share Tweet

When Scott Pioli left the Patriots to go to Kansas City, the Patriots brought in veteran personnel man Floyd Reese, but that arrangement has apparently reached its end. According to Mike Reiss of ESPNBoston.com, Reese's contract is expiring and he isn"

Countdown Daily Recap: BAL-NE

Jan 20

Jim Basquil and Eric Allen break down the Ravens' 28-13 win over the Patriots in the AFC Championship game

Ray Lewis Discusses Win

Jan 20

Ray Lewis comments on the Ravens' 28-13 win against the Patriots to win the AFC Championship.

Strong 2nd Half Propels Ravens To Super Bowl

Jan 20

Down 13-7 at halftime, the Ravens scored 21 unanswered points in the second half to capture the AFC Championship with a 28-13 victory over the Patriots.

Bill Belichick: 'They just outplayed us and outcoached us tonight'

Jan 20

New England Patriots coach Bill Belichick speaks to the media following his team's 28-13 loss to the Baltimore Ravens at Gillette Stadium.