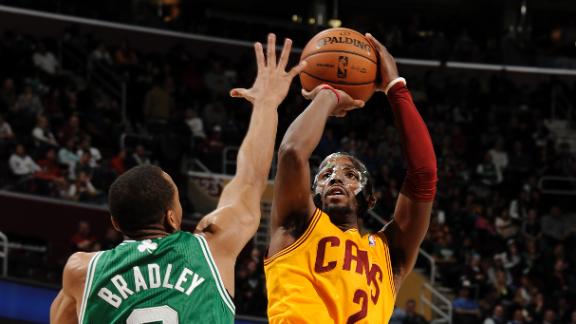 ESPN.com
Updated Jan 22, 2013
Kyrie Irving scored 15 of his 40 points in the fourth quarter, including several key late baskets, to lead the Cleveland Cavaliers in a 95-90 victory over the Boston Celtics on Tuesday night.
Share
Tweet
NBC's Rodney Harrison played for the Patriots and lives in Atlanta.  So he's uniquely qualified to offer up informed opinions about the two teams that lost in Sunday's conference championship games. Rodney appeared on Tuesday's PFT Live to discus

Share Tweet

Boston Red Sox first baseman Mike Napoli revealed Tuesday that he has avascular necrosis in both hips, the same degenerative condition that ended the career of two-sport star Bo Jackson.

Share Tweet

Patriots sign Armond Armstead out of USC, CFL

He might not necessarily be Cameron Wake, but the 49ers are taking a chance on a Canadian defensive lineman who could turn out to be worth the gamble. According to ESPNBoston.com, the Patriots signed former Southern Cal defensive lineman Armond Armstead…

Share Tweet

Patriots are short on draft picks

It's no secret that New England Patriots coach Bill Belichick loves stockpiling draft picks. But 2013 is one of those rare years where the reigning AFC East champions will be short on currency. The Patriots made several recent trades involving draft pic…

Share Tweet

NEW YORK (AP) The NFL is looking into Tom Brady's leg-up slide that hit Ravens safety Ed Reed in the AFC championship game.

Share Tweet

The 2012 football season is officially over for every team in the division. The New England Patriots lost to the Baltimore Ravens in Sunday's AFC Championship Game. Now it's time to officially turn the page to the 2013 season. AFC East teams will look

Share Tweet

deadspin.com ESPN.com profootballtalk.com

Jan 22, 2013

Patriots journeyman safety Derrick Martin nearly enshrined himself as a good luck charm-he was on the Packers two years ago when they won the Super Bowl (though he finished the season on IR) and was a Giant when they took the Lombardi Trophy last year.

Share Tweet

Ninkovich says the Patriots dynasty is over

On last night's Pro Football Talk, we took up a Twitter question from the great Kige Ramsey regarding the media's habit of still treating the Patriots like they are still a dynasty. The Pats still get that treatment because, unlike other NFL dynasties

Share Tweet

Are Brady and Belichick no longer clutch?

There was a time when quarterback Tom Brady and coach Bill Belichick were untouchable in big games. The New England Patriots' power pair was undefeated in their first 10 playoff games together, which included a run of three Super Bowls in four years fro…

Share Tweet

Billick says the media should leave Belichick alone

Patriots coach Bill Belichick has come under heavy criticism in recent days for his failure to speak and/or his failure to say anything when speaking. Curiously, the loudest voices come from analysts employed by CBS, which is widely perceived in media c…

Share Tweet

Arkansas QB Tyler Wilson didn't mind being compared to former Bills QB Jim Kelly. A look at possibilities for the Dolphins should they want a receiver in the draft. Patriots DE Chandler Jones reflected on a rookie year interrupted by injuries. The Jets

Share Tweet

Irving Pours In 40 Points In Cavs' Win

Jan 22

Kyrie Irving scored 40 points and had five assists in the Cavaliers' 95-90 win over the Celtics.

Mint Condition: Catching Up With Terry Francona

Jan 22

Cleveland Indians manager Terry Francona discusses his Red Sox memorabilia, interacting with fans and the most creative way he's ever been asked for an autograph.

Blogger Blitz: Free Agency

Jan 22

AFC East blogger James Walker lets you know which players free agents in the division to keep an eye one

Was Tom Brady's Slide Dirty?

Jan 22

Skip Bayless and Stephen A. Smith discuss Tom Bray's "foot-up" slide at Ed Reed in the AFC Championship Game.