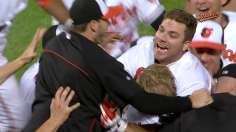 When Tarvaris Jackson was released by the Buffalo Bills earlier this week it didn't take long to connect the dots and think that the Seattle Seahawks could likely be a landing-place for Jackson. Jackson — the Seahawks starting quarterback in 2011 —

Share Tweet

Coach Bill Belichick gives Patriots early start to summer break

Summer break got started a little early for Patriots players and staff, when the team announced Thursday morning that the planned final minicamp practice and media access had been canceled.

Share Tweet

Minor league team puts 6,000 fan Twitter names on its Social Media Night jerseys

yahoo.com

Jun 13, 2013

Jarrod Saltalamacchia can barely fit his last name on the back of his jersey. At 14 letters, it's the longest in the majors. While the Boston Red Sox player has just one last name to fit, the Fort Wayne TinCaps had a slightly bigger number to fit: 6,000

Share Tweet

AFC East minicamp: Four things we learned

ESPN.com

Jun 13, 2013

The 2013 mandatory minicamps are in the books in the AFC East. The Buffalo Bills, Miami Dolphins, New England Patriots and New York Jets all wrapped up their three-day sessions on Thursday. The Patriots, in fact, cancelled their third and final practice…

Share Tweet

Former Colts wide receiver Austin Collie has visited with another team as he tries to continue a career that's been interrupted by injuries over the last three years. Collie visited with the Patriots in New England earlier this week and Mike Garafolo of

Share Tweet

Sources: Rivers, Clips have mutual interest

ESPN.com

Jun 13, 2013

The Clippers have not formally requested permission to interview Celtics coach Doc Rivers in the wake of widespread reports about Rivers' potential departure from Boston, but there is strong mutual interest between the parties, according to sources.

Share Tweet

Maybe they heard the Patriots were about to cut some players, and they're just making room. The Jaguars announced that they had released defensive end Austen Lane and cornerback Trey Wilson Thursday. Lane, a former fifth-round pick, started 17 games in

Share Tweet

ESPN.com profootballtalk.com boston.com

Jun 13, 2013

The New England Patriots made a controversial decision to sign popular quarterback Tim Tebow to a two-year contract earlier this week. It's the kind of move that doesn't happen unless everyone in the organization is on the same page. Patriots head coa

Share Tweet

boston.com profootballtalk.com

Jun 13, 2013

By Shalise Manza Young, Globe Staff Summer break is starting a little early for Patriots players and staff – the team has announced that Thursday's final minicamp practice and media access have been canceled. It's safe to assume that Bill...

Share Tweet

NFL teams are allowed to designate two "stars" who only have to face the media once per week.

deadspin.com

Jun 13, 2013

NFL teams are allowed to designate two "stars" who only have to face the media once per week. The Patriots' stars? Tom Brady and Tim Tebow. [NY Post] Read more...

Share Tweet

In case you were wondering how the league's feeblest quarterback competition was going, consider this. Jaguars General Manager David Caldwell was asked to assess the chances of Mike Kafka, who was claimed off waivers this week from the Patriots, and has

Share Tweet

Bills LB Marcus Dowtin has an experience edge, even though he's played just three NFL games (all under new defensive coordinator Mike Pettine). The Dolphins are aggressive in their pursuit of FB Vonta Leach. Patriots S Adrian Wilson says the on-field in

Share Tweet

Celtics draft prospect profile: Gorgui Dieng

We're continuing our Celtics NBA Draft preview with a profile of Lousivlle center Gorgui Dieng.

Share Tweet

Tom Brady, Patriots stuck in neutral until key receivers can return to practice

During the Patriots' minicamp, Tom Brady has mostly been throwing with the JV team. And the offense isn't getting much out of this minicamp, except a look at which players might be able to grab the last few spots on the 53-man roster.

Share Tweet

CNNSI.com

Jun 13, 2013

FOXBOROUGH, Mass. (AP) -- One day of practice wasn't enough for Patriots coach Bill Belichick to share his thoughts on new backup quarterback Tim Tebow.

Share Tweet

'Top 100 Players of 2013': Rob Gronkowski

Jun 13

Patriots TE Rob Gronkowski is voted the 25th best player in the NFL according to his peers on the "Top 100 Players of 2013."

NFL Cold Hard Facts

Jun 13

Tedy Bruschi on the Patriots' Super Bowl window, Matt Schaub's 2013 season and the Bengals' chances for the AFC North title.

State Of The Nation

Jun 13

Jaymee Sire and Gordon Edes take a look at the potential Red Sox position players who can make the All-Star Game.

Davis Leads Orioles To Extra-Inning Win

Jun 13

Chris Davis singled in the bottom of the 13th to lift the Orioles past the Red Sox.