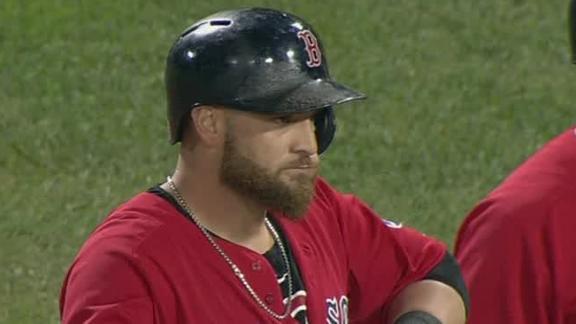 N.F.L. Star and Murder Victim: Where Diverse Paths Crossed

nytimes.com

Jun 28, 2013

Aaron Hernandez and Odin Lloyd shared a passion for football and little else. But their lives did cross, and now Hernandez, an N.F.L. tight end, is in jail, charged with Lloyd's murder.

Share Tweet

ESPN.com boston.com deadspin.com yahoo.com profootballtalk.com

Jun 28, 2013

The New England Patriots wasted no time when they released star tight end Aaron Hernandez less than two hours after his arrest on Wednesday. Now, the Patriots are making it clear they do not want to see Hernandez jerseys at Gillette Stadium this upcomin…

Share Tweet

If the Ravens' qualification for Super Bowl XLVII dusted off long-forgotten memories of the alleged involvement of Ray Lewis in a double murder, the Aaron Hernandez situation has sandblasted them. And with the Patriots dumping Hernandez the moment he wa…

Share Tweet

boston.com

Jun 28, 2013

By Baxter Holmes, Globe Staff Longtime San Antonio assistant coach Brett Brown, a Portland, Maine, native who played basketball at Boston University and grew up as a diehard Celtics fan, is "extremely" interested in becoming the Celtics' new h…

Share Tweet

CNNSI.com nba.com yahoo.com grantland.com

Jun 28, 2013

For the Nets, it seems the future is now. New Jersey gave up almost every long-term asset for a deal with the Celtics that points to a desire to win immediately, writes Rob Mahoney.

Share Tweet

On Football: Patriots Put Principles on Display

nytimes.com

Jun 28, 2013

Some teams might have waited for the legal process to play out, but the Patriots immediately cut Aaron Hernandez after his arrest on murder charges.

Share Tweet

yahoo.com

Jun 28, 2013

Boston Red Sox fan Monte Freire and his friends were eating at a Connecticut restaurant in 2010 when another patron — a drunk, angry New York Yankees fan — stabbed him in the neck. The Yankees fan, John Mayor (not to be confused with John Mayer), had de…

Share Tweet

CNNSI.com boston.com

Jun 28, 2013

BRISTOL, Conn. (AP) -- A man arrested in Connecticut in connection with the murder case against former New England Patriots tight end Aaron Hernandez was being sent to Massachusetts on Friday, and investigators found a car they had been searching for.

Share Tweet

Remembering the 2007 Patriots

ESPN.com

Jun 28, 2013

The 2007 version of the New England Patriots could have gone down as one of the greatest teams ever. This team had it all: A Hall of Fame quarterback, a high-scoring offense, a solid defense and a chip on their shoulder with the Spygate scandal still fr…

Share Tweet

Grading the deal: How Nets, Celtics fared

CNNSI.com

Jun 28, 2013

Bringing Kevin Garnett and Paul Pierce from Boston to Brooklyn will not be cheap. But for the Nets, the potential payoff in the East greatly outweighs the cost, writes Ben Golliver.

Share Tweet

The options at tight end

boston.com

Jun 28, 2013

A look at the tight ends the Patriots still have left, the culture of silence, Tweet of the week, and what's to come.

Share Tweet

We Reminisce: New Celtics Teammates Rajon Rondo and Kris Humphries Brawl

dimemag.com

Jun 28, 2013

So, hey Rajon Rondo, not only are you the only remaining player on Celtics Island, but you also get to lose a TON of games with one of your best buddies. Relive last November's Rondo/Kris Humphries Boston brawl and aftermath here: For breaking news, rum…

Share Tweet

yahoo.com

Jun 28, 2013

As we saw with the passionate defenses of both Avery Johnson and Patrick Ewing by their respective sons, it seems best not to upset fathers of new generation social media users. The latest to incur that wrath was ESPN's Bill Simmons, noted Boston Celtic…

Share Tweet

Pats best approach will be patience, practice

With Aaron Hernandez gone, the Patriots currently don't have four of their top five receivers from 2012. The other one, Rob Gronkowski, is recovering from having his spine adjusted with a scalpel. So what should the Patriots do? We gave Shaun King the G…

Share Tweet

Friday morning one-liners

Bills QB E.J. Manuel checked out the bust of his godfather Bruce Smith at the Pro Football Hall of Fame. WR Marvin McNutt hopes working with his college coach helps him make the Dolphins. Karen Guregian of the Boston Herald thinks coach Bill Belichick w…

Share Tweet

NFL security chief: Criticizing Patriots is 20/20 hindsight

The Patriots have taken some criticism in the last couple weeks, as stories about Aaron Hernandez's checkered past have led to questions about why New England drafted him, and why the team gave him a $40 million contract extension last year. But the man…

Share Tweet

CNNSI.com

Jun 28, 2013

The Toronto Blue Jays have placed outfielder Melky Cabrera on the 15-day disabled list with left knee tendinitis.

Share Tweet

Red Sox Hold On To Top Blue Jays

Jun 28

Jonny Gomes' single helps the Red Sox past the Blue Jays 7-5.

Biggest Loser: Nets

Jun 28

Say what you will about the glory days of Kevin Garnett and Paul Pierce, but the Nets might never win a title after that lopsided Celtics deal. Ethan Sherwood Strauss on Brooklyn and Boston, as well as moves he hated from the Bobcats and Pelicans.

Hernandez Investigation Continues

Jun 28

Bob Holtzman reports the latest on the Aaron Hernandez investigation, including the capture of Ernest Wallace and a possible connection with a 2012 double homicide.

Ruocco Intrigued, Excited By Trade

Jun 28

Ryan Ruocco reacts to the Nets' blockbuster trade, how the trade impacts Brooklyn's salary cap and the challenges facing new coach Jason Kidd.