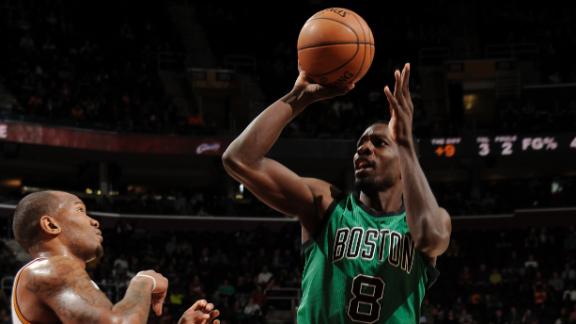 By Baxter Holmes, Globe Staff CLEVELAND — Jeff Green did it three weeks ago in Indiana, and he did it again Wednesday night. The forward made another buzzer-beating basket that helped the Celtics steal a 93-92 win against the Cavaliers...

Share Tweet

The 10-man rotation, starring how the Celtics find and polish their diamonds in the rough

yahoo.com

Mar 27, 2013

A look around the league and the Web that covers it. It's also important to note that the rotation order and starting nods aren't always listed in order of importance. That's for you, dear reader, to figure out. C: SB Nation. A good, detailed, engrossin…

Share Tweet

Welcome to Quicken Loans Arena for Celtics-Cavaliers

By Baxter Holmes, Globe Staff CLEVELAND – It's a battle of teams playing without key players while riding low on five-game losing streaks. Sounds enthralling, yes? Of course it does. Celtics guard Courtney Lee (sprained left ankle) will miss his...

Share Tweet

ESPN.com boston.com

Mar 27, 2013

New England Patriots Pro Bowl tight end Rob Gronkowski made the media rounds at ESPN on Wednesday. Gronkowski said all the right things about his partying reputation and rehabbing his broken arm, which has been operated on three times in the past severa…

Share Tweet

ESPN.com profootballtalk.com

Mar 27, 2013

New England Patriots Pro Bowl tight end Rob Gronkowski is having another interesting offseason. For the second year in a row, Gronkowski is recovering from a major injury and he's been in the spotlight for his adventures around the country. On Wednesday…

Share Tweet

It had been assumed, and now it's official: Jon Lester will be the Opening Day starter when the Boston Red Sox face the New York Yankees at Yankee Stadium on Monday.

Share Tweet

Gronk: I would never put myself in jeopardy

ESPN.com

Mar 27, 2013

New England Patriots tight end Rob Gronkowski brushed off the criticism he received after he was videotaped performing a wrestling move on a friend while his arm was in a cast, saying he would never do something he thought would put his health at risk.

Share Tweet

This recent Celtics losing streak brings back painful memories of another in the not-so-distant past.

Share Tweet

J.R. Smith drains long-range 3rd-quarter buzzer-beater as Knicks rout Celtics (Video)

yahoo.com

Mar 27, 2013

You know how some NBA players, like Oklahoma City Thunder star and league scoring leader Kevin Durant, don't like to take long-range quarter-ending shots because they don't want hucked-up heaves that miss to lower their field-goal and 3-point percentage…

Share Tweet

profootballtalk.com

Mar 27, 2013

Questions are being raised in Upstate New York about whether the state should be subsidizing the Bills. Dolphins coach Joe Philbin is making clear that players who don't buy into his way of doing things will be shown the door. Patriots DT Vince Wilfork

Share Tweet

Scouting the draft: Rutgers LB Khaseem Greene

A look at Rutgers linebacker Khaseem Greene, a possible fit for the Patriots in the NFL draft.

Share Tweet

dimemag.com

Mar 27, 2013

That wasn't much of compelling first round playoff preview was it? The streaking New York Knicks went into Boston and smacked the Celtics, 100-85. (and it didn't even feel that close). New York has now won five in a row, and last night's W pushed th

Share Tweet

Life Without KG: A Defensive Travesty for the Celtics

grantland.com

Mar 27, 2013

A 22-second summation of what the Boston Celtics face without Kevin Garnett for two weeks: What that clip shows: A skinny wing player, Iman Shumper...

Share Tweet

Celtics Snap Five-Game Slide

Mar 27

Jeff Green's basket at the buzzer propels the Celtics to a 93-92 win over the Cavs.

Schilling: Bradley Should Start At Triple-A

Mar 27

Curt Schilling and Jon Sciambi discuss this week's Hot Button: Should OF Jackie Bradley Jr. begin the season with the Red Sox or Triple-A Pawtucket?

Gronkowski Defends Work Ethic

Mar 27

Rob Gronkowski discusses his injuries last season and the Patriots' concerns about his off-the-field activities.

SweetSpot TV: AL Bold Predictions

Mar 27

Eric Karabell and David Schoenfield give their American League bold predictions.