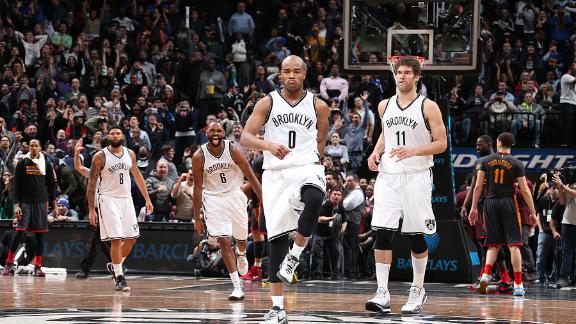 Enough has gone right for the Golden State Warriors this season that fans can be forgiven for expecting them to pull out an unlikely comeback victory. Down 108-99 to the Brooklyn Nets at Barclays Center with 3:29 left in regulation, the Warriors went on…
Upvote
Share
Tweet
Brooklyn Nets forward Mirza Teletovic, out for the rest of the season after he was diagnosed with multiple blood clots in his lungs, said Monday he expects to be able to resume playing in July once he is finished with blood-thinning medication.

Upvote Share Tweet

Nets into 8th with win over Rondo, Mavs

ESPN.com

Feb 28 (5 days ago)

Deron Williams scored 25 points, Thaddeus Young had 16 points and eight rebounds off the bench and the Brooklyn Nets topped the Dallas Mavericks 104-94 on Saturday night.

Upvote Share Tweet

yahoo.com

Feb 25

The return of Kevin Garnett to the Minnesota Timberwolves has been one of the top stories in the NBA since his trade from the Brooklyn Nets last Thursday. With all the anticipation, the reintroduction of the best player in franchise history after an eig…

Upvote Share Tweet

ESPN.com

Feb 24

The Philadelphia 76ers have claimed Thomas Robinson off of waivers, scuttling plans he had to sign a 10-day contract with the Brooklyn Nets.

Upvote Share Tweet

A person with knowledge of the situation says the Brooklyn Nets plan to sign Thomas Robinson once he clears waivers.

Upvote Share Tweet

Kevin Garnett agreed to drop his no-trade clause and accept a trade from the Brooklyn Nets to the Minnesota Timberwolves for Thaddeus Young.

Upvote Share Tweet

Sources: Nets working on Lopez-to-OKC deal

ESPN.com

Feb 19

The Brooklyn Nets and Oklahoma City Thunder are engaged in serious talks on a trade that could swap disgruntled point guard Reggie Jackson for center Brook Lopez, multiple sources told ESPN.com.

Upvote Share Tweet

Sources: Pistons interested in Nets' Johnson

ESPN.com

Feb 17

The Detroit Pistons have reached out to the Brooklyn Nets to inquire about the availability of former All-Star swingman Joe Johnson, according to league sources.

Upvote Share Tweet

yahoo.com

Feb 12

New York Knicks star Carmelo Anthony figures to be one of the most visible faces at this All-Star Weekend. His team is one of the official hosts of the weekend, and Melo is the sole member of either the Knicks or Nets to have a role in Sunday's main eve…

Upvote Share Tweet

Say, you know how New York Knicks owner James Dolan decided to respond to a lifelong Knicks fan's angry email decrying the depressing state of his favorite team by referring to said fan as a (probably) miserable (probable) alcoholic, and to tell said fa…

Upvote Share Tweet

Wizards' Beal, Nets' Garnett sit out game

nba.com

Feb 7

Washington Wizards guard Bradley Beal and Brooklyn Nets center Kevin Garnett will miss Saturday night's game.

Upvote Share Tweet

Watch Kevin Garnett Block Carmelo Anthony Twice On Same Possession

dimemag.com

Feb 6

Kevin Garnett's career is certainly winding down, but it's definitely not over yet, either. Watch the 38 year-old tap into his younger self by twice blocking Carmelo Anthony at the rim on the same possession in tonight's game between the Brooklyn Nets a…

Upvote Share Tweet

Raptors' DeRozan fined for hard foul on Bogdanovic

nba.com

Feb 5

Toronto Raptors guard DeMar DeRozan has been fined $15,000 for making excessive contact with Brooklyn Nets guard-forward Bojan Bogdanovic, it was announced Thursday by Rod Thorn, President, Basketball Operations.

Upvote Share Tweet

yahoo.com

Feb 4

The 2003-04 New Jersey Nets, under head coach Byron Scott, were an odd team to watch. The squad was coming off of its second consecutive one-sided Finals loss the season before – but hey, a Finals trip is a Finals trip, right? Out of nowhere the group w…

Upvote Share Tweet

Nets Hold Off Warriors

Mar 2

Brook Lopez and Deron Williams combined to score 48 points in the Nets' 110-108 win over the Warriors.

Nets Put Away Mavericks

Feb 28

Five Nets scored in double figures en route to defeating the Mavericks 104-94.

Rockets Rally For Fourth Straight Win

Feb 27

Terrence Jones scored a season-high 26 points and grabbed 12 rebounds in the Rockets' 102-98 win over the Nets.

Why You Mad Rick?

Feb 25

Dallas Mavericks head coach Rick Carlisle is taking out his frustrations on the wrong people and Amin won't stand for it.