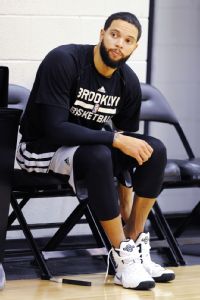 Hollins: D-Will poised for bounceback season
ESPN.com
Updated Sep 28 (yesterday)
Brooklyn Nets coach Lionel Hollins is confident that Deron Williams will bounce back in 2014-15 following back-to-back seasons in which the three-time All-Star point guard was plagued by ankle injuries and struggled on the court as a result.
Upvote
Share
Tweet
yahoo.com

Sep 26 (3 days ago)

If we're honest, there never was any question as to whether or not Kevin Garnett was returning to the Brooklyn Nets for the 2014-15 season. For one, Garnett is a competitor, and even if he continues to decline this season after 2013-14 tough go of thing…

Upvote Share Tweet

ESPN.com dimemag.com

Sep 26 (3 days ago)

Brooklyn Nets power forward Kevin Garnett, who is set to become just the fourth player in league history to play at least 20 NBA seasons, was non-committal when asked if this will be his final season.

Upvote Share Tweet

To a man, the Brooklyn Nets realize that the 2013-14 season was a bit of a disappointment. Despite winning a first-round series against Toronto, they were swept out of the playoffs by Miami.

Upvote Share Tweet

Frank joins Clippers after buyout from Nets

ESPN.com

Sep 25 (5 days ago)

The Brooklyn Nets and assistant coach Lawrence Frank have reached a buyout agreement, allowing the 44-year-old to join the Los Angeles Clippers and become an assistant under Doc Rivers.

Upvote Share Tweet

Report: Andray Blatche Signs One-Year Deal In China

dimemag.com

Sep 20

Say it ain't so, Andray Blatche. According to his agency, Blatche has signed a one-year with the Xinjiang Guanghui Flying Tigers of the Chinese Basketball Association. Official: @drayblatche has signed a 1 year deal with the Xinjiang Guanghui Flying Tig…

Upvote Share Tweet

Healthy Nets tone down expectations, want to fly under radar in 2014-15

yahoo.com

Sep 17

Where's Brooklyn at? That was the question everyone in NBA circles was asking as Brooklyn stumbled out of the gate last season before righting the ship and advancing to the Eastern Conference semifinals — where it eventually lost to the Miami Heat. The …

Upvote Share Tweet

Report: Fully Healthy, Deron Williams Plans On Resuming Superstar Status

dimemag.com

Sep 16

The cause of Deron Williams' basketball NBA nadir was no secret. The Brooklyn Nets' supposed franchise cornerstone played on injured ankles in each of the last two seasons, culminating in the most disappointing campaign of his career in 2013-2014. When …

Upvote Share Tweet

dimemag.com ESPN.com

Sep 15

Kevin Garnett isn't going anywhere. Not only will the 38 year-old KG stave off retirement and play this season, but Brooklyn Nets coach Lionel Hollins has big plans for the future Hall-of-Famer, too. In a story chronicling the Nets' offseason by ESPN's …

Upvote Share Tweet

Jason Kidd's Milwaukee Neighbors Baked Brownies To Welcome His Family

dimemag.com

Sep 12

It appears the grass is indeed greener on the other side for Jason Kidd. After essentially forcing his own ouster from the Brooklyn Nets, Kidd quickly landed a gig in Milwaukee as head coach of the Bucks. He has rave reviews about the city so far. In an…

Upvote Share Tweet

dimemag.com

Sep 12

As the situation with Danny Ferry continues to play out, other people in basketball circles have begun expressing their views on Ferry's character based on their personal interactions with him. This week, Brooklyn Nets general manager Billy King and NBA…

Upvote Share Tweet

Lionel Hollins On Nets' Last Place ESPN Future Rankings: "Doesn't Matter"

dimemag.com

Sep 11

Under the leadership of owner Mikhail Prokhorov, the Brooklyn Nets have always operated as a win now team. This year will be no different, as the Nets look to compete in the Eastern Conference with a core led by Deron Williams, Joe Johnson and a healthy…

Upvote Share Tweet

Mason Plumlee Finishes Tip-Dunk Up, Over Gustavo Ayon In Team USA Win

dimemag.com

Sep 6

It didn't count, but who cares? During the final minutes of Team USA's SCORE over Mexico in the FIBA World Cup's Round of 16, Mason Plumlee completed what would have been the dunk of the tournament for the Americans – if Andre Drummond hadn't committed …

Upvote Share Tweet

Deron Williams Says "It's A Relief" To Leave New York And Spend Time In Utah

dimemag.com

Sep 3

Deron Williams hasn't been the franchise cornerstone for the Brooklyn Nets that so many anticipated. After a solid debut season with the team in 2011-2012, Williams' play has deteriorated enough over the past two years that he's become a relative salary…

Upvote Share Tweet

Mason Plumlee Handles Inane Question On Coach K Connection & Team USA

dimemag.com

Sep 1

Perhaps one of the more surprising members for USA Basketball this year, was Nets big man, Mason Plumlee. Some decided to shroud the selection in conspiracy, claiming Plum only made it because he played under Team USA coach Mike Krzyzewski while at Duke…

Upvote Share Tweet

dimemag.com

Aug 26

Former Milwaukee Bucks head coach Larry Drew talked about his abrupt dismissal in a recent interview, and while he was miffed at his dismissal, he doesn't hold any ill-will after it all went down. In his first season with the Bucks, Drew managed a disap…

Upvote Share Tweet

A Lighter Brook Lopez Is Ready For His Return

dimemag.com

Aug 21

Brook Lopez appeared in just 17 games last season. He had season-ending foot surgery in January, and is eager to get back on the court. Lopez was at a youth health lifestyle clinic at Barclays Center yesterday and looked noticeably thinner. Via Tim Bont…

Upvote Share Tweet

Incredible New Vince Carter Mix Showcases Vinsanity's Reincarnation With Mavs

dimemag.com

Aug 13

Over a decade ago Vince Carter was mentioned in the same breath as Kobe Bryant. It seems crazy now, especially after Kobe's five rings ran parallel to Carter's now-five separate teams since leaving the Raptors in the lurch midway through the 2004-05 sea…

Upvote Share Tweet

Nets rookie Brown breaks hand, out 4-6 weeks

nba.com

Aug 11

Brooklyn Nets rookie Markel Brown has a broken bone in his right hand that will keep him from basketball activities for four to six weeks.

Upvote Share Tweet

Comedian Creates NBA Team Names By Word Association. Now, There Are Logos.

dimemag.com

Aug 11

Last week, comedian Joe Mande decided to change the name of every NBA team based on the first thing he could think of for each city. He's posted them all on his website. Here's a sampling of what he came up with: Atlanta Stripclubs, Brooklyn Bloggers, C…

Upvote Share Tweet

Nets Coach Lionel Hollins Believes That Kevin Garnett Will Play This Season

dimemag.com

Aug 9

Brooklyn Nets big man and future Hall-of-Famer Kevin Garnett is hardly the player he used to be, but that doesn't mean he's expendable. The 38 year-old's playing status has been unknown since the Nets were eliminated from the playoffs in May, and conven…

Upvote Share Tweet

2014 NBA Rookies Choose Their Jersey Nicknames

dimemag.com

Aug 4

Last season news broke the Miami Heat and Brooklyn Nets would debut a new idea from the NBA where they would replace the last names on the back of their uniform with a nickname of their own choosing. The NBA went ahead with the plan as various monikers …

Upvote Share Tweet

Nets' Lopez 'fully cleared' from foot injuries

ESPN.com

Aug 4

Brooklyn Nets center Brook Lopez, who has been rehabbing after undergoing foot and ankle surgery, told reporters in Russia that he has been "fully cleared for play."

Upvote Share Tweet

Rising Stars game included in Nets' ticket plan

ESPN.com

Aug 4

Hoping to pack the house for the Friday night of All-Star Weekend, the Brooklyn Nets are now selling that night's ticket as part of a miniplan.

Upvote Share Tweet

Andrei Kirilenko's love for cheetahs knows no bounds (Photo)

yahoo.com

Jul 31

As the calendar turns from July to August and the doldrums of another NBA summer continue, never fear — Andrei Kirilenko is here, with a cheetah, to brighten your days before the FIBA World Cup brings meaningful basketball back into our lives. As brough…

Upvote Share Tweet

The 10-man rotation, starring how Lionel Hollins' Brooklyn Nets might look

yahoo.com

Jul 29

A look around the league and the Web that covers it. It's also important to note that the rotation order and starting nods aren't always listed in order of importance. That's for you, dear reader, to figure out. C: The Brooklyn Game, twice. Ryan Carbain…

Upvote Share Tweet

Frank Reaches Buyout With Nets, Heads To Clippers

Sep 25

ESPNNewYork.com's Mike Mazzeo discusses Lawrence Frank's buyout agreement with the Nets.

#NBArank Hates Big Men

Sep 15

Why are so many quality big men at the bottom of ESPN.com's #NBArank list?

Should Rose Be On Team?

Aug 28

Regardless of the knee issues, is Derrick Rose the best choice for Team USA?

Nets' Schedule Announced

Aug 13

ESPNNewYork.com's Ohm Youngmisuk previews the Nets' 2014-15 schedule.