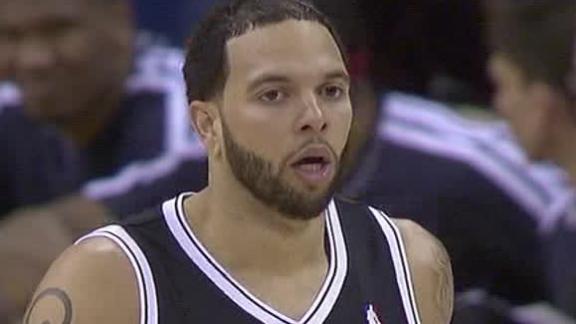 Updated Apr 3
Share
Tweet
Deron Williams scored 24 points and Brooklyn ended an eight-game road trip by crushing the Cleveland Cavaliers 113-95 on Wednesday night, giving the Nets a record for road wins in a season.
Updated Apr 3

Share Tweet

Brooklyn Nets small forward Gerald Wallace and shooting guard Joe Johnson will both miss Wednesday night's game in Cleveland against the Cavaliers, the team announced.

Source:

ESPN.com
NBA Rewind

Apr 3

Rewind the top action from the past week in the NBA.
Sports Columnists
Nancy Lieberman says there's no downside to Brittney Griner trying to make…

Apr 3

Women's basketball pioneer Nancy Lieberman is encouraging Baylor star Brittney Griner to seize the opportunity to do the same with the Dallas Mavericks, no matter how overwhelmingly remote Griner's chances of sticking actually are.

Groups representing Sacramento, Seattle vie for NBA's Kings

Apr 3

Groups from Seattle and Sacramento went before the NBA to make their pitches for ownership of the Sacramento Kings on Wednesday.

Lee Jenkins: Lakers' strange season takes awkward turn on Shaq's night

Apr 3

LOS ANGELES -- The Lakers dark comedy of a season, forever alternating between sadness and silliness, dysfunction and disbelief, took an awkward turn Tuesday night. After the death of their owner, the firing of their coach and multiple injuries to all o…