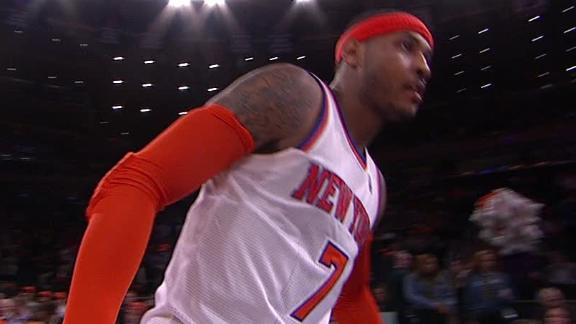 ESPN.com
Updated Dec 19, 2012
Carmelo Anthony scored 31 points in his return to the lineup, and the New York Knicks beat the Brooklyn Nets 100-86 on Wednesday night in the third meeting this season between the city rivals.
Share
Tweet
Carmelo Anthony is returning to the Knicks' starting lineup against Brooklyn after missing two games because of a sprained left ankle.

Share Tweet

Section 15: Pining for Jersey Days

nytimes.com

Dec 19, 2012

Owen Mumford likes the Nets' new home in Brooklyn, but he wishes they had never left New Jersey.

Share Tweet

5-on-5: Nets-Knicks debate

ESPN.com

Dec 19, 2012

Our panel discusses the key questions surrounding New York's two superstars

Share Tweet

Ridiculous Circus Shot From Brook Lopez That Didn't Count

dimemag.com

Dec 19, 2012

There's a clear line of demarcation when you can tell an NBA player has crossed the line into veteran territory: that moment they throw up attempts from every arm angle on the very hint of contact to get two shots on a shooting foul. It's the moment t

Share Tweet

LeBron James Throws Up An Insane Stat Line; Brooklyn Blows A Chance To Steal A Win

dimemag.com

Dec 19, 2012

Sometimes we wish the NBA was more like the NFL. In football, you must bring your best effort or you'll be left looking like Mark Sanchez on Monday Night Football, getting your skills compared to Uncle Rico from Napoleon Dynamite. But in basketball, the

Share Tweet

Carmelo Leads Knicks Past Nets

Dec 19

Carmelo Anthony returns to lift Knicks past Nets.

What's Wrong With The Nets?

Dec 19

NBA Tonight looks at the Nets and Avery Johnson.