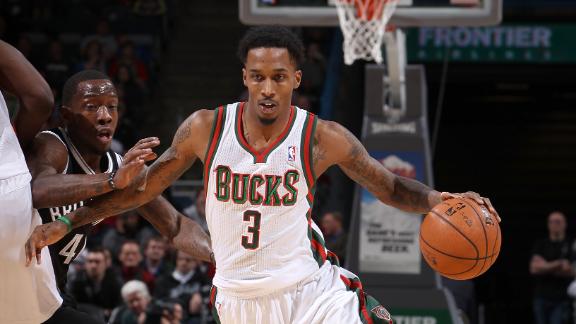 ESPN.com
Updated Dec 26, 2012
Brandon Jennings scored 25 points, Monta Ellis added 20 points and a season-high six steals, and the Milwaukee Bucks beat the short-handed Brooklyn Nets for the 13th straight time, 108-93 on Wednesday night.
Upvote
Share
Tweet
Brooklyn Nets guard Deron Williams will not play against the Milwaukee Bucks on Wednesday night after aggravating his sore right wrist the day before.

Upvote Share Tweet

Section 15: The Italians

For five N.B.A. fans from Trieste, Italy, visiting New York, Section 15 at Barclays Center was the perfect place to spend Christmas Day.

Upvote Share Tweet

Quirks of the Game: N.B.A. Schedule Short-Circuits Rivalries

The N.B.A. plays fewer intra-division games than any other sport, which means rivalries like Knicks-Nets don't get much time to grow.

Upvote Share Tweet

The wisdom of playing on Christmas is still a matter of debate, but in the N.B.A. universe, programming reigns supreme.

Upvote Share Tweet

LeBron & The Heat Deliver Something Special For OKC; Kobe & Carmelo Stage A Crazy Duel

dimemag.com

Dec 26, 2012

The past year was a good one for LeBron James and the Miami Heat. Championships. Rings. Respect. Fear. They hogged all the goodies. Christmas day was no different. Yesterday's NBA Finals rematch in Miami between the Heat and Thunder was a rugged, physic

Upvote Share Tweet

Bucks Handle Short-Handed Nets

Dec 26

Brandon Jennings scored 25 points and Monta Ellis added 20 in the Bucks' 108-93 win over the Nets.