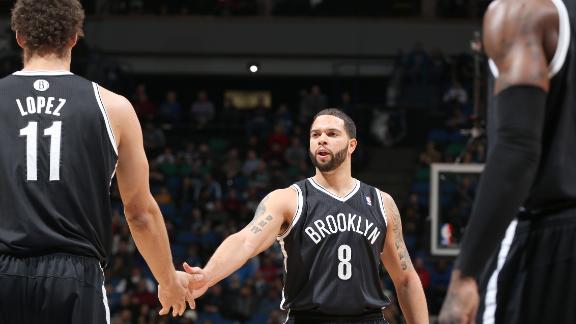 Most NBA fans feared the worst as soon as we heard Los Angeles Lakers forward/center Pau Gasol say he "felt a pop" in the plantar fascia (the connective tissue on the sole) of his right foot during the fourth quarter of L.A.'s 92-83 road win o…

Share Tweet

yahoo.com dimemag.com

Feb 6, 2013

On Tuesday afternoon, NBA observers were discussing Pau Gasol's recent suggestion that he could ask the Los Angeles Lakers to deal him this offseason and affirmation that he would not request such a move before the Feb. 21 trade deadline. On Tuesday nig…

Share Tweet

Waiting For Superman

CNNSI.com

Feb 6, 2013

Kobe Bryant closed out the Nets 92-83, but the Lakers lost Pau Gasol in the process. With Kobe already doing all he can, L.A. needs Dwight Howard back soon, says Chris Mannix.

Share Tweet

CNNSI.com

Feb 6, 2013

Kobe, Lakers topple Nets as Howard, World Peace sit

Share Tweet

Williams Records 5,000th Assist In Win

Feb 6

Deron Williams surpassed the 5,000-assist mark and Brook Lopez scored 17 points to lead the Nets to their first win in Detroit since 2006.