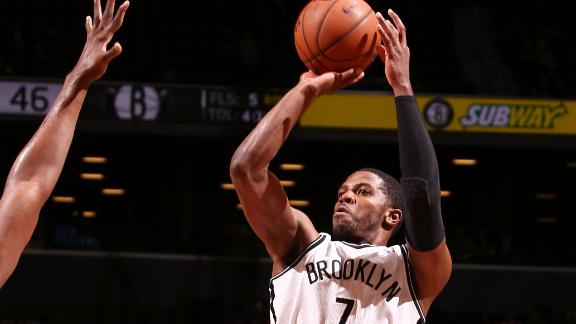 Joe Johnson snapped out of a slump with 23 points against his former team, and the Brooklyn Nets matched a season high with their third straight victory by beating the Atlanta Hawks 91-86 on Monday night.
Share
Tweet
Ten Before Tip: NBA News from Monday

nba.com

Jan 6, 2014

? Magic center Nikola Vucevic will return from a two-game absence Monday night when Orlando visits the Clippers at Staples Center. Vucevic sprained his left ankle in the first quarter of a New Year's Eve loss to the Warriors. He tested it out in the mor…

Share Tweet
Nets Win Third Straight

Jan 6

Joe Johnson scored a game-high 23 points in the Nets' 91-86 win over the Hawks.
Sports Columnists
Cleveland Cavaliers agree to trade Andrew Bynum to Chicago Bulls for Luol …

Jan 7

The Cleveland Cavaliers have agreed to trade Andrew Bynum and a draft pick to the Chicago Bulls for forward Luol Deng, sources told ESPN.com. The deal is expected to be completed on Tuesday morning when the teams have a conference call with the league o…

Los Angeles Clippers looking at Sasha Vujacic, Hedo Turkoglu with Chris Pa…

Jan 6

The Los Angeles Clippers are looking hard at well-known veteran free agents Sasha Vujacic and Hedo Turkoglu as they try to fill the playmaking void created by Chris Paul's shoulder injury, according to sources close to the process.