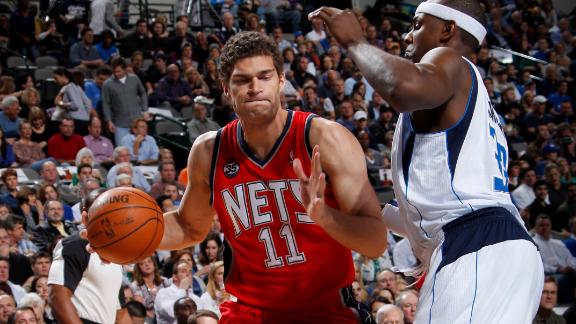 Nets add to roster, bring in European forward Teletovic

nba.com

Jul 12, 2012

When Mirza Teletovic was an aspiring 16-year-old basketball player in his native Croatia, he had a chance to come to the United States to play in college.

Share Tweet

Brook Lopez is probably worth the big contract the Brooklyn Nets just gave him

yahoo.com

Jul 12, 2012

He's a 24-year old 7-footer that has averaged close to 20 points per game over his last three seasons, and he's making the same sort of money we had absolutely no issue with handing Roy Hibbert earlier this month. So why do we feel so dodgy about the Br…

Share Tweet

Are The Nets Better Than The Knicks Right Now?

Jul 12

ESPN NBA Insider Ric Bucher talks about why he think the Brooklyn owns New York.

Coors Cold Hard Facts

Jul 12

Ric Bucher on NBA free agency, the Nets, the Rockets and the future of Dwight Howard.

Where Do Nets Stand In East?

Jul 12

ESPN NBA Insider Ric Bucher discusses where he sees the Nets finishing in the Eastern Conference this season.