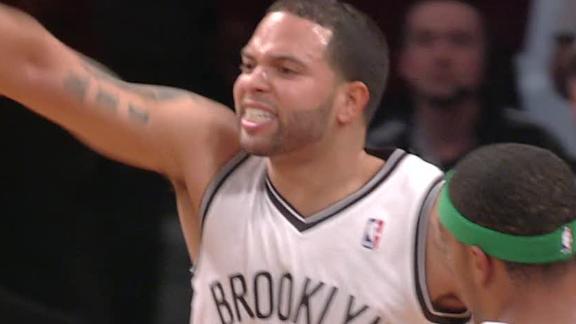 Nets top short-handed Celts for 4th straight win
Updated Nov 15, 2012
Share
Tweet
Joe Johnson made the tiebreaking basket with 3:03 left, Deron Williams and Brook Lopez each scored 24 points, and the Brooklyn Nets beat the Boston Celtics 102-97 on Thursday night for their fourth straight victory.
Source:
ESPN.com
Rondo out against Nets due to sprained ankle

Updated Nov 15, 2012

Share Tweet

Boston Celtics point guard Rajon Rondo missed Thursday night's game against the Brooklyn Nets due to a sprained ankle. Leandro Barbosa started in his place.

Source:

ESPN.com

Section 15: Crossing the Verrazano

Updated Nov 15, 2012

Share Tweet

The Off the Dribble team was interested in learning about Nets fans now that the team is in Brooklyn. We found Matthew Kipp from Staten Island in Section 15.

Source:

nytimes.com

How Long Will The Nets Be A Work In Progress?

Nov 15

NBA Tonight looks at the Nets and how long they will be a work in progress.

Nets Win Fourth Straight

Nov 15

Nets top short-handed Celtics.