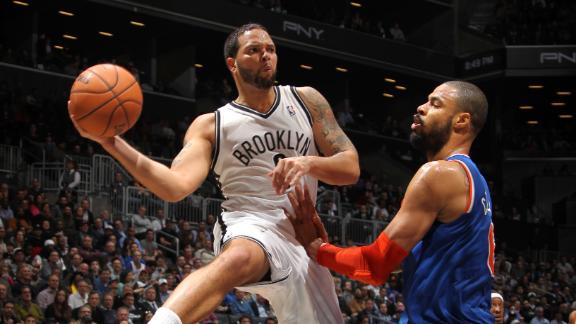 New York Knicks point guard Jason Kidd did not play in Monday's showdown with the Brooklyn Nets due to lower back spasms.

Share Tweet

ESPN.com

Nov 26, 2012

5-on-5: In the battle of New York, which franchise has the bigger advantage?

Share Tweet

The Spurs Win One Of The Tightest Games In NBA History; The Nets And Knicks Set Up An Epic Duel

dimemag.com

Nov 26, 2012

Think about all of those games you remember that came down to a final shot, the ones where you thought you'd pass out if it got any more intense. Technically, San Antonio's 111-106 win over Toronto on Sunday was the NBA's most tightly contested win

Share Tweet

Nets Win Battle Of New York In OT

Nov 26

Despite 35 from Carmelo Anthony, Deron Williams' double-double leads Nets to 96-89 win over Knicks.