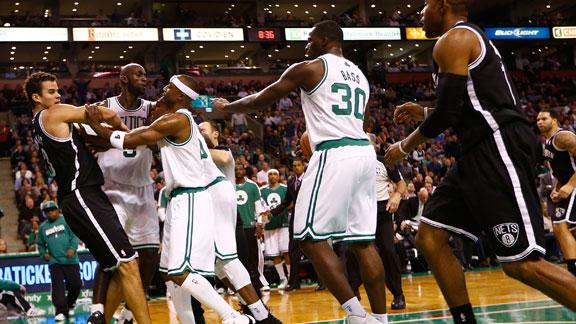 In the past weeks, Boston Celtics star point guard Rajon Rondo has been the topic of some controversy for his streak of double-digit assist games. In the eyes of some, Rondo has been changing his style of play to keep the streak going. For others, that'…
Share
Tweet
The Key Behind Brooklyn's Early Season Success

dimemag.com

Nov 28, 2012

Currently, the Brooklyn Nets are tied with the Knicks for the lead in the Atlantic after winning their last three games (over New York, Portland and the Clippers). Much of their success can be attributed to Brook Lopez's excellent post play, which has t

Share Tweet
Rondo, Humphries, Wallace Ejected After Fight

Nov 28

Chris Forsberg on the fight between the Nets and Celtics.

Did Rondo Overreact?

Nov 28

Antonio Davis believes Rajon Rondo overreacted after Kevin Garnett got fouled.

TrueHoop TV: On Thabeet

Nov 28

David Thorpe on Hasheem Thabeet's revival in OKC, Lamar Odom's potential, and Andray Blatche getting coached-up in Brooklyn,

TrueHoop TV: Nets vs Knicks

Nov 28

Who has the upper hand in the budding rivalry between the Knicks and Nets?