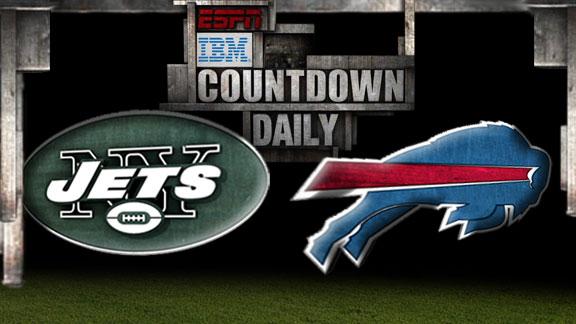 ESPN.com
Updated Dec 27, 2012
New York Jets coach Rex Ryan said Thursday that he believes defensive end Muhammad Wilkerson will be able to play in Sunday's season finale against the Buffalo Bills despite suffering a concussion last week.
Share
Tweet
There's always a lot of drama around the NY Jets these days, and this week is no exception.  The Jets are going with Mark Sanchez at quarterback Sunday against the Bills.  Longtime Special Teams Coach Mike Westhoff has announced that Sunday's game i

Share Tweet

CNNSI.com profootballtalk.com ESPN.com

Dec 27, 2012

FLORHAM PARK, N.J. (AP) - The New York Jets' wacky quarterback situation took yet another twist.

Share Tweet

profootballtalk.com buffalobills.com

Dec 27, 2012

The Jets beat the Bills 48-28 on the opening weekend of the season behind one of Mark Sanchez's best performances of the season, but that doesn't mean Buffalo is upset to see Sanchez back in the starting lineup for this week's game. According to lin

Share Tweet

Only a pair of non-participants at Bills practice today. Da'Norris Searcy and Ruvell Martin are not practicing. We'll have a post practice update.

Share Tweet

Win And In: The NFC East crown comes down to Sunday night whe…

The NFC East crown comes down to Sunday night when Washington hosts Dallas. Peter King says the Redskins win on the back of one guy. And it's not who you might think.

Share Tweet

Peter King: NFL Week 17 Picks

Share Tweet

The first Monday after the regular season is usually ripe for coaching changes, and this year will be particularly active. Don Banks breaks down who's likely out, and who's safe.

Share Tweet

The Bills Blackmailed New York Taxpayers Into Covering 84 Percent Of Stadium Renovations

deadspin.com

Dec 27, 2012

You might have missed this in the pre-holiday news dump, which it was specifically timed for-it's a good idea to downplay the implications of a story like this. An agreement was announced in a "hastily called news conference" to keep the Bills in Buffal

Share Tweet

Bills Home Finale vs Jets to be Blacked Out Locally

billsgab.com

Dec 27, 2012

In a not so shocking move, the Bills have announced Sunday's home finale vs the Jets is going to be blacked out locally. In what was easily the least surprising announcement of the 2012 calendar year, Buffalo Bills CEO Russ Brandon announced Wednesday m

Share Tweet

Gameday activities Bills-Jets

Here's a rundown of gameday activities for Sunday's game against the New York Jets. Kickoff: 1:00 pm Abbot Road Closing: 8:00 am Parking Lots Open: 9:00 am Gates Open: 11:30 am Healthy Zone Field House:  9:30- 1:00 pm. Indoor tailgate includes vendor

Share Tweet

BDC 12/27: Bills Continue Preparation for Jets

DAILY REPORT —The Buffalo Bills announced yesterday that the team has signed TE Derek Buttles to the Practice Squad and released OT J.B. Shugarts from the Practice Squad. Buttles (6-5, 230-pounds) participated in the team's 2012 rookie mini-camp on a

Share Tweet

Comparing Gailey, Jauron eras in Buffalo

ESPN.com

Dec 27, 2012

The Buffalo Bills may be in line to hire a new head coach in 2013. Embattled coach Chan Gailey is about to complete his third consecutive losing season with the Bills. This should sound familiar for Bills fans. Four years ago, former Bills head coach Di…

Share Tweet

profootballtalk.com

Dec 27, 2012

The Bills were shut out in Pro Bowl voting, with S Jairus Byrd and RB C.J. Spiller their best chances. Dolphins coach Joe Philbin said he and offensive coordinator Mike Sherman have given QB Ryan Tannehill more responsibilities in recent weeks. Patriots…

Share Tweet

What Went Wrong in 2012 for the Jets?

Dec 27

Lomas Brown discusses why the Jets struggled in 2012 and what they can do to be better in 2013.

Preview: New York Jets vs. Buffalo Bills

Dec 27

NFL Films previews the Week 17 matchup between the New York Jets and the Buffalo Bills.