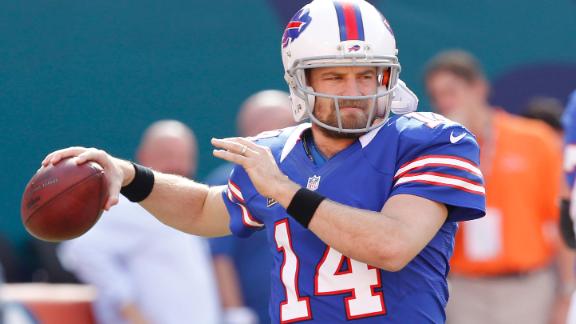 ESPN.com
CNNSI.com
profootballtalk.com
Updated Mar 18, 2013
The Tennessee Titans have agreed with quarterback Ryan Fitzpatrick on a two-year contract, a league source told ESPN NFL Insider Adam Schefter.
Share
Tweet
With the Bills in an obvious search for a quarterback in the 2013 NFL draft, Bills GM Buddy Nix wasn't shy in revealing that when it comes to the top prospects at the position they intend to work all of them out in private sessions. In an interview with

Share Tweet

ESPN.com profootballtalk.com

Mar 18, 2013

The Buffalo Bills are desperate for a starting quarterback after cutting Ryan Fitzpatrick and will turn over nearly every rock this offseason to find one. Could 37-year old Matt Hasselbeck be a possibility? The Tennessee Titans released Hasselbeck on Mo…

Share Tweet

Barnwell: "Nobody's ever won a Super Bowl in March"

Six days into NFL free agency, and the Bills have just one signing. Linebacker Manny Lawson was signed to the roster last Wednesday. And even though the slow pace of signings has some Bills fans concerned, an NFL analyst and writer from Grantland.com sa…

Share Tweet

DAILY REPORT — Bills Bracketology: The madness that happens every March isn't confined to the hardwood anymore, as Bills Bracketology brings the action back to the gridiron. Bills Bracketology is a fan voting tournament to crown the Bills top play of

Share Tweet

profootballtalk.com

Mar 18, 2013

Outlining the role Doug Marrone and the rest of the Bills coaches play in draft scouting. Dolphins owner Stephen Ross thinks his team has gotten younger and faster. Adding to the receiving corps remains on the Patriots to-do list. Gary Myers of the Dail…

Share Tweet

Sports Columnists

Don Banks: Patriots owner Robert Kraft upset with Wes Welker's agent

Mar 18

PHOENIX -- Thanks to the culture established by their tight-lipped head coach, the New England Patriots in the Bill Belichick era have been well known for their refusal to re-live the past, always choosing to focus on the future and moving ahead rather …

Lots of sunshine at 2013 NFL owners meetings

Mar 18

The NFL is in good shape as the owners convene to ponder rules changes, trade proposals and more, writes John Clayton.