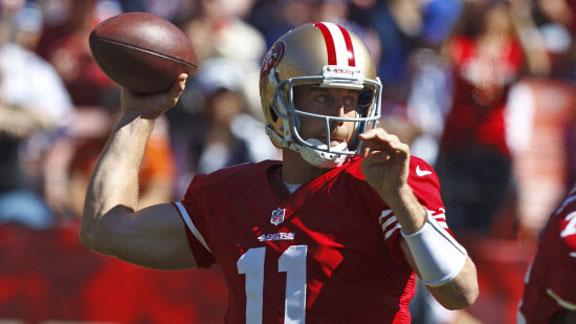 Alex Smith threw for a season-high 303 yards and three touchdowns, Frank Gore ran for 106 yards and a score, and the San Francisco 49ers amassed a franchise-record 621 yards in blowing by the Buffalo Bills 45-3 on Sunday.
Share
Tweet
Scott: "We're sick of this"

Sunday's performance wasn't just devastating for the Bills players, it was humiliating. That's why players like Bryan Scott and Fred Jackson were upset and ticked off. "I thought we came out and I thought we played well in the first half," said

Share Tweet

Big plays a killer: Every week NFL defenses give up a handful of big …

Every week NFL defenses give up a handful of big plays. Buffalo unfortunately took it to an extreme Sunday against San Francisco. The Bills gave up 16 plays of 15 yards or more. Here were the Buffalo killers in terms of number of big plays. WR Michael C…

Share Tweet

More O-linemen down for Bills

The list of injuries unfortunately grew after Buffalo's latest loss to San Francisco, and it took place exactly where they can ill afford to have them, on their offensive line. Just two series into Sunday's game, Colin Brown, the right guard filling i

Share Tweet

ESPN.com profootballtalk.com

Oct 7, 2012

Here are some thoughts on the San Francisco 49ers' 45-3 victory over the Buffalo Bills. What it means: It means the Bills lost their second game in a row in blowout fashion. Buffalo, which is 2-3, has been outscored 97-31 the past two games. The Bills h…

Share Tweet

Mario not wearing wrist brace

Bills DE Mario Williams is not wearing the brace on his left wrist in warmups right now. Williams shed the brace for Fridays practice this week and it appears he'll go without it today. In fact late in warmups he had one of the athletic trainers remove

Share Tweet

RB Brandon Jacobs said he was 100% recovered from a preseason knee injury but he's not dressed for the 49ers today. Jacobs was questionable for today's game. Frank Gore and Kendall Hunter will be the two primary ball carriers for the Niners against th

Share Tweet

Here are the Bills inactives for today's game against the 49ers. QB Tarvaris Jackson RB Johnny White S Delano Howell LB Kirk Morrison OL Kraig Urbik OT Cordy Glenn DL Spencer Johnson

Share Tweet

ESPN.com profootballtalk.com

Oct 7, 2012

The NFL is investigating why Mario Williams, who landed $50 million in guaranteed money this offseason, has publicly complained about his wrist as recently as this week, yet he still is not on Buffalo's injury report.

Share Tweet

ESPN.com

Oct 7, 2012

ESPN's Adam Schefter reports the NFL is looking into the Buffalo Bills not disclosing the wrist injury of defensive end Mario Williams. The former Pro Bowler says the ailment is one of the reasons for his slow start this season. Williams has just 1.5 sa…

Share Tweet

profootballtalk.com

Oct 7, 2012

It's a homecoming day for Bills WR Stevie Johnson. Turnovers have been the biggest negative about Dolphins QB Ryan Tannehill's performance in his first four weeks. Patriots WR Brandon Lloyd is looking forward to his matchup with Champ Bailey. The Jets

Share Tweet

Sunday Blitz: Bills-49ers Recap

Oct 7

Jim Basquil and Eric Allen break down the the 49ers' record-setting performance as they blow past the Bills 45-3.

Bills postgame press conference

Oct 7

Bills react following game with 49ers

49ers Trounce Bills For 4th Win

Oct 7

Alex Smith threw for 303 yards and four touchdowns to lead the 49ers over the Bills 45-3.

Bills vs 49ers highlights

Oct 7

San Francisco 49ers quarterback Alex Smith throws for 303 yards and 3 touchdowns as the 49ers beat the Bills 45-3.