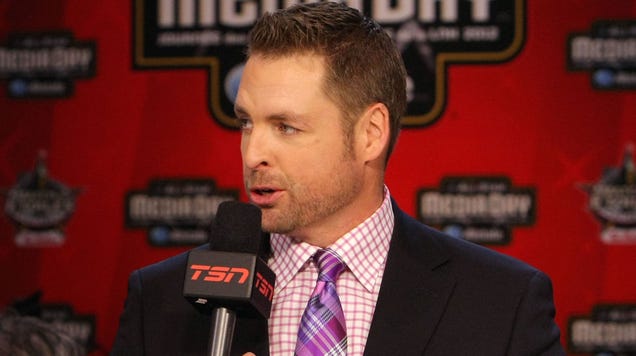 deadspin.com
thehockeynews.com
Updated 2 hours ago
Aaron Ward played in the NHL for 13 seasons with the Red Wings, Hurricanes, Bruins, Rangers, and Ducks, and he won three Stanley Cups. He is currently a hockey analyst for TSN, but he was suspended yesterday evening, after he was arrested and charged wi…
Share
Tweet
yahoo.com thehockeynews.com

17 hours ago

James Wisniewski's debut season with the Carolina Hurricanes lasted all of 47-seconds. Nashville Predators forward Viktor Arvidsson (who?!) is battling with Wisniewski for the puck when he gets tangled up with the lower body of Wiz. As the defenseman hi…

Share Tweet

NHL.com

23 hours ago

RALEIGH, N.C. - Carolina Hurricanes defenceman James Wisniewski will need surgery for a knee injury. The team said in release Friday that Wisniewski will have surgery to repair a torn left anterior cruciate ligament and will face an estimated...

Share Tweet

Rumor Roundup: The top trade targets in 2015-16

thehockeynews.com

Oct 8 (2 days ago)

With another NHL season underway, here's a look at the NHL players most likely to be dealt by the Feb. 29 trade deadline. Eric Staal, Carolina Hurricanes. The 30-year-old Hurricanes is an unrestricted free agent next summer. His production's declined in…

Share Tweet

thehockeynews.com

Oct 6 (4 days ago)

With the new NHL season fast approaching, several potential UFA stars appear no closer to re-signing with their current teams. The status of Tampa Bay Lightning captain Steven Stamkos, Los Angeles Kings center Anze Kopitar and Carolina Hurricanes captai…

Share Tweet

thehockeynews.com

Oct 5 (5 days ago)

Sometimes lost in the talk surrounding Eric Staal's potential free agency is that another longtime Carolina Hurricane, goaltender Cam Ward, could also be hitting the open market in July 2016. Saturday, GM Ron Francis handed goaltender and off-season acq…

Share Tweet

Goaltender Eddie Lack has a new contract with the ... (Be honest with yourself. Before reading the headline, did you remember what team Eddie Lack is on? Outside of two cities, it is acceptable not to know the answer.) Lack, currently a member of the Ca…

Share Tweet

NHL.com

Oct 3 (7 days ago)

RALEIGH, N.C. - The Carolina Hurricanes and goalie Eddie Lack have agreed to a two-year contract extension. The deal announced Saturday will pay Lack $2.5 million next season and $3 million in 2017-18. He is entering the final year of a deal ...

Share Tweet

Rumor Roundup: Hurricanes, Flyers and Devils buzz

thehockeynews.com

Oct 3

As the upcoming NHL season draws near, the Carolina Hurricanes and captain Eric Staal have yet to reach an agreement on a long-term contract extension. Staal, 31, is eligible next summer for unrestricted free agency. If he tests the market in July, ther…

Share Tweet

yahoo.com

Oct 2

There was a rumor going around this week, since kinda-debunked by Bob McKenzie, that Eric Staal wants a $9 million AAV for his next contract. The partial refutation from McKenzie was that Staal and the Hurricanes haven't even begun to discuss the dollar…

Share Tweet

THN's 2015-16 NHL season preview: Carolina Hurricanes

thehockeynews.com

Oct 1

2014-15 Record: 30-41-11 (71 Pts.) THN's Prediction: 8th, Metropolitan Division What To Expect: As players changed hands in a busy off-season, Carolina GM Ron Francis mostly stood pat, making minimal changes to a team that hasn't reached the playoffs si…

Share Tweet

yahoo.com thehockeynews.com

Sep 29

Renaud Lavoie of Journal de Montreal has a doom and gloom piece about the Carolina Hurricanes, as Peter Karmanos continues his delusional plan to sell the team but somehow retain ownership powers over it. But as we discover later in the story, Eric Staa…

Share Tweet

Rumor Roundup: Buzz surrounding Schenn brothers in Philadelphia

thehockeynews.com

Sep 28

Speculation is brewing in Philadelphia over possible moves by the Flyers to shed salary and free up a roster spot for an affordable young player before the start of the upcoming season. The Flyers currently have just over $583K in salary-cap space, givi…

Share Tweet

NHL.com

Sep 27

Nino Niederreiter, Charlie Coyle, Mikael Granlund and Matt Dumba scored in the first period to lead the Minnesota Wild to an 8-1 win against the Winnipeg Jets at Xcel Energy Center on Sunday. Mikko Koivu and Zach Parise scored in the second per...

Share Tweet

yahoo.com

Sep 25

(The 2015-16 NHL season is nearly upon us! Why bother watching this team? What will make or break the season? Find out as we preview all 30 teams as camps begin!) Last Season 30-41-11, 71 points, eighth in the Metropolitan Division. 2014-15 Season, In O…

Share Tweet

NHL.com

Sep 22

Phil Kessel had two goals in his Pittsburgh Penguins debut and Sidney Crosby had a goal and two assists in a 7-3 victory against the Carolina Hurricanes at Consol Energy Center on Tuesday. Kessel, who was traded from the Toronto Maple Leafs on ...

Share Tweet

Eddie Lack absolutely robs Jakub Vrana with toe save in pre-season action

thehockeynews.com

Sep 22

For the third consecutive season, goaltender Eddie Lack is entering the season as one of the better backup goaltenders in the league but has a veteran starter who he'll have to beat out if he wants the No. 1 job. If style points count for anything, Lack…

Share Tweet

Rumor Roundup: Eric Staal could be top rental player at deadline

thehockeynews.com

Sep 21

Most of the recent NHL media speculation is focused upon the respective contract statuses of Tampa Bay Lightning captain Steven Stamkos and Los Angeles Kings center Anze Kopitar. Lately, however, attention has shifted onto forward Eric Staal's future wi…

Share Tweet

Canadiens Blank Hurricanes

Mar 19

Carey Price had 31 saves in the Canadiens' 4-0 win over the Hurricanes.

Malone Wins It For Hurricanes

Mar 15

Brad Malone's seventh goal of the season broke a tie in the second period to give Carolina a 3-2 win over Columbus.

'SportsCenter's' Inside The NHL: Top 3 Goals

Mar 10

Jim Basquil counts down the top goals of the week from across the NHL.

Finesse Diving Hockey Goal

Mar 9

Hurricanes Alexander Semin gets tripped at the net but is able focus and still put the puck in the back of the goal.

Sports Columnists

NBA - Blake Griffin wants to take his defense and the Clippers to another …

Oct 7

Blake Griffin is looking to become an elite defender and a vocal leader, and in turn take the Clippers to a championship, writes J.A. Adande.

NBA - Los Angeles Clippers must learn to play without DeAndre Jordan

Sep 25

The Clippers were able to re-sign DeAndre Jordan. With a more able reserve unit behind him, the team must now learn how to win without him, writes J.A. Adande.

See the rankings (Insider)

Sep 22

Chad Ford says the Knicks are managed by "a neophyte coach, a buffoonish owner and an unproven team president." Amazingly, New York still isn't last p...