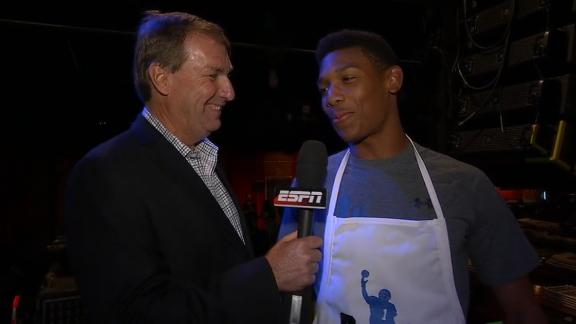 profootballtalk.com
ESPN.com
Updated 12 hours ago
Cowboys defensive end Greg Hardy has declared the Panthers "a nameless, faceless opponent" this week, but that doesn't mean he doesn't still have their phone numbers. Some of the old teammates he left behind in Carolina said they still keep in touch wit…
Share
Tweet
Thursday's N.F.L. Matchups

nytimes.com

3 hours ago

Thursday gets a full plate of N.F.L. games this week because of Thanksgiving: Eagles at Lions, Panthers at Cowboys and Bears at Packers.

Share Tweet

Charles Tillman doubtful to face Dallas

profootballtalk.com

6 hours ago

The Panthers have turned in their final injury report before Thursday's game against the Cowboys and it leaves them likely to play the game without cornerback Charles Tillman. Tillman missed last week's game because of a knee injury and he's been listed…

Share Tweet

Panthers sign an emergency long snapper for the week

profootballtalk.com

8 hours ago

The Panthers are cruising right along at 10-0, having survived the big injuries. Now, they're having to make roster moves to cover some smaller ones. The team announced they had signed long snapper Danny Aiken, filling the roster spot created when guard…

Share Tweet

yahoo.com

24 hours ago

SANTA CLARA, Calif. — Super Bowl 50, billed as a celebration of a half-century of what has become the pinnacle sporting event in the Western Hemisphere, was marred — before the game ever started — on an obscure automatic coin toss loss by the Carolina P…

Share Tweet

Patriots, Panthers can clinch playoff spots this week

profootballtalk.com

Nov 24 (yesterday)

The NFL playoff picture usually doesn't start to take shape until December, but the 10-0 Patriots and 10-0 Panthers both have the opportunity to clinch playoff berths on Sunday. The Patriots clinch the AFC East if they beat the Broncos on Sunday night a…

Share Tweet

A Quick Look at NFL Unbeatens Panthers, Patriots in Week 12

nytimes.com

Nov 24 (yesterday)

A quick look at the NFL's two unbeaten teams heading into Week 12:

Share Tweet

Panthers DE Frank Alexander suspended a year for drug violation

profootballtalk.com

Nov 24 (yesterday)

After coming back from a 10-game suspension for violating the league's substance abuse policy, Panthers defensive end Frank Alexander said he had given up his marijuana habit. Either he didn't, or found a replacement, as the league announced he was susp…

Share Tweet

nytimes.com profootballtalk.com

Nov 24 (yesterday)

The defending champion New England Patriots are viewed as the team to beat, while respect is hard to come by for the undefeated Carolina Panthers.

Share Tweet

Panthers Wes Horton, Stephen Hill draw suspensions from NFL

Everything is going well for the 10-0 Panthers on the field, but a couple of their players have landed suspensions due to off-field issues. Per multiple reports, which PFT has confirmed, Wes Horton has been suspended four games for violating the league'…

Share Tweet

Jay Gruden: Refs aren't why we lost

After Sunday's 44-16 loss to the Panthers, Redskins defensive end Jason Hatcher shared his belief that the team's nickname was behind officiating decisions that have gone against the team this season. The numbers don't support a claim that the team is b…

Share Tweet

Panthers plan to activate Charles Johnson on Tuesday

The Panthers will be in Dallas on Thursday, which means they'll get to spend Thanksgiving with their former pass rushing defensive end Greg Hardy. It looks like they'll have one of Hardy's teammate from his time with the team back from injured reserve f…

Share Tweet

NFL pushes Saints-Panthers game to 4:25 p.m. start

The Dec. 6 Panthers-Saints game in New Orleans has been moved back to a 4:25 p.m. ET start. The game had been scheduled for a 1 p.m. ET start. These moves are always about television, and the unbeaten Panthers have earned the extra exposure. They'll pla…

Share Tweet

yahoo.com

Nov 23 (2 days ago)

When you watch your team perform well for 60 minutes and post a 44-16 win to move to 10-0 for the first time in franchise history, you might want to feel like dancing. Or, as was the case for Carolina Panthers' coach Ron Rivera on Sunday, dab on 'em. IC…

Share Tweet

profootballtalk.com nytimes.com

Nov 23 (2 days ago)

It's not just that Cam Newton was brilliant yesterday, throwing five touchdown passes in a dominating 44-16 win over Washington that moved the Panthers to 10-0. It was the way he moved the ball around while piling up the big numbers. Newton's touchdowns…

Share Tweet

NFC playoff picture: Panthers in control, Cowboys in last place

When the Panthers play the Cowboys on Thanksgiving, it will match up the No. 1 team in the NFC and the No. 16 team in the NFC. And yet it doesn't look like the blowout that you'd usually associate with the best team in the conference facing the worst te…

Share Tweet

Double Check: Panthers-Cowboys

Nov 25

ESPN NFL Insider Mike Sando delivers stats to help you make a pick for

Can Cowboys win second straight over Panthers?

Nov 25

Skip Bayless is predicting a Cowboys win over the Panthers, but Stephen A. Smith sees the Panthers remaining unbeaten.

How to bet on Carolina-Dallas

Nov 25

ESPN Chalk writer Dave Tuley discusses Carolina at Dallas.

Adam Carolla's NFL Week 12 picks

Nov 25

Comedian Adam Carolla joins The Dan Le Batard Show to make his picks for Week 12 in the NFL.