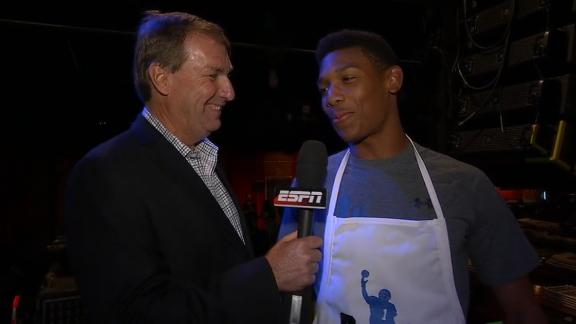 profootballtalk.com
ESPN.com
Updated 6 hours ago
Cowboys defensive end Greg Hardy has declared the Panthers "a nameless, faceless opponent" this week, but that doesn't mean he doesn't still have their phone numbers. Some of the old teammates he left behind in Carolina said they still keep in touch wit…
Share
Tweet
Charles Tillman doubtful to face Dallas

profootballtalk.com

27 minutes ago

The Panthers have turned in their final injury report before Thursday's game against the Cowboys and it leaves them likely to play the game without cornerback Charles Tillman. Tillman missed last week's game because of a knee injury and he's been listed…

Share Tweet

Panthers sign an emergency long snapper for the week

profootballtalk.com

2 hours ago

The Panthers are cruising right along at 10-0, having survived the big injuries. Now, they're having to make roster moves to cover some smaller ones. The team announced they had signed long snapper Danny Aiken, filling the roster spot created when guard…

Share Tweet

yahoo.com

19 hours ago

SANTA CLARA, Calif. — Super Bowl 50, billed as a celebration of a half-century of what has become the pinnacle sporting event in the Western Hemisphere, was marred — before the game ever started — on an obscure automatic coin toss loss by the Carolina P…

Share Tweet

Patriots, Panthers can clinch playoff spots this week

profootballtalk.com

20 hours ago

The NFL playoff picture usually doesn't start to take shape until December, but the 10-0 Patriots and 10-0 Panthers both have the opportunity to clinch playoff berths on Sunday. The Patriots clinch the AFC East if they beat the Broncos on Sunday night a…

Share Tweet

A Quick Look at NFL Unbeatens Panthers, Patriots in Week 12

nytimes.com

20 hours ago

A quick look at the NFL's two unbeaten teams heading into Week 12:

Share Tweet

Panthers DE Frank Alexander suspended a year for drug violation

profootballtalk.com

21 hours ago

After coming back from a 10-game suspension for violating the league's substance abuse policy, Panthers defensive end Frank Alexander said he had given up his marijuana habit. Either he didn't, or found a replacement, as the league announced he was susp…

Share Tweet

Rumor Roundup: Cam Ward and Eric Staal could move on from Hurricanes

thehockeynews.com

Nov 24 (yesterday)

The future of forward Eric Staal and goaltender Cam Ward with the Carolina Hurricanes could be determined soon. Both are eligible next summer for unrestricted free agency, and their status remains fodder for the rumor mill. During Saturday's 'Hockey Nig…

Share Tweet

nytimes.com profootballtalk.com

Nov 24 (yesterday)

The defending champion New England Patriots are viewed as the team to beat, while respect is hard to come by for the undefeated Carolina Panthers.

Share Tweet

Shayne Gostisbehere scores on power play in overtime to lift Flyers over Hurricanes 3-2

NHL.com

Nov 24 (yesterday)

PHILADELPHIA - The Flyers were relieved to finally score a goal. Then they breathed even easier after picking up a win. Shayne Gostisbehere scored 24 seconds into overtime on a power play to give Philadelphia a 3-2 victory over the Carolina H...

Share Tweet

NHL.com

Nov 23 (yesterday)

PHILADELPHIA - Shayne Gostisbehere scored 24 seconds into overtime on a power play to give the Philadelphia Flyers a 3-2 victory over the Carolina Hurricanes on Monday night. Brayden Schenn and Claude Giroux had goals in regulation for the Fl...

Share Tweet

Panthers Wes Horton, Stephen Hill draw suspensions from NFL

Everything is going well for the 10-0 Panthers on the field, but a couple of their players have landed suspensions due to off-field issues. Per multiple reports, which PFT has confirmed, Wes Horton has been suspended four games for violating the league'…

Share Tweet

Jay Gruden: Refs aren't why we lost

After Sunday's 44-16 loss to the Panthers, Redskins defensive end Jason Hatcher shared his belief that the team's nickname was behind officiating decisions that have gone against the team this season. The numbers don't support a claim that the team is b…

Share Tweet

Panthers plan to activate Charles Johnson on Tuesday

The Panthers will be in Dallas on Thursday, which means they'll get to spend Thanksgiving with their former pass rushing defensive end Greg Hardy. It looks like they'll have one of Hardy's teammate from his time with the team back from injured reserve f…

Share Tweet

NFL pushes Saints-Panthers game to 4:25 p.m. start

The Dec. 6 Panthers-Saints game in New Orleans has been moved back to a 4:25 p.m. ET start. The game had been scheduled for a 1 p.m. ET start. These moves are always about television, and the unbeaten Panthers have earned the extra exposure. They'll pla…

Share Tweet

yahoo.com

Nov 23 (2 days ago)

When you watch your team perform well for 60 minutes and post a 44-16 win to move to 10-0 for the first time in franchise history, you might want to feel like dancing. Or, as was the case for Carolina Panthers' coach Ron Rivera on Sunday, dab on 'em. IC…

Share Tweet

profootballtalk.com nytimes.com

Nov 23 (2 days ago)

It's not just that Cam Newton was brilliant yesterday, throwing five touchdown passes in a dominating 44-16 win over Washington that moved the Panthers to 10-0. It was the way he moved the ball around while piling up the big numbers. Newton's touchdowns…

Share Tweet

NFC playoff picture: Panthers in control, Cowboys in last place

profootballtalk.com

Nov 23 (2 days ago)

When the Panthers play the Cowboys on Thanksgiving, it will match up the No. 1 team in the NFC and the No. 16 team in the NFC. And yet it doesn't look like the blowout that you'd usually associate with the best team in the conference facing the worst te…

Share Tweet

Classic showdown: Dez Bryant vs. Josh Norman

Nov 24

If you want to settle in on Thanksgiving Day and watch a great football matchup, catch Carolina cornerback Josh Norman and Dallas wide receiver Dez Bryant. They are two of the best in the league at their position. It could be a classic.

Norman an impact player in Carolina's secondary

Nov 24

Tim Hasselbeck breaks down what makes Panthers CB Josh Norman so effective against the pass and how he will match up against Cowboys WR Dez Bryant on Thursday.

Should Cam Newton be MVP favorite over Brady?

Nov 24

Skip Bayless and Stephen A. Smith shoot down the notion that Cam Newton should be the MVP front-runner over Tom Brady.

Meet the young Newton

Nov 24

Panthers quarterback Cam Newton fed more than 800 kids from the Charlotte,N.C., on Monday night for his fourth annual Cam's Thanksgiving Jam. But his little brother Caylin tells who the biggest kid was.