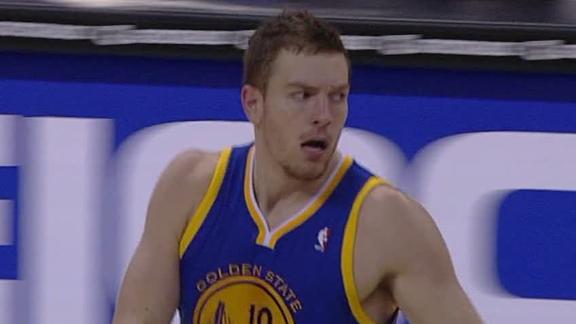 ESPN.com
Updated Dec 10, 2012
Stephen Curry put on a show for his hometown fans Monday night, finishing with 27 points, seven assists and seven rebounds to lead the surging Golden State Warriors to a 104-96 win over the struggling Charlotte Bobcats.
Share
Tweet
Injured South Carolina running back Marcus Lattimore will enter the NFL draft, said people familiar with the decision.Click to Continue »

Share Tweet

Carolina Panthers, San Diego Chargers have mirror-image frustrations

A failure to win close games and an underachieving offense have shattered the high preseason expectations and left the head coach's job in jeopardy, even after a surprising win on…Click to Continue »

Share Tweet

Carolina Panthers coach Ron Rivera: CB Josh Norman's demotion opens doors

Carolina Panthers coach Ron Rivera replaced rookie starting cornerback Josh Norman on Sunday, a move he said had been in the works for a week.Click to Continue »

Share Tweet

Here's An Unverified Story About Cam Newton Buying Superman Onesie Pajamas

deadspin.com

Dec 10, 2012

Sup, gang. We got this email from a reader a few minutes ago. We're passing it along because, well ... do we really need to explain?: More »

Share Tweet

Greg Hardy Tells The Falcons To Get The Fuck Off His Field, Gets Trolled By Matt Bryant

deadspin.com

Dec 10, 2012

It was Week 4 when Matt Ryan told the Carolina Panthers to "get the fuck off of his field" at the conclusion of his team's dramatic victory over the lowly Panthers. Headed into this week's rematch, it became known that the Panthers were still …

Share Tweet

ESPN.com

Dec 10, 2012

Carolina Panthers quarterback Cam Newton was the only NFC South quarterback to win a game in Week 14. He also was the best quarterback in the league, by at least one measure. Newton posted a 97.0 Total QBR in Sunday's 30-20 victory against the Falcons.

Share Tweet

profootballtalk.com ESPN.com

Dec 10, 2012

During the week leading up to Sunday's game against the Falcons, several members of the Panthers made it clear that they hadn't forgotten Falcons quarterback Matt Ryan's message to them after the Falcons pulled out a win in their first matchup of th

Share Tweet

ESPN.com

Dec 10, 2012

Even after Sunday's 30-20 loss to the Carolina Panthers, the Atlanta Falcons still are in good position for a prime spot in the postseason. We've got some updated clinching scenarios, courtesy of ESPN Stats & Information. The Falcons can clinch the No

Share Tweet

The Math Bowl: Carolina's Win Against Atlanta

nytimes.com

Dec 10, 2012

Atlanta was 11-1 and favored by 3.5 points by the oddsmakers. So why were some statisticians talking up the 3-9 Panthers?

Share Tweet

Falcons made it easier for their own doubters

profootballtalk.com

Dec 10, 2012

The Falcons know better than everyone they underperformed yesterday. And they know that the doubters who were in the shadows as as they started the season 11-1 will be out in full force after they lost in embarrassing fashion to the Panthers. "I can hea

Share Tweet

NFL morning after: Cam Newton silences his critics

profootballtalk.com

Dec 10, 2012

If you don't like Cam Newton after watching him on Sunday against the Falcons, it says more about you than it does about him. It was such a pleasure to see Newton, the Panthers' second-year quarterback, look like Cam Newton again in Sunday's 30-20 u

Share Tweet

Warriors Cruise To Fourth Straight Win

Dec 10

David Lee and Stephen Curry combine for 52 points in Warriors' 104-96 win over Bobcats.

GameDay: Atlanta Falcons vs. Carolina Panthers highlights

Dec 10

Carolina Panthers QB Cam Newton throws for nearly 300 yards and two touchdowns, while also picking up a touchdown on the ground, to help the Panthers upset the Atlanta Falcons 30-20 on Sunday.