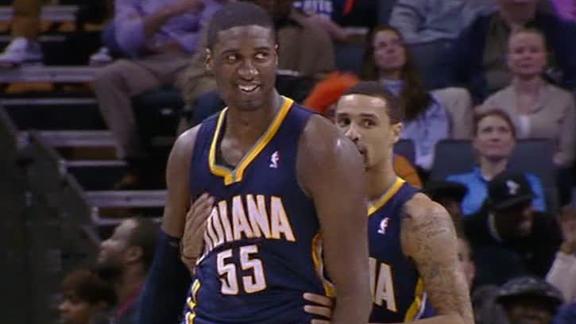 Updated Jan 15
Share
Tweet
Roy Hibbert had 18 points and seven rebounds, and the Indiana Pacers handed the Charlotte Bobcats their 13th straight home loss with a 103-76 victory Tuesday night.
Ian Thomsen: Examining the coaching hot seat, more mail

Updated Jan 15

Share Tweet

We've already seen three coaches lose their jobs this season: Mike Brown, Avery Johnson and Scott Skiles. With the midway point of the season approaching, which other coaches should be fearing for their futures? -- Thomas Detweiler, Philadelphia

Source:

CNNSI.com
Pacers Hand Bobcats Their 13th Straight Home Loss

Jan 15

Roy Hibbert leads the way with 18 points in Pacers' 103-76 win over Bobcats.
Sports Columnists
Paul George, Deron Williams shine at home; Andrea Bargnani, Tim Duncan shi…

Jan 15

John Cregan looks at players with significant statistical splits at home versus on the road.

Ian Thomsen: Examining the coaching hot seat, more mail

Jan 15

We've already seen three coaches lose their jobs this season: Mike Brown, Avery Johnson and Scott Skiles. With the midway point of the season approaching, which other coaches should be fearing for their futures? -- Thomas Detweiler, Philadelphia