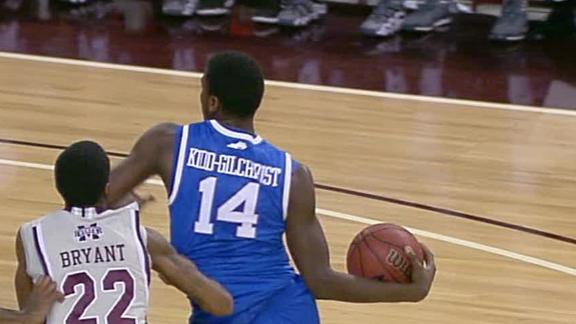 CHARLOTTE, N.C. (AP) General manager Rich Cho says it will take "something enticing" for the Bobcats to trade away the No. 2 overall pick in the NBA draft.
Share
Tweet
The Charlotte Bobcats might be attempting to package Tyrus Thomas in deals for its lottery pick. Good luck to them

yahoo.com

Jun 27, 2012

On Tuesday we detailed the Charlotte Bobcats' considerations behind their number two overall pick. Namely, if no real front-runner emerged that could turn the team around by his lonesome - a likely scenario - that the Bobcats would attempt to trade do

Share Tweet

Sam Amick: NBA Mock Draft 4.0

CNNSI.com

Jun 27, 2012

Just when you thought the clarity was coming, the draft waters became even murkier this week. Charlotte is still a moving target at No. 2. The Bobcats and nearly every other top 10 team are contemplating whether to answer those calls from Houston, which…

Share Tweet

dimemag.com

Jun 27, 2012

The one salvation for all long-suffering fans in the NBA is this: anyone can be traded. At any time. It doesn't matter how egregious their contract is or how awful their production is. We've seen everyone from Gilbert Arenas to "Theo Ratliff's exp

Share Tweet

Biggest Impact Next Season

Jun 27

Jay Bilas talks about the player other than Anthony Davis who will make the biggest impact next season, what the Bobcats should do with the No. 2 pick and who is moving up the draft board.