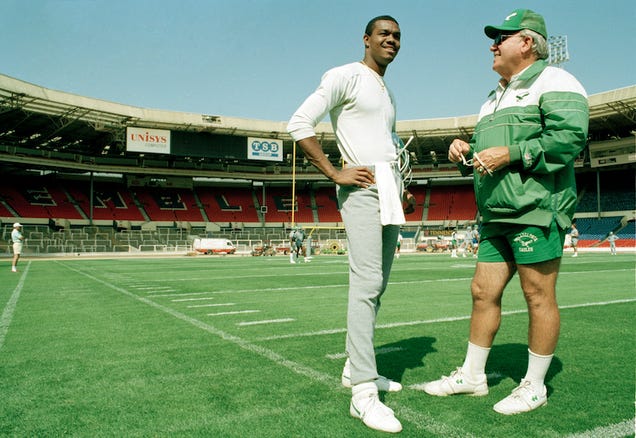 profootballtalk.com
nytimes.com
deadspin.com
yahoo.com
Updated Jun 28 (yesterday)
Legendary Bears defensive coordinator Buddy Ryan has died at the age of 82. The franchise with which he became a household name has praised his work with the team. "Buddy Ryan was the architect of the greatest defense our league has seen," Bears chairma…
Share
Tweet
Mike Singletary says he'll be a defensive advisor to Rams this season

profootballtalk.com

Jun 28 (yesterday)

The death of Buddy Ryan on Tuesday has led to remembrances from around the football world, including many from players he coached across many stops in his long career. Mike Singletary was one of the leaders of the most famous defense that Ryan put toget…

Share Tweet

Refrigerator Perry is struggling, but says he's happy

profootballtalk.com

Jun 27 (2 days ago)

One of the best things about William "The Refrigerator" Perry, who took America by storm as a 300-plus pound rookie defensive tackle-turned-running back on the 1985 Bears, was his infectious smile. So maybe when he says he's happy, we should all just be…

Share Tweet

Marc Trestman "in a lot better position" in second year as Ravens offensive coordinator

profootballtalk.com

Jun 27 (2 days ago)

The Ravens had a new offensive coordinator for the second straight year in 2015 with former Bears head coach Marc Trestman replacing Gary Kubiak after Kubiak moved on to the top job with the Broncos. Trestman integrated things that Kubiak (and Jim Caldw…

Share Tweet

Rams cut Wells, Worton

profootballtalk.com

Jun 24 (5 days ago)

The Rams trimmed their offseason roster by two Friday, waiving linebacker Matthew Wells and wide receiver J.J. Worton. Wells was a sixth-round pick of the Patriots in 2015 and was traded to the Bears during his first training camp. He was waived by the …

Share Tweet

Report: Bears, Alshon Jeffery still talking long-term deal

profootballtalk.com

Jun 21

When Bears receiver Alshon Jeffery signed his one-year, $14.6 million franchise tender, he was reportedly a near certainty to play this season on that contract. But that might not be so certain after all. Jeffery and the Bears have continued to talk abo…

Share Tweet

ESPN.com

Jun 20

Bears' 53-man roster projection includes Harvard tight end Ben Braunecker

Share Tweet

John Fox knows his success is tied to Jay Cutler's

profootballtalk.com

Jun 20

It wasn't immediately clear when he took over the Bears prior to last season whether coach John Fox even wanted quarterback Jay Cutler. But now, Fox likes Cutler enough to make excuses for him. Via Emily Kaplan of TheMMQB.com, Fox was quick to point out…

Share Tweet

Jim McMahon thinks marijuana can help retired players

profootballtalk.com

Jun 19

Jim McMahon, the quarterback of the Super Bowl XX-winning Chicago Bears, had an injury-plagued career and has suffered with a host of injuries in retirement. But he says he has found something that really helps: marijuana. McMahon was on a panel of form…

Share Tweet

profootballtalk.com

Jun 19

Cornerback Charles Tillman joined the Panthers last April as a free agent, marking the first time that he was part of a team other than the Bears since entering the NFL in 2003. Tillman wasn't able to make it all the way to the Super Bowl with Carolina,…

Share Tweet

Rob Ryan wants to restore the family name

profootballtalk.com

Jun 18

Twin brothers Rob and Rex Ryan are coaching together this season for the first time since they were on their father Buddy's staff in 1995. They're hoping to restore some luster to the Ryan name. As the architect of the 1985 Bears, Buddy is one of the be…

Share Tweet

Bears adding Tony Moeaki after tryout

profootballtalk.com

Jun 16

The Bears are signing veteran tight end Tony Moeaki after a minicamp tryout. Moeaki had two productive seasons with the Chiefs early in his career. He has 91 career receptions, six for touchdowns, and has played in 48 career games since being drafted by…

Share Tweet

profootballtalk.com ESPN.com

Jun 15

The Bears got one wide receiver back this week when Alshon Jeffery reported for the team's minicamp, but they also lost one for a while during Tuesday's practice. Chicago placed wide receiver Marquess Wilson on injured reserve late last season after he …

Share Tweet

profootballtalk.com ESPN.com

Jun 15

The Bears finally got franchise-tagged wide receiver Alshon Jeffery back in the building this week, and it's clear that was a welcome sight for quarterback Jay Cutler. While Cutler understands Jeffery's absence was just about business, he also might hav…

Share Tweet

yahoo.com

Jun 14

Until it was announced that Bruce Smith would join him on Sept. 15, Jim Kelly had been the only Buffalo Bills player to have his jersey number retired by the franchise. Some historic franchises such as the Chicago Bears have retired as many as 13 player…

Share Tweet

After others leave practice, Bears' Braverman catches 100 balls

profootballtalk.com

Jun 11

Bears rookie receiver Daniel Braverman hasn't yet proven that he belongs on an NFL roster, but he's certainly taking the right path to get there. Braverman, a seventh-round draft pick from Western Michigan, has an interesting routine after practice. Acc…

Share Tweet

Bears work out Tony Moeaki, other tight ends

profootballtalk.com

Jun 9

The Bears traded Martellus Bennett to the Patriots this offseason, leaving them with Zach Miller at the top of the depth chart and a slew of players vying for backup roles on this year's roster. They appear to be considering another addition to that lat…

Share Tweet

Bears shuffle quarterbacks at bottom of depth chart

profootballtalk.com

Jun 9

The Bears had four quarterbacks on the roster at the start of business on Thursday and they'll have four quarterbacks on the roster when the day comes to an end, but it won't be the same four quarterbacks. On Thursday morning, the team announced that th…

Share Tweet

profootballtalk.com

Jun 8

Bears offensive lineman Manny Ramirez has decided to retire from football. Ramirez, 33, signed with the Bears in March after playing in 16 games and starting seven for the Lions last season. The Bears moved Ramirez to the reserve-retired list on Wednesd…

Share Tweet

Buddy Ryan's letter to the 1985 Bears

Jun 28

Members of the 1985 Bears read Buddy Ryan's letter to the team thanking them Chicago's Super Bowl season.

Ron Rivera: Buddy Ryan strived to make everyone better

Jun 28

Carolina Panthers coach Ron Rivera joins NFL Live to share what it was like to play for Buddy Ryan and the impact he had on Rivera's coaching career.

Wade Phillips reflects on Buddy Ryan's NFL legacy

Jun 28

Wade Phillips remembers his time as Buddy Ryan's defensive coordinator with the Eagles in the 80's. Phillips notes how other teams have adapted the "Buddy Ryan defense" to the modern era.

Buddy Ryan's greatest quotes

Jun 28

As we remember coaching legend Buddy Ryan, we take a look back at some of his most memorable remarks about the game of football.