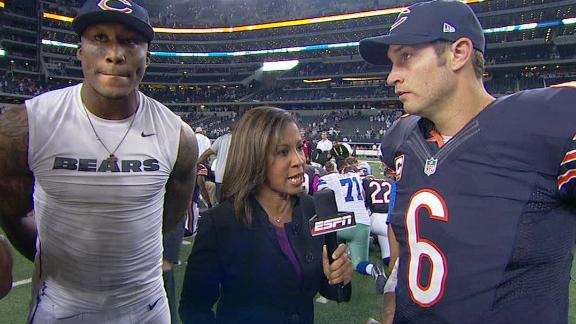 suntimes.com
ESPN.com
profootballtalk.com
Updated Oct 2, 2012
When a national audience sees Cutler, perhaps the most gifted quarterback in franchise history and certainly one of the most controversial Bears ever, walk away from an offensive coordinator who only wants to have a chat during a game, the question that…
Share
Tweet
suntimes.com

Oct 2, 2012

Devin Hester, who had two catches for 27 yards in the Bears' first three games, wanted more opportunities. But he didn't walk into offensive coordinator Mike Tice's office, knock his pencils off the desk and make any demands. "It was kind of a jok

Share Tweet

Lance Briggs hits it big with quick pick

suntimes.com

Oct 2, 2012

Linebacker Lance Briggs knows how to find the end zone. He once rushed for 320 yards and six touchdowns in a high school game and had a 48-yard touchdown run against UCLA as a freshman at Arizona. But at 31 and in his 10th season, Briggs' wheels on a 74

Share Tweet

profootballtalk.com grantland.com

Oct 2, 2012

Mike Florio updates the biggest quarterback stories around the NFL starting with Tony Romo's Monday night debacle when he threw five picks to help the Chicago Bears blow out the Dallas Cowboys. Florio says if Romo is supposed to be an elite QB, he shoul

Share Tweet

ESPN.com bearsgab.com

Oct 2, 2012

After the Chicago Bears' 34-18 victory over Dallas Cowboys, here are three issues that merit further examination: I'll take a bigger-picture look at quarterback Jay Cutler later Tuesday afternoon, but for now let's consider a pretty significant assertio…

Share Tweet

ESPN.com

Oct 2, 2012

Dallas Cowboys owner Jerry Jones is disappointed, but he's not offering excuses after the team's lopsided 34-18 loss to the Chicago Bears on Monday night.

Share Tweet

Ex-Bear Tommie Harris arrested in Chicago

profootballtalk.com

Oct 2, 2012

Former Bears defensive tackle Tommie Harris has had a rough year, and he has now been arrested in an incident in Chicago that sounds troubling. Harris, whose wife died in February at the age of 29, leaving him with two young children, was arrested in Ch…

Share Tweet

CNNSI.com suntimes.com

Oct 2, 2012

The host Cowboys stumbled mightily throughout their abysmal 34-18 loss to the Bears. But credit Chicago for taking full advantage of a slew of mistakes by Dallas, writes Chris Burke.

Share Tweet

Hot Button: Does media focus too much on Cutler's behavior?

Oct 2

ESPN Chicago's Marc Silverman gives his take on whether the media is too critical of Jay Cutler's sideline behavior.

Hot Button: Media Too Hard On Cutler?

Oct 2

Does the media make too big of a deal out of Jay Cutler's gestures, or is the criticism deserved?

Chicago Bears vs. Dallas Cowboys highlights

Oct 2

Jay Cutler throws for two touchdowns, while Tony Romo throws five interceptions in a 34-18 Bears victory over the Cowboys.