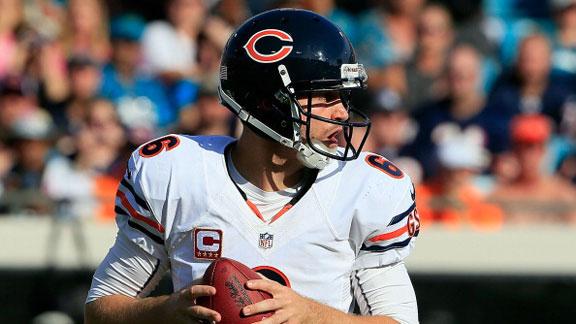 suntimes.com
yahoo.com
ESPN.com
Updated Oct 7, 2012
For a second consecutive game Sunday, with the offense struggling, Charles Tillman sparked the Bears with an interception return for a touchdown in a 41-3 rout of the Jacksonville Jaguars at EverBank Field. Tillman's pick-six from 36 yards out late in t
Share
Tweet
Corey Wootton's sack comes at an opportune time

suntimes.com

Oct 7, 2012

JACKSONVILLE, Fla. - Reserve defensive end Corey Wootton saw something he could exploit but didn't figure it would result in his best performance in a Bears uniform. Wootton had two sacks and a forced fumble in the Bears' 41-3 dismantling of the Jac

Share Tweet

An Illinois man, quite possibly a Bears fan who traveled to Jacksonville to see the Bears play the Jaguars, was killed early Sunday as a result of a stabbing at a local restaurant within a block of the Bears' team hotel. William Pettry, 42, died after b

Share Tweet

ESPN.com

Oct 7, 2012

MINNEAPOLIS -- A few thoughts on a dominating performance Sunday at the Metrodome: What it means: The Minnesota Vikings are 4-1 and are tied for the NFC North lead with the Chicago Bears. The Tennessee Titans put on a listless and punchless performance,…

Share Tweet

Bears steamroll Jags in second half to improve to 4-1

When you see a score like 41-3 at the end of a game, it's hard to convince yourself that there was ever a moment when it seemed possible that the losing team would win the game. That was not the case in Sunday's Bears-Jaguars game. It was 3-3 after on

Share Tweet

It's all about the defense in Jacksonville

If you're a fan of lavish offensive football, this week's matchup between the Bears and Jaguars is not for you. If you're a fan of good defense and strong punting, however, this should be where your clicker comes to rest. There hasn't been much in

Share Tweet

Sunday Blitz: Bears-Jaguars Recap

Oct 7

Jim Basquil and Eric Allen break down the Bears' 41-3 win over the Jaguars

Bears Roll Jaguars For 4th Straight Win

Oct 7

Jay Cutler threw for 292 yards and two touchdowns to lead the Bears over the Jaguars 41-3.