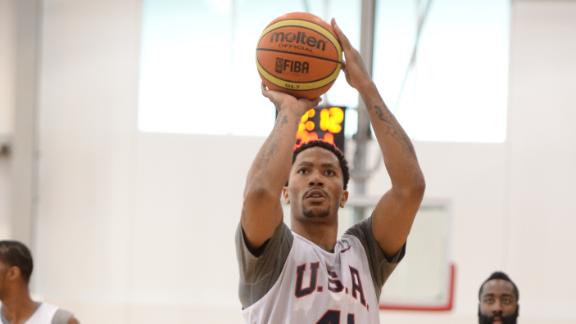 ESPN.com
Updated 6 hours ago
Chicago Bulls point guard Derrick Rose is happy with the moves his organization made in upgrading its roster this summer and believes the Bulls are a 'contender' to win the East.
Upvote
Share
Tweet
yahoo.com ESPN.com dimemag.com

11 hours ago

That's the first in a series of 60-second public service announcements produced by Joakim Noah's charitable organization imploring Chicago residents to come together and stem the rising tide of violence that has swept away dozens of lives this summer. T…

Upvote Share Tweet

dimemag.com

Jul 25 (4 days ago)

The Kevin Love sweepstakes rumbles on with just a scant 200-plus days until the 2015 NBA trade deadline means the 'Wolves likely lose him in free agency next summer. While the Cavs have officially signed Andrew Wiggins, necessitating a 30-day waiting pe…

Upvote Share Tweet

Report: Bulls Are Loyal To Nikola Mirotic

dimemag.com

Jul 25 (4 days ago)

The Minnesota Timberwolves reportedly prefer the Chicago Bulls' potential trade package of Taj Gibson, Doug McDermott, and Nikola Mirotic for stranded superstar Kevin Love. One small problem for the 'Wolves: Chicago might not actually offer it. Accordin…

Upvote Share Tweet

ESPN.com

Jul 25 (4 days ago)

Carmelo Anthony said it was not the money, but instead his confidence in Phil Jackson and his belief that the Knicks "aren't that far away from contending for an NBA title" why he opted to remain in New York instead of signing with the Chicago Bulls.

Upvote Share Tweet

yahoo.com

Jul 24 (5 days ago)

There never seems to be any shortage of Michael Jordan-related memorabilia on the collectibles circuit. From baseball cleats to "Flu Game" kicks, golf bags to love letters, plastic to glass and all the way up to expansive compounds, if you're …

Upvote Share Tweet

dimemag.com ESPN.com

Jul 24 (5 days ago)

The maximum two-year, $48 million extension that injured, 35 year-old Kobe Bryant signed last November has been a lightning rod for criticism. Just imagine the derision he'd face if Bryant were allowed a salary similar to Michael Jordan's last one with …

Upvote Share Tweet

yahoo.com

Jul 23 (5 days ago)

A look around the league and the Web that covers it. It's also important to note that the rotation order and starting nods aren't always listed in order of importance. That's for you, dear reader, to figure out. C: SB Nation. The Chicago Bulls have repo…

Upvote Share Tweet

Taj Gibson Says D-Rose Will "Come Back Dominant"

dimemag.com

Jul 23 (5 days ago)

It's been so long since Derrick Rose was the player grade school kids only vaguely remember from his 2011 MVP season, it's hard not to think he's been stranded on Neptune in the ensuing years. He hasn't, and — in case you forgot — he played this past se…

Upvote Share Tweet

Report: Bulls Offering Gibson, McDermott, Mirotic to 'Wolves For Love

dimemag.com

Jul 23 (6 days ago)

Terms of the Chicago Bulls' trade offer to the Minnesota Timberwolves for Kevin Love have emerged. According to Chris Sheridan of Sheridan Hoops, the Bulls are willing to surrender Taj Gibson and rookies Doug McDermott and Nikola Mirotic if it nets them…

Upvote Share Tweet

The Chicago Bulls say they have signed Doug McDermott, their first-round draft pick and last season's college player of the year.

Upvote Share Tweet

Breaking Down The New Eastern Conference Contenders

dimemag.com

Jul 22 (7 days ago)

With one Sports Illustrated essay, the entire hierarchy in the Eastern Conference was destroyed. The Miami Heat, the champions of the Eastern Conference for the last four seasons, lost their best player. The Cleveland Cavaliers, an Eastern Conference la…

Upvote Share Tweet

Report: Bulls Renew Efforts For Kevin Love

dimemag.com

Jul 22 (7 days ago)

After courting Carmelo Anthony only to lose him to the extra year New York could offer, the Chicago Bulls have returned to the fold and are in the mix for Kevin Love, ESPN reports. Even though the Cavs still lead the pack — especially if they include An…

Upvote Share Tweet

ESPN.com

Jul 22 (7 days ago)

The Cleveland Cavaliers are firmly in the lead to acquire Kevin Love, but the Chicago Bulls are making a renewed push to get into the trade mix for the All-Star power forward, according to sources close to the process.

Upvote Share Tweet

Bulls re-sign Hinrich, ink second-round pick Bairstow

nba.com

Jul 21

The Chicago Bulls have made some big changes this summer as they try to beef up their roster and make a run at the Eastern Conference crown.

Upvote Share Tweet

LeBron's move brings parity to the East

nba.com

Jul 21

The first three weeks of free agency have been crazy. LeBron James went home, Lance Stephenson left Indiana, Paul Pierce joined his third team in as many seasons, the Bulls reloaded, the Mavs got their anchor back, and the Rockets struck out on the big …

Upvote Share Tweet

Chicago Bulls finalizing deal with Aaron Brooks

ESPN.com

Jul 19

The Chicago Bulls are finalizing a deal with free-agent guard Aaron Brooks, according to sources close to the talks.

Upvote Share Tweet

Pau Gasol prioritized joining a championship contender over money in choosing the Chicago Bulls as a free agent and believes his new team is "hungry" to win.

Upvote Share Tweet

nba.com yahoo.com dimemag.com

Jul 17

Carlos Boozer is headed to the Lakers' crowded frontcourt after Los Angeles made the winning bid for the veteran forward waived by the Chicago Bulls via the amnesty clause.

Upvote Share Tweet

Derrick Rose Back On Court For Team USA

Jul 28

Derrick Rose comments on returning to play for Team USA, and Brian Windhorst breaks down how Rose looked while practicing.

Noah Willing To Go Through LeBron For Title

Jul 28

ESPNChicago.com's Nick Friedell discusses Joakim Noah's comments about the Bulls' obstacles to winning an NBA title.

Love Off Team USA

Jul 26

Marc Stein breaks down the reasons behind Kevin Love withdrawing from playing with Team USA ahead of the FIBA World Cup and the latest from teams making bids for Love.

Carmelo: Decision Not About The Money

Jul 25

"Numbers Never Lie" debates whether Carmelo Anthony re-signing with the Knicks was about winning NBA championships.