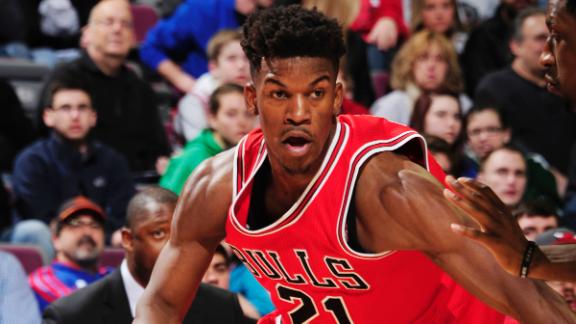 Giving NBA award to Wiggins not a slam dunk after what Bulls forward has done

Share Tweet

Friday will mark four weeks since Derrick Rose underwent surgery to remove to the damaged portion of the torn medial meniscus in his right knee. After the procedure, the Chicago Bulls laid out a four-to-six-week timetable for their former MVP point guar…

Share Tweet

Nikola Mirotic scored 14 of his 28 points in the fourth quarter, and the Chicago Bulls clinched a playoff spot with a 98-86 win over the Charlotte Hornets on Monday night.

Share Tweet

After missing almost a month because of recurring problems with his left ankle, Chicago Bulls power forward Taj Gibson returned to the lineup in a 108-92 win over the Toronto Raptors on Friday night.

Share Tweet

Chicago Bulls coach Tom Thibodeau probably thought the Chicago Bulls front office was handing him a "minor" minute restriction for Joakim Noah earlier in the season. You know, in the same way the Bulls front office called Noah's surgery from last May "m…

Share Tweet

Jack Haley, who played nine seasons in the NBA including a reserve role on the Chicago Bulls' 1996 championship team, has died. He was 51.

Share Tweet

Thibodeau: Noah remains on a minutes limit

ESPN.com

Mar 15

Bulls center Joakim Noah remains on a playing limit of 32 minutes per game, coach Tom Thibodeau said.

Share Tweet

The Oklahoma City Thunder and Chicago Bulls are both playing with lineups diminished by injury, trying to improve their postseason position without several of the most accomplished players in the NBA. The difference between the two, of course, is that t…

Share Tweet

nba.com

Mar 13

Bulls coach Tom Thibodeau says center Joakim Noah is ready to return to the starting lineup.

Share Tweet

nba.com

Mar 12

An auction company says it has Michael Jordan's earliest known pair of game-worn shoes from his rookie season with the Chicago Bulls.

Share Tweet

Bulls Charge Past Raptors

Mar 20

Nikola Mirotic came off the bench to score a game-high 29 points in the Bulls' 108-92 win over the Raptors.

Member Of '96 Bulls Championship Team Passes Away

Mar 18

Missy Isaacson discusses the career of former Chicago Bull Jack Haley, who was a member of the 1996 NBA championship team.

Bull Charge Past Pacers

Mar 18

Five Bulls scored in double figures in Chicago's 103-86 win over Indiana.

Roberson Flies In For The Block

Mar 15

Thunder guard Andre Roberson rushes in from the corner for the third-quarter block on Bulls forward Mike Dunleavy.