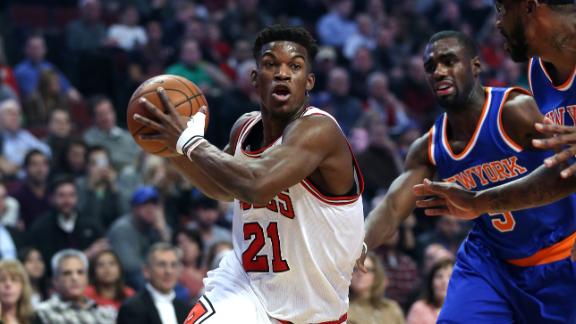 ESPN.com

16 hours ago

Knicks star Carmelo Anthony is out for Thursday night's game against the Chicago Bulls because of left knee soreness and admitted before Thursday's shootaround that people close to him are trying to get him to shut things down for a few weeks.

Upvote Share Tweet

nydailynews.com ESPN.com

Dec 17 (yesterday)

Carmelo Anthony saw Chicago as a "perfect fit" which shows you that in NBA free agency, you don't go with your branding expert.

Upvote Share Tweet

dimemag.com ESPN.com

Dec 15 (4 days ago)

After a thrilling, closer-than-expected 128-122 win over the Pelicans on Sunday night to extend Golden State's winning streak to 16 games and give them a 21-2 start to the season — the best in NBA history for a rookie head coach — hyperbole, of course, …

Upvote Share Tweet

Bulls' McDermott to miss at least 4-6 weeks

ESPN.com

Dec 14 (5 days ago)

Chicago Bulls rookie Doug McDermott is expected to miss at least four to six weeks after having arthroscopic right knee surgery on Saturday.

Upvote Share Tweet

nba.com

Dec 14 (5 days ago)

Miami forward Chris Bosh is out for the Heat's game Sunday night against Chicago, and the Bulls' Joakim Noah also is out.

Upvote Share Tweet

dimemag.com

Dec 14 (5 days ago)

Should Kobe Bryant score nine points in tonight's game against the Minnesota Timberwolves, the Los Angeles Lakers legend will pass Michael Jordan for third on the league's all-time scoring list. Barring a turnaround of epic proportions at some point in …

Upvote Share Tweet

dimemag.com ESPN.com

Dec 13 (6 days ago)

Hello again, old friend. Showing off the explosiveness and aggression that made him to the 2011 MVP, Derrick Rose scored 31 points in the Chicago Bulls' 115-106 win over the Portland Trail Blazers on Friday night. That's the D-Rose we know and love. The…

Upvote Share Tweet

One of the most high-profile rookies in the class of 2014 is headed for an extended stay on the sidelines. Given the way his season has gone, though, it might be for the best. The Chicago Bulls announced Friday that rookie forward Doug McDermott will un…

Upvote Share Tweet

Watch Nikola Mirotic Get Easy Dunk To Finish Wild Bulls-Blazers Sequence

dimemag.com

Dec 12 (6 days ago)

A basketball is round and bounces true. This shouldn't happen. But sometimes that leather gets awfully slippery. In a wild sequence during tonight's game between the Chicago Bulls and Portland Trail Blazers, Kirk Hinrich throws a behind-head pass off Ji…

Upvote Share Tweet

GIF: Derrick Rose Freezes Deron Williams With Sick Hesitation, Gets Layup

dimemag.com

Dec 11

Remember Derrick Rose, 2011 MVP? If not, here's a helpful refresher. Watch the Chicago Bulls superstar use his elite blend of athleticism and ballhandling prowess to freeze Deron Williams with a nasty hesitation dribble and blow by him for a layup up at…

Upvote Share Tweet

Bulls' searching for answers to defensive woes

nba.com

Dec 10

Compared to their high standard, the Chicago Bulls are struggling on defense. Everyone on the team agrees with that part.

Upvote Share Tweet

Rose on T-shirt: Wanted to get point across

ESPN.com

Dec 8

For the first time since wearing an "I can't breathe" shirt in support of Eric Garner before Saturday's game against the Golden State Warriors, Chicago Bulls star Derrick Rose explained his decision after Monday's practice.

Upvote Share Tweet

GIF: Klay Thompson's Pump-Fake Drops Aaron Brooks

dimemag.com

Dec 8

The Warriors won their 12th game in a row on Saturday when they handed the Chicago Bulls a 112-102 loss in Chicago. This despite 22 points and 20 rebounds by Pau Gasol. One play in particular showcases just how dangerous the Dubs have been this season w…

Upvote Share Tweet

dimemag.com nba.com

Dec 7

LeBron James and Derrick Rose are fierce rivals on the court. Off the floor, though, the superstars are teammates in the ongoing struggle for justice and progress. After Rose wore an "I Can't Breathe" shirt in support Eric Garner during warmups last nig…

Upvote Share Tweet

ESPN.com

Dec 6

Draymond Green scored a career-high 31 points and the Golden State Warriors beat the Chicago Bulls 112-102 on Saturday night to set a franchise record with their 12th straight victory.

Upvote Share Tweet

A Golden State Warrior and Chicago Bull have been named Kia NBA Conference Player of the Month for November. That's not surprising. Steph Curry has more than lived up to preseason MVP billing, leading his team to a league-best 15-2 record. Chicago's rec…

Upvote Share Tweet

GIF: Kemba Walker Rejects Driving Derrick Rose

Kemba Walker had quite the game on Wednesday night even though his Hornets couldn't get the win against the visiting Bulls. First, he tripped up Nikola Mirotic so bad even MJ was laughing. Then, he dropped 17 points in the third quarter to keep pace whe…

Upvote Share Tweet

Joakim Noah Uses Body Double As Decoy In New Spot For Swingman Jerseys

Dwight Howard used a mini-me for his body double. Andrew Wiggins' model forgot that he was traded to the Minnesota Timberwolves. And Damian Lillard opted for preparation over likeness with his Swingman. Joakim Noah's stand-in, though, is clearly the bes…

Upvote Share Tweet

NBA Top Plays

Dec 18

Stephen Curry's 3-pointer after the no-look pass from Klay Thompson is the top play in the NBA.

Rose-Less Bulls Hold Off Melo-Less Knicks

Dec 18

With Derrick Rose and Carmelo Anthony both missing Thursday's game, Jimmy Butler scored a career-high 35 points and the Bulls held off the Knicks 103-97.

Hawks Fly By Bulls

Dec 15

Al Horford scored 21 points and grabbed 10 rebounds in the Hawks' 93-86 win over the Bulls.

Comparing Kobe And Michael

Dec 15

Michael Wilbon compares the career accomplishments and competitive natures of Kobe Bryant and Michael Jordan.

Sports Columnists

Rajon Rondo trade from Boston Celtics to Dallas Mavericks 'on course' to h…

Dec 18

A source with knowledge of the Rajon Rondo trade talks says a "deal is on course to happen tonight."

Every NBA Team's Chance Of Winning A Title By 2019

Dec 18

I can see Madison Square Garden from my Manhattan apartment. This year, the arena installed along the exterior columns of the building -- blue, red a...

Rajon Rondo subject of Boston Celtics-Dallas Mavericks trade talks

Dec 17

The Boston Celtics, after years of flirting with potential Rajon Rondo deals, are in substantive discussions on a trade that would send Rondo to the Dallas Mavericks, according to league sources.