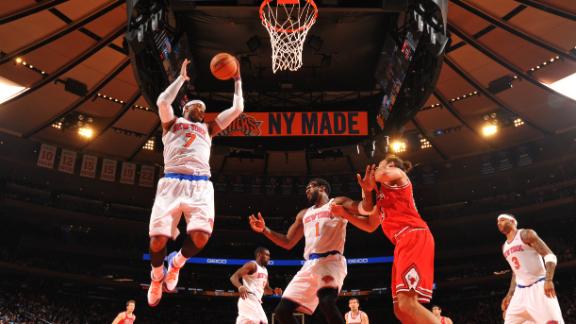 ESPN.com
Updated Dec 11, 2013
Carmelo Anthony had 30 points and 10 rebounds, and the New York Knicks pulled out an 83-78 victory over the Chicago Bulls on Wednesday night after blowing a 23-point lead.
Share
Tweet
Luol Deng missed his third straight game because of an Achilles injury on Wednesday night against the New York Knicks. Bulls swingman Jimmy Butler missed his 11th consecutive game because of turf toe.

Share Tweet

Noah throwing it down at MSG

Dec 11

Joakim Noah with the dunk off the pick and roll ties the game in the 1st quarter

Block Party in NYC

Dec 11

Kenyon Martin blocks 3 straight shot against the Bulls

Smith no-look pass leads to Bargnani slam

Dec 11

J.R. Smith with the no-look pass to Andrea Bargnani who slams it down putting the Knicks up 19 on the Bulls

Knicks Edge Bulls

Dec 11

The Knicks blew a 23-point lead but were able to hold off the Bulls 83-78.