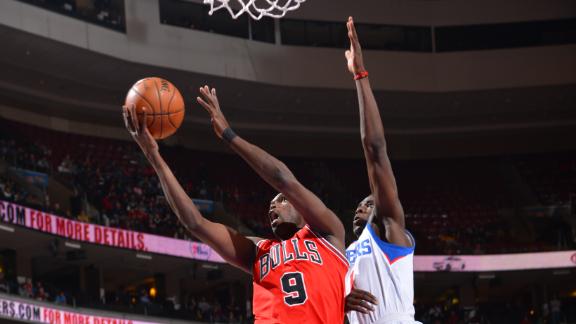 Updated Dec 12, 2012
Share
Tweet
Joakim Noah scored 21 points, Luol Deng added 19 points and 12 rebounds, and the Chicago Bulls won their fourth in a row on the road with a 96-89 victory over the Philadelphia 76ers on Wednesday night.
Source:
ESPN.com
Updated Dec 12, 2012

Share Tweet

It's not easy to play pretty basketball against Tom Thibodeau's Chicago Bulls. Thibs' teams have led the league in defensive efficiency (the number of points allowed per 100 possessions) in each of his two full seasons, and are tied for second so far th…
Deng, Noah Lead Bulls To 4th Straight Road Win

Dec 12

Luol Deng scored 19 points and grabbed 12 rebounds, and Joakim Noah added 21 points to lead the Bulls past the 76ers.
Sports Columnists
Lee Jenkins: Mayo coming into his own for a Dallas team in need of star po…

Dec 12

On the Sunday before the 2011 NBA Finals, the Dallas Mavericks landed in Miami at 7:30 p.m., and most of the team scattered to nearby restaurants. Dirk Nowitzki checked into his hotel and caught a ride to American Airlines Arena. The Mavericks know not …