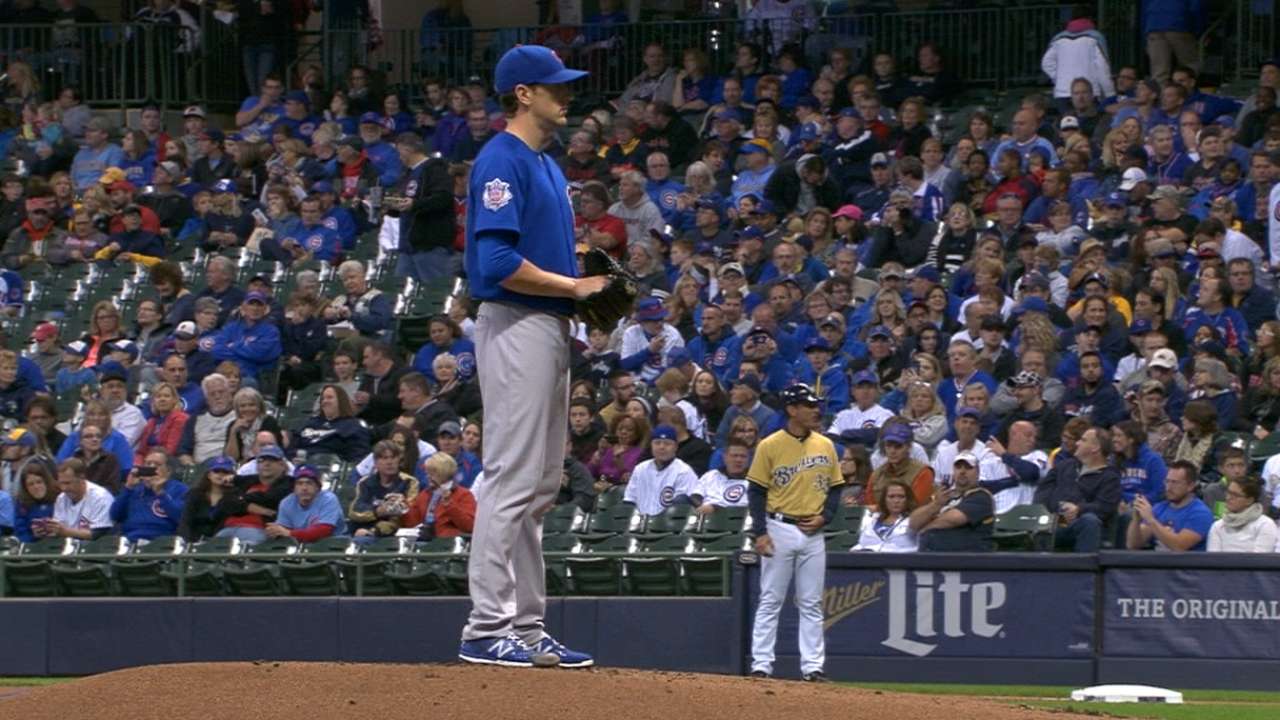 deadspin.com

41 minutes ago

Pirates infielder Sean Rodriguez got extremely heated during the brief dust-up that broke out during last night's Cubs-Pirates wild card game. He was so dang mad that he pummeled a defenseless water cooler:Read more...

Share Tweet

nytimes.com ESPN.com deadspin.com yahoo.com

1 hour ago

The Chicago Cubs' return to the playoffs has drawn the largest television audience in the short history of baseball's wild-card game.

Share Tweet

Cubs fan updates old video game with a rivalry feel; Card Hunt anyone?

yahoo.com

2 hours ago

Anyone who grew up in the 1980s and '90s is probably familiar with the Nintendo game "Duck Hunt." A Chicago Cubs fan posted a video on YouTube on Thursday depicting a twist on the game related to the rivals in one National League Division Seri…

Share Tweet

nytimes.com

3 hours ago

All-Star catcher Yadier Molina is on the St. Louis Cardinals' roster for the NL Division Series against the Chicago Cubs and will play wearing a splint to protect a strained ligament in his left thumb.

Share Tweet

Arrieta-Carpenter bond faces playoff test

MLB.com

4 hours ago

When Jake Arrieta and Matt Carpenter were teammates at TCU, they created their own decathlon, including events such as ping pong, foosball and basketball. Since the Cubs acquired Arrieta in July 2013, the two have found themselves going head to head in …

Share Tweet

MLB.com ESPN.com nytimes.com

8 hours ago

At PNC Park, Jake Arrieta went the distance on a four-hitter, with 11 strikeouts and no walks, as the Cubs defeated the Pirates, 4-0. He is the 37th pitcher to hurl a shutout in his postseason debut, and the first since the Giants' Tim Lincecum in Game …

Share Tweet

ESPN.com

16 hours ago

Led by Kyle Schwarber, Cubs rookies answer every question in wild-card win

Share Tweet

yahoo.com

18 hours ago

It was another frustrating one-and-done in the MLB postseason for the Pittsburgh Pirates, who were blanked by the Chicago Cubs in the NL wild-card game Wednesday night. The Pirates, the second best team in MLB this season, were sent home after one game …

Share Tweet

Cubs Blessed With Talent, Burdened by 'Curse'

nytimes.com

18 hours ago

The Chicago Cubs, who have gone 107 years without a World Series title, gave their long-suffering fans a shot of optimism with a victory in a do-or-die Wild Card game on Wednesday to reach the National League Division Series.

Share Tweet

Miguel Montero Excited For New Rotation

Mar 20

Cubs catcher Miguel Montero is ready to work with the new rotation for the team and explains what needs to be worked on in spring training.

Epstein's 'Mission Impossible'

Mar 8

William Rhoden explains how Theo Epstein went from the Boston Red Sox's "boy wonder" to undertaking an impossible mission as the president of baseball operations for the Chicago Cubs.

Lester Impressive In First Cubs Outing

Mar 6

Jon Lester got his Cubs career underway with his first appearance on the mound in a spring training game.

Cubs Owner: We're Here To Win

Mar 1

Cubs owner Tom Ricketts talks about the dark days in Chicago and explains why the Cubs are ready to win now with ace pitcher Jon Lester and a stacked farm system.

Sports Columnists

NBA - Blake Griffin wants to take his defense and the Clippers to another …

Oct 7

Blake Griffin is looking to become an elite defender and a vocal leader, and in turn, take the Clippers to a championship, writes J.A. Adande.

NBA - Los Angeles Clippers must learn to play without DeAndre Jordan

Sep 25

The Clippers were able to re-sign DeAndre Jordan. With a more able reserve unit behind him, the team must now learn how to win without him, writes J.A. Adande.

See the rankings (Insider)

Sep 22

Chad Ford says the Knicks are managed by "a neophyte coach, a buffoonish owner and an unproven team president." Amazingly, New York still isn't last p...