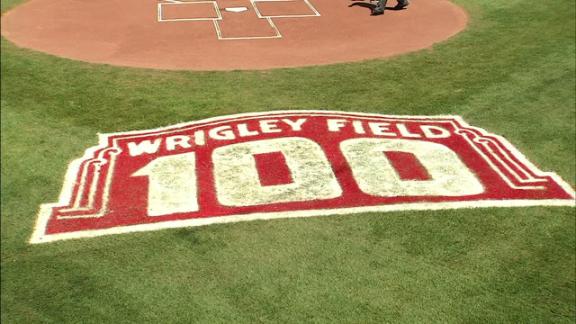 nytimes.com
MLB.com
ESPN.com
yahoo.com
deadspin.com
Updated 15 hours ago
The Chicago Cubs celebrated the 100th birthday of Wrigley Field in typical fashion on Wednesday ... with a loss.
Upvote
Share
Tweet
Cubs place OF Ruggiano (hamstring) on DL

ESPN.com

8 minutes ago

The Chicago Cubs placed outfielder Justin Ruggiano on the disabled list with a left hamstring strain and recalled pitcher Neil Ramirez from Triple-A Iowa on Thursday.

Upvote Share Tweet

MLB.com deadspin.com yahoo.com CNNSI.com

15 hours ago

Tom Ricketts, the Cubs chairman, enjoyed the 100th birthday celebration for Wrigley Field in his perpetually cheerful style.

Upvote Share Tweet

deadspin.com

17 hours ago

While WGN's reporter talked about Wrigley Field's centennial birthday, a guy in the background channeled Julian Dalrymple for a brief second. Go Cubs go! (They lost .)Read more...

Upvote Share Tweet

D-backs pull off stunner with ninth-inning comeback

MLB.com

17 hours ago

Down to their last strike and facing loss No. 11 in 12 games, Arizona rallied for five runs in the ninth to beat the Cubs, 7-5, on Wednesday afternoon at Wrigley Field.

Upvote Share Tweet

yahoo.com

18 hours ago

Even as the Arizona Diamondbacks pulled out a much needed 7-5 victory over the Chicago Cubs on Wednesday afternoon — ruining the 100th birthday celebration at Wrigley Field and improving to 6-18 this season — the negatives outweighed the positives. That…

Upvote Share Tweet

Selig sides with Cubs over rooftop owners

ESPN.com

19 hours ago

Major League baseball commissioner Bud Selig stands firmly on the side of Chicago Cubs ownership when it comes to their fight with local rooftop owners.

Upvote Share Tweet

yahoo.com

Apr 23 (yesterday)

We're never going to know for sure if Babe Ruth really called his shot and hit a home run against the Cubs in the 1933 World Series. It's fun to think he did. And we know it's possible, because others have done it. Albert Pujols did it Tuesday night, hi…

Upvote Share Tweet

nytimes.com MLB.com

Apr 23 (yesterday)

The Chicago Cubs celebrated the 100th anniversary of the first game at Wrigley Field in the most appropriate way: with a gut-wrenching loss.

Upvote Share Tweet

Strop denies intent behind pitch near Montero

MLB.com

Apr 22 (yesterday)

Cubs right-hander Pedro Strop said there was no intent in his ninth-inning pitch that wound up behind D-backs catcher Miguel Montero.

Upvote Share Tweet

nytimes.com MLB.com

Apr 22 (3 days ago)

Travis Wood hit a three-run homer and drove in four runs to back his nine-strikeout performance on the mound, leading the Chicago Cubs to a 5-1 victory over the Arizona Diamondbacks on Monday night.

Upvote Share Tweet

Oh, the Stories Wrigley Field Could Tell

nytimes.com

Apr 21 (3 days ago)

In 100 years, the ballpark has withstood the assault of time and bad baseball, housing a team that has the longest championship drought in North American professional team sports.

Upvote Share Tweet

Bailey and Reds Win Again at Wrigley, 8-2

nytimes.com

Apr 20 (4 days ago)

Homer Bailey pitched six scoreless innings at friendly Wrigley Field for his first win of the season and Jay Bruce homered and doubled as the Cincinnati Reds beat the Chicago Cubs 8-2 on Sunday.

Upvote Share Tweet

MLB.com

Apr 20 (4 days ago)

Reds manager Bryan Price won his second challenge in three tries in the third inning of Sunday's series finale with the Cubs, when Emilio Bonifacio was ultimately called out at second.

Upvote Share Tweet

Cubs Hit 3 HRs, Break Loose to Beat Reds 8-4

nytimes.com

Apr 19 (5 days ago)

Darwin Barney and Welington Castillo hit two-run homers and Mike Olt added a solo shot as the Chicago Cubs broke out of a weeklong offensive funk and beat the Cincinnati Reds 8-4 Saturday.

Upvote Share Tweet

Cubs: Sosa Must Make Amends

Apr 23

Sammy Sosa was not invented to participate in Wednesday's 100th anniversary of Wrigley Field celebration and a team official says Sosa has some work to do before being welcomed back.

Cubs Fall To Diamondbacks

Apr 23

The Diamondbacks rallied to beat the Cubs 7-5 on Wrigley Field's 100th birthday.

Rangers Complete Sweep Of A's

Apr 23

Martin Perez pitched a complete game in the Rangers' 3-0 win over the Athletics.

Wrigley Field Celebrates 100th Anniversary

Apr 23

Mike Greenberg shares some of his fondest moments of Wrigley Field and legendary broadcaster Harry Caray.