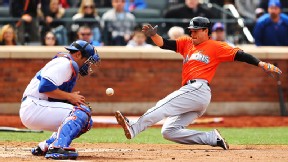 Updated 6 hours ago
Share
Tweet
The Chicago Cubs and Miami Marlins swapped outfielders on Thursday with Brian Bogusevic going to Miami and Justin Ruggiano heading to Chicago.
Cubs staying the course as they search for upgrades

Updated 22 hours ago

Share Tweet

Whatever transaction the Cubs make won't be "significant" in terms of a huge contract or headline-grabbing All-Star players, but it will be another step in the team's effort to build a healthy organization. While Cubs fans are eager for some n…

Updated Dec 10 (yesterday)

Share Tweet

The winter meetings finally heated up with the three-team trade sending Mark Trumbo to Arizona.

Updated Dec 10 (2 days ago)

Share Tweet

The second overall pick in the 2001 draft by the Chicago Cubs, right-hander Mark Prior came to the majors a year later with all of the promise in the world. Standing 6-foot-5 and weighing 23o pounds with thick legs and a pretty delivery, Prior looked li…

Cubs could keep Samardzija, go after Tanaka

Updated Dec 9 (3 days ago)

Share Tweet

The Cubs feel they can fit both Jeff Samardzija and Masahiro Tanaka in their budget if the Japanese pitcher becomes available. It also could depend on what it will take to get Samardzija to stay.

Updated Dec 9 (3 days ago)

Share Tweet

The Yankees plan to dedicate a plaque in Monument Park in honor of former South African president and renowned humanitarian Nelson Mandela when they host the Cubs on Jackie Robinson Day at Yankee Stadium on April 15.

Wrigleyville bar makes distasteful reference to Pearl Harbor on marquee

Updated Dec 7 (5 days ago)

Share Tweet

There are many honorable ways to remember the terrible attacks at Pearl Harbor that took place on December 7, 1941. Unfortunately, employees at Murphy's Bleachers, a Wrigleyville bar located across the street from the centerfield bleacher entrance at th…

Cubs keeping options open for shortstop Baez

Updated Dec 5 (7 days ago)

Share Tweet

Javier Baez, the Cubs' first-round pick in the June 2011 First-Year Player Draft, is creating a lot of buzz as he gets closer to the big leagues. However, he's a shortstop, and the Cubs already have a talented shortstop in Starlin Castro. Do the Cubs mo…

Updated Dec 5

Share Tweet

The Cubs added another left-handed reliever to the bullpen mix on Wednesday night, signing free agent Wesley Wright to a one-year, $1.425 million deal, pending a physical.

Ellsbury signing highlights flurry of moves on Chico Salmon Day

Updated Dec 4

Share Tweet

Everything you need to know about a crazy day of moves and where the Hot Stove goes from here.

Twins finish four-year, $49M deal with Nolasco

Updated Dec 3

Share Tweet

MINNEAPOLIS (AP) - The Minnesota Twins, and general manager Terry Ryan, have always been hesitant to dive too deeply into the free agent pool in search of answers to the team's problems.

Hinske joins Cubs' staff as first-base coach

Updated Dec 3

Share Tweet

On Tuesday, Cubs manager Rick Renteria completed his coaching staff by naming Eric Hinske as the first-base coach.

Cubs retain nine with signings, contract tenders

Updated Dec 2

Share Tweet

The Cubs signed infielder Donnie Murphy and catcher George Kottaras to one-year contracts Monday and tendered contracts to seven arbitration-eligible players, including Darwin Barney, Jeff Samardzija and Travis Wood. The Cubs non-tendered relievers Dani…

Updated Dec 2

Share Tweet

The Chicago Cubs non-tendered pitcher Daniel Bard before Monday night's deadline for arbitration-eligible players.

Source:

ESPN.com

Updated Dec 2

Share Tweet

Former Chicago Cubs catcher Dioner Navarro has agreed to a two-year, $8 million contract with the Toronto Blue Jays, a source confirmed on Monday.

Source:

ESPN.com

Cubs face question at second as tender deadline nears

Updated Dec 1

Share Tweet

The Cubs have nine arbitration-eligible players -- with Darwin Barney, Luis Valbuena and Daniel Bard among them -- as Monday's deadline to tender them contracts approaches.

Updated Nov 29

Share Tweet

OAKLAND, Calif. (AP) -- Ted Lilly is retiring after 15 seasons because of a troublesome shoulder and back.

Updated Nov 26

Share Tweet

The Chicago Cubs traded for Kansas City Royals catcher George Kottaras on Tuesday for cash considerations.

Updated Nov 22

Share Tweet

Former Chicago Cubs infielder Bill Mueller was named the team's hitting coach Friday, while pitching coach Chris Bosio was retained as part of new manager Rick Renteria's staff, the team announced.

Future looks sweet for prospect Candelario

Updated Nov 22

Share Tweet

Switch-hitting infielder Jeimer Candelario, nicknamed "Candy" and "Baby Ruth," is one of the top Cubs prospects you haven't heard much about. But you will.

11-year-old girl told to pipe down at Cubs games

Updated Nov 22

Share Tweet

An 11-year-old Chicago Cubs fan whose family has season tickets at Wrigley Field has been told she needs to stop getting so excited at games because it's "annoying" and possibly dangerous. Yes, that's what'll fix the Cubs experience. Less enth…

President Obama gets in Cubs dig as he bestows Medal of Freedom on Ernie Banks

Updated Nov 20

Share Tweet

Ernie Banks has been "Mr. Cub" for about 50 years. He made baseball's Hall of Fame in 1977. How could all of that be topped? How about "Mr. Cub," Hall of Famer Ernie Banks, Presidential Medal of Freedom Recipient? That's kind of a mo…

Twins' Buxton, Cubs' Bryant head AFL Top 20

Updated Nov 20

Share Tweet

The Arizona Fall League was once again chock full of exciting young talent, though the league was younger than it typically has been, as more players who have yet to play above Class A participated. That's reflected in the Top 20 AFL prospects list, whi…

Cubs just need to stay the course

Updated Nov 19

Share Tweet

While you can't yet see it at the Major League level, the Cubs have made great strides the past two years in building an organization the right way, from the ground floor up.

Updated Nov 17

Share Tweet

When the Chicago Cubs hired Rick Renteria as their new manager on Nov. 6, we weren't aware of the unusual and somewhat inconvenient process his suitors had to go through just to arrange and carry out their interviews. As MLB.com's Corey Brock reported o…

Renteria Excited To Manage Cubs

Dec 5

Rick Renteria on his new job as the Chicago Cubs manager.

Are Mega-Deals Mega-Mistakes?

Dec 4

SC Centerpiece: Tim Kurkjian, Wallace Matthews and Colin Cowherd debate if long-term deals are a mistake.

The GM's Office: Wieters On The Block?

Nov 19

Jim Bowden takes a look at Matt Wieters' future with the Orioles.

SweetSpot TV: Market For Closers

Nov 19

Eric Karabell and David Schoenfield take a look at what the market is like for closers.