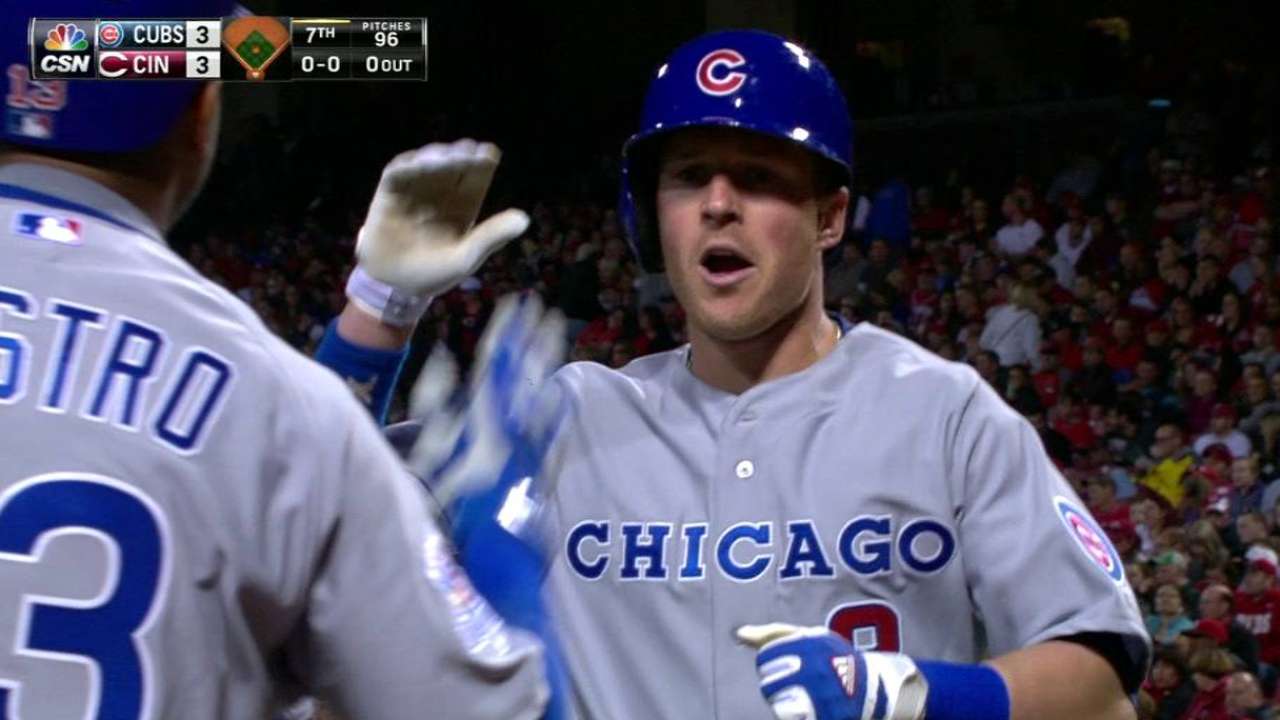 MLB.com
nytimes.com
Updated 16 hours ago
A four-run top of the 11th inning gave the Cubs a 7-3 victory over the Reds on Friday, their fifth game won in their final at-bat in 16 games overall. Jonathan Herrera delivered the go-ahead run with an RBI single.
Share
Tweet
yahoo.com

18 hours ago

Addison Russell's first week with the Chicago Cubs hasn't been nearly as buzzy as that of fellow top prospect Kris Bryant. But don't worry, baseball fans, he's still showing us flashes of the brilliance we expect to witness for the next 15 years That in…

Share Tweet

MLB.com nytimes.com

Apr 23 (yesterday)

Gregory Polanco hit an RBI double in a three-run sixth inning and a tie-breaking RBI single in the seventh to lift the Pirates to a 5-4 victory over the Cubs on Thursday, and split the four-game series.

Share Tweet

Cubs center fielder Dexter Fowler had to leave Wednesday's game after two innings because of tightness in his right groin.

Share Tweet

Hurdle not fretting Melancon's early woes

Pirates closer Mark Melancon suffered his first blown save of the year in Tuesday's 9-8 loss to the Cubs, giving up three hits, two walks and three runs in a messy ninth inning. It's the second three-run inning of the season for Melancon, who now has an…

Share Tweet

Jackson earning Maddon's trust out of bullpen

Edwin Jackson, moved from the rotation to the bullpen this season, has done well enough that he will be used in tougher situations in games, Cubs manager Joe Maddon said Wednesday.

Share Tweet

nytimes.com

Apr 21 (4 days ago)

The shortstop of the future and the shortstop of the present happen to be on the Chicago Cubs' roster at the same time. Yet manager Joe Maddon isn't worried. He's been around the game long enough to know these things tend to work themselves out.

Share Tweet

Bucs lineup vs. Cubs missing one-third of regulars

MLB.com

Apr 21 (4 days ago)

Manager Clint Hurdle's starting lineup lacked one-third of his regulars. One was by necessity -- Jordy Mercer, still on the rebound from Sunday's pitch off his chest, stayed put and was again replaced at short by Jung Ho Kang. Two others were by choice.…

Share Tweet

A scary scene unfolded in the crowd during Monday's Cubs-Pirates game when a woman was hit in the head with a foul ball in the second inning. The game was halted for 23 minutes as she received medical attention, and the good news is that the unidentifie…

Share Tweet

A Wetly Annotated List of Chicago Cubs Promos and Giveaways

deadspin.com

Apr 21 (4 days ago)

Previously: The Baltimore Orioles and Washington Nationals .Read more...

Share Tweet

deadspin.com MLB.com yahoo.com

Apr 21 (4 days ago)

Everyone knew that Cubs super prospect Kris Bryant was going to be in the majors as soon as his service time could be gamed in the right direction, but not many people expected to see the Cubs' other shiny prospect, middle infielder Addison Russell, wit…

Share Tweet

MLB.com

Apr 21 (5 days ago)

Luis Valbuena, acquired in a trade with the Cubs, won the starting third-base job with a hot spring, and in the past week, he has overcome a slow start with an impressive display of power.

Share Tweet

MLB.com yahoo.com nytimes.com

Apr 21 (5 days ago)

Rookie Kris Bryant drove in three runs and hustled to score another on an error, leading the Cubs to a 5-2 win over the Pirates on Monday night at PNC Park.

Share Tweet

Bryant scores on wild romp around bases

MLB.com

Apr 20 (5 days ago)

Cubs third baseman and MLB.com's No. 2 overall prospect Kris Bryant hit a two-run double and scored on the same play to open up a 4-1 lead over the Pirates on Monday night at PNC Park.

Share Tweet

Cubs-Pirates Delayed By Woman Getting Drilled In The Head By Foul Tip

deadspin.com

Apr 20 (5 days ago)

Modern baseball stadiums' concession to convenience took a big hit tonight as a fan finding her seat behind home plate early in tonight's Cubs-Pirates game took a foul-tipped ball to the back of the head. The game remains delayed. Read more...

Share Tweet

Miguel Montero Excited For New Rotation

Mar 20

Cubs catcher Miguel Montero is ready to work with the new rotation for the team and explains what needs to be worked on in spring training.

Epstein's 'Mission Impossible'

Mar 8

William Rhoden explains how Theo Epstein went from the Boston Red Sox's "boy wonder" to undertaking an impossible mission as the president of baseball operations for the Chicago Cubs.

Lester Impressive In First Cubs Outing

Mar 6

Jon Lester got his Cubs career underway with his first appearance on the mound in a spring training game.

Cubs Owner: We're Here To Win

Mar 1

Cubs owner Tom Ricketts talks about the dark days in Chicago and explains why the Cubs are ready to win now with ace pitcher Jon Lester and a stacked farm system.