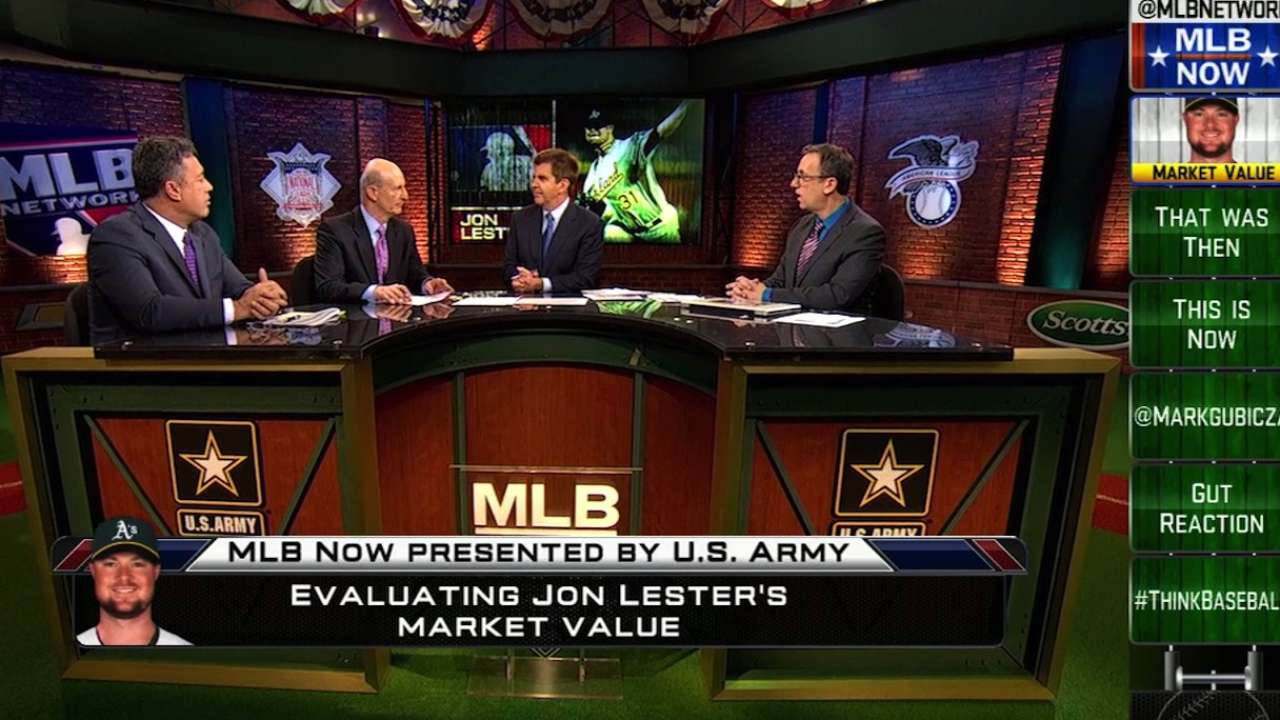 MLB.com
Updated 12 hours ago
The Cubs have reportedly extended a six-year offer to Jon Lester that is worth an amount "north of" $135 million, according to CSNChicago.com.
Upvote
Share
Tweet
Historic football rivalry runs wild in Yankee Stadium

MLB.com

Nov 22 (4 days ago)

The most-played rivalry in college football came to Yankee Stadium on Saturday as Lafayette defeated Lehigh, 27-7, in the 150th meeting between the schools. Among those in attendance for the game was Cubs manager Joe Maddon, a member of Lafayette's clas…

Upvote Share Tweet

Cubs add Blanco to Maddon's coaching staff

MLB.com

Nov 22 (4 days ago)

Henry Blanco, who played for the Cubs from 2005-08, is back with the club, joining manager Joe Maddon's staff as a quality assurance coach.

Upvote Share Tweet

Cubs, A's to play Spring Training games in Las Vegas

MLB.com

Nov 21 (5 days ago)

The Cubs are headed back to Las Vegas to play the Athletics in split-squad Spring Training games March 13-14.

Upvote Share Tweet

White Sox reportedly asking about catcher Montero

MLB.com

Nov 21 (5 days ago)

The White Sox are one of three teams inquiring about D-backs catcher Miguel Montero, according to a report Thursday in The Arizona Republic. Montero, 31, is a two-time All-Star who has drawn interest from the crosstown-rival Cubs and Dodgers, as well as…

Upvote Share Tweet

MLB.com

Nov 20 (6 days ago)

Last December, Cubs pitcher Marcos Mateo was selected by the D-backs in the Rule 5 Draft, one of nine players picked in the Major League section. Mateo was reclaimed in March, but Chicago must protect its top prospects -- such as C.J. Edwards -- in orde…

Upvote Share Tweet

Rizzo hosts third annual 'Walk-Off For Cancer' 5K

MLB.com

Nov 16

Cubs first baseman Anthony Rizzo blasted two walk-off home runs during his 2014 All-Star season. His latest came Sunday morning in his South Florida hometown for the third annual Walk-Off For Cancer at Pine Trails Park.

Upvote Share Tweet

Cubs to host Cardinals in first-ever night opener at Wrigley Field

yahoo.com

Nov 15

One of baseball's oldest and greatest rivalries will take center stage in MLB's standalone Sunday night opener on April 5. And no, we're not talking about Yankees/Red Sox or Dodgers/Giants for a change. The back-to-back NL Central champion St. Louis Car…

Upvote Share Tweet

Cubs' Rizzo humbled to receive Branch Rickey Award

MLB.com

Nov 14

Cubs first baseman Anthony Rizzo was in Denver on Friday to accept the 23rd Annual Branch Rickey Award for humanitarian service. At 25, he is the youngest recipient.

Upvote Share Tweet

Cubs will host Cards to open '15 MLB season

ESPN.com

Nov 14

The Chicago Cubs will host the St. Louis Cardinals in the Sunday night major league opener on April 5.

Upvote Share Tweet

Opening Night rivalry: Cards-Cubs playing first in 2015

MLB.com

Nov 14

A new chapter in the classic Cardinals-Cubs rivalry will have a quick start, as those two teams are scheduled to meet April 5 at Wrigley Field in the Sunday Night Baseball opener on ESPN2 at 8 p.m. ET.

Upvote Share Tweet

Cubs top prospect Kris Bryant has the Wrigley Field ivy on his shoes (Photo)

yahoo.com

Nov 12

The ivy has once again disappeared from the walls at Wrigley Field this November. As a matter of fact, there are barely any walls still standing at the historic ballpark as the Chicago Cubs begin phase one of a $575 million renovation. However, the Wrig…

Upvote Share Tweet

MLB.com

Nov 12

The Cubs are in the market for starting pitching, but they are not ready to part with some of their young infielders to fill that need.

Upvote Share Tweet

MLB.com

Nov 12

Cubs officials denied a report they were in contact with the Nationals regarding a potential trade for right-hander Jordan Zimmermann.

Upvote Share Tweet

Theo reiterates no tampering, 'welcomes' investigation

MLB.com

Nov 11

Cubs president of baseball operations Theo Epstein said he welcomed an investigation by Major League Baseball into tampering allegations related to the team's hiring of Joe Maddon.

Upvote Share Tweet

nytimes.com ESPN.com yahoo.com

Nov 11

Chicago Cubs President Theo Epstein says the team is totally fine with Major League Baseball checking into whether there was anything improper about the way it hired new manager Joe Maddon.

Upvote Share Tweet

Reds add Riggleman to coach third base

MLB.com

Nov 10

The Reds named Jim Riggleman their third-base coach on Monday. He has been a manager, coach or instructor at the professional level since 1981, including all or parts of 12 seasons as a manager of the Nationals (2009-11), Mariners (2008), Cubs (1995-99)…

Upvote Share Tweet

Hoyer: Cubs not going to force offseason moves

MLB.com

Nov 7

Even before Joe Maddon was hired as manager, the Cubs were rumored to be on the verge of signing nearly every free agent on the market. They do have money to spend, but that doesn't mean they're going on a shopping spree this winter.

Upvote Share Tweet

yahoo.com

Nov 6

Kris Bryant, the Chicago Cubs' top prospect, hit 43 homers in the minor leagues in 2014. Somebody should make that 44, though, because Bryant knocked one out of the park while interacting with a fan on Twitter. Bryant, 22 and the Cubs' first-round pick …

Upvote Share Tweet

Buster's Blog: Cubs Miss Martin

Nov 20

Buster Olney discusses Russell Martin signing with the Blue Jays and, in light of this, whether the Cubs will still prioritize signing a catcher in the offseason.

MLB Investigating Maddon Tampering Charges

Nov 10

ESPNChicago.com's Jesse Rogers breaks down the ramifications facing the Cubs if they are found to have tampered with Joe Maddon in order to hire him.

Russell Martin The Next Piece For Cubs?

Nov 4

Buster Olney explains why catcher Russell Martin is a perfect fit for the Cubs and how Martin's leadership in the clubhouse can help new manager Joe Maddon.

Can Maddon Take Cubs To Playoffs?

Nov 3

Buster Olney discusses what Joe Maddon brings to the Cubs and how fast Chicago could make the playoffs.