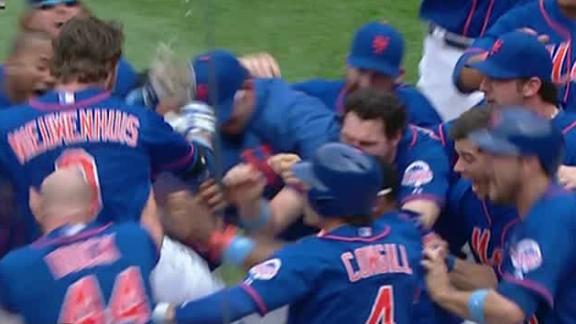 Kirk Nieuwenhuis hit a three-run homer that capped a four-run rally in the bottom of the ninth inning and the New York Mets salvaged what had been shaping up as another sorry afternoon, startling the Chicago Cubs 4-3 on Sunday.
Share
Tweet
Cubs Score On Consecutive Mets Throwing Errors, Still Lose

deadspin.com

Jun 16, 2013

We pick up the action in the fifth inning with "...David Wright, who's won two gold gloves—not a good throw, though!..." and it only got better.Read more...

Share Tweet

Cubs, Mets and umpires team up for complicated and confusing force out (Video)

yahoo.com

Jun 16, 2013

The Chicago Cubs and New York Mets played a relatively uneventful game for eight innings on Saturday afternoon. In the top of the ninth inning, however, the two teams, along with the four umpires led by crew chief Gary Cederstrom, were involved in possi…

Share Tweet

Nieuwenhuis' Walk-Off HR Lifts Mets

Jun 16

Kirk Nieuwenhuis hit a three-run home run in the ninth inning to lift the Mets past the Cubs 4-3.